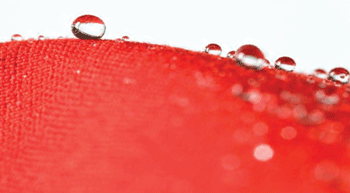 Rising scope kindles silicones hopes
The hidden potential of silicones for the Indian market has still not been fully explored. Though the market is a bit slow, the leading producers are upbeat and are hard at cracking it. An exclusive ITJ report
The hidden potential of silicones for the Indian market has still not been fully explored. Though the market is a bit slow, the leading producers are upbeat and are hard at cracking it. An exclusive ITJ report
Infrastructure and construction in India is growing at a rapid pace and the demand for functional values in textiles is on the rise. In this fertile atmosphere, silicone application, holding immense scope, is raring to grow rapidly and its global manufacturers are upping their ante to grab their shares. The markets may be moving a bit slow, but two major manufacturers of silicones-Dow Corning and Wacker-are not shy of raising their stakes in one of the emerging markets, India.
The strong performance attributes of silicones enable their application across a host of industries such as construction, chemical industry, automotive, textiles, electronics, personal care, medical, etc. It is a highly R&D-driven industry and there is no room for complacency. China, having amassed a share of 40 per cent in the global silicone production, seems to have reached a saturation point, and markets in the Asia-Pacific region are beckoning the stake-holders.
Dow Corning, a successful pioneer in promoting the use of silicones for various applications, is upbeat about the Indian market, and with the intention of staying closer to the market needs of the Indian sectors, has launched its third largest application development centre globally at Powai in Mumbai.
´The centre brings the customer close and Dow Corning´s products cover a wide spectrum of industries including electronics, construction, textiles, household, automotives, etc.,´ said Padmadas Nair, Head (AETS) – India. This Indian ADC is the third largest after the Belgium and Germany facilities.
´When we look at the textile industry, we see that the trend is towards use of materials which meet global safety standards such as Oeko Tex, while at the same time contribute to lowering the water and energy footprint of the textile manufacturing process,´ Nair, told the ITJ Editor, during an exclusive interview. Wacker, unfazed by the slow growth of silicone market, is already geared up to slice a larger share in the India´s silicone market. ´WACKER´s plans for India are to continue to grow and expand our market share. We have invested heavily in infrastructure to be able to support our customers with extra capacities, more efficient processes, and new warehousing facilities. The goal is to stay one step ahead in order to support our customer´s growth,´ said Soumitra Mukherjee, Managing Director, Wacker Metroark Chemicals Pvt Ltd.
Speaking about the trend in silicone consumption, Nair sees India as a key market, given the potential for growth in this region. ´We are very committed to serving the Indian market and contributing to its key industries,´ he told.
Nair admitted that because of increasing infrastructure and construction the demand for functional values in textiles is on the rise. He said, ´India´s cities are expanding, and there is now an emphasis on the need for better infrastructure to support this expansion, as well as the impact of increased urbanisation. We see that the use of silicone materials for use in construction applications-glass facade buildings, airports, pavements, runways, flyovers and so on-is increasing accordingly. There is also more focus on energy efficiency, thus leading increase in usage of silicones in electronics and lighting.´
Even Mukherjee of Wacker Metroark Chemicals was on the same page as Nair. He told the ITJ Editor, ´Due to their wide-ranging product properties, silicones are used in a wide variety of products and applications and in several major industries, including the processing, construction, consumer care, coati