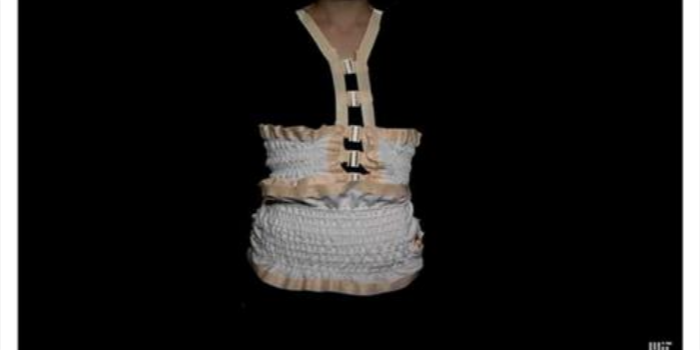 Researchers use new fibre for breath regulating garment
A new kind of fibre developed by researchers at MIT and Sweden can be made into clothing that senses stretching or compression, and provides immediate tactile feedback through pressure, lateral stretch, or vibration
Massachusetts,
USA
A new kind of fibre developed by
researchers at MIT and Sweden can be made into clothing that senses stretching
or compression, and provides immediate tactile feedback through pressure,
lateral stretch, or vibration.
The multi-layered fibres
contain a fluid channel in the centre, which can be activated by a fluidic
system. This system controls the fibre's geometry by pressurizing and releasing
a fluid medium, such as compressed air or water, into the channel, allowing the
fibre to act as an artificial muscle. The fibres also contain stretchable
sensors that can detect and measure the degree of stretching of the fibres. The
resulting composite fibres are thin and flexible enough to be sewn, woven, or
knitted using standard commercial machines.
The fibres, dubbed OmniFibers,
are being presented this week at the Association for Computing Machinery's User
Interface Software and Technology online conference, in a paper by Ozgun Kilic
Afsar, a visiting doctoral student and research affiliate at MIT; Hiroshi
Ishii, the Jerome B. Wiesner Professor of Media Arts and Sciences; and eight
others from the MIT Media Lab, Uppsala University, and KTH Royal Institute of
Technology in Sweden. The research was supported by the Swedish Foundation for
Strategic Research.
The new fibre architecture is
extremely narrow size and use of inexpensive material make it relatively easy
to structure the fibres into a variety of fabric forms. It is also compatible
with human skin, since its outer layer is based on a material similar to common
polyester. And, its fast response time and the strength and variety of the
forces it can impart allow for a rapid feedback system for training or remote
communications using haptics (based on the sense of touch).
As an initial test
application of the material, the team made a type of undergarment that singers
can wear to monitor and play back the movement of respiratory muscles and
provide feedback.
Eventually, the garments
could also be used to help patients regain healthy breathing patterns after
major surgery or a respiratory disease such as Covid-19, or even as an alternative
treatment for sleep apnoea.
Source: MIT News
Also Read:
https://indiantextilejournal.com/latest-textile-industry-news/pds-group-s-arm-norlanka-unveils-organic-kidswear
https://indiantextilejournal.com/latest-textile-industry-news/welspun-india-launches-wel-trak-2-0-blockchain