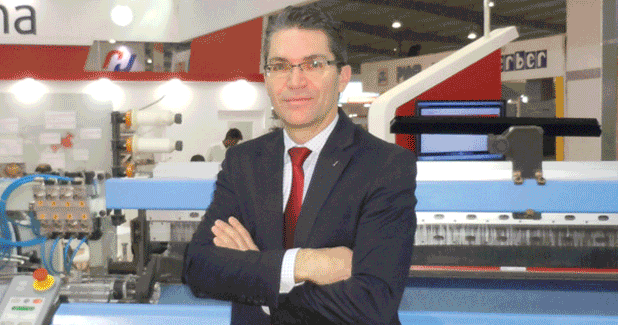 R9500, star of Indian rapier market: C. Straubhaar
Itema, one of the world's leading suppliers of advanced, high-performance weaving machinery and integrated services, has always been at the forefront in providing best-in-class weaving solutions for the textile industry. "R&D has always been our forte at Itema. We have [always] been bringing in new developments for the textile industry," says Christian Straubhaar, Group Sales & Marketing Director at Italy-based Itema S.p.A., during an interaction with ITJ Senior Sub Editor, Karthik Muthuveeran.
Itema, one of the world's leading suppliers of advanced, high-performance weaving machinery and integrated services, has always been at the forefront in providing best-in-class weaving solutions for the textile industry. "R&D has always been our forte at Itema. We have [always] been bringing in new developments for the textile industry," says Christian Straubhaar, Group Sales & Marketing Director at Italy-based Itema S.p.A., during an interaction with ITJ Senior Sub Editor, Karthik Muthuveeran.
How do you look at the market for your products in India?
Indian market faced some issues due to demonetisation and GST introduction and we experienced a slowdown at the beginning of 2017 due to the introduction of the new regulations. But after a few months, everything is now back to normal. Indian entrepreneurs found the best way to deal with these events and we are close to them to support and find the best business solution. The situation for us today is stable in India, investments are going on and we are satisfied about the results we obtained.
What are the latest offerings from Itema for the weaving sector, and what are their USPs?
When we talk about our weaving machines, I would like to underline that our machines stand out for user-friendliness. Among all the features, what is worth to mention is the quick style change. We know that to be successful in the market today our Customers need to quickly and easily adapt to market trends and demand by producing different types of fabric. And our machines can do it easily, thanks to special mechanisms which allow to quickly change the warp beam and to rapidly operate on the heald frames. The electronic platform, which is the same on rapier and airjet machines, provides the full control of the machine's parameters. Moreover, fabric quality and textile versatility are historically a must for Itema, we have Customers who weave many different styles with a perfect fabric quality.
I can proudly say that the R9500 is the most successful rapier machine in recent history.
Providing outstanding versatility to weave the widest range of fabrics and patterns, the R9500 is the backbone of our machines portfolio. Easy to operate and requiring reduced maintenance, the R9500 guarantees unsurpassed quality of fabric and high added value. With virtually no limits to versatility, the R9500 enables customer to embrace new opportunities and quickly penetrate new markets. Launched in the market at the end of 2012, the Itema R9500 is an absolute best-seller and one of the most highly reputed and successful rapier looms in the history of weaving.
On the airjet side, what makes our machines different is a valuable and undeniable advantage: the Itema airjet machines' reduced air consumption. And you can imagine what this means for the weaver: reduced costs, improved efficiency, faster return on investment. The air consumption reduction on the Itema A9500 series is possible due to innovative and Itema patented devices. Main protagonist of this achievement is the iREED®, a real benchmark for the industry, that significantly reduces the air consumption whilst guaranteeing a more efficient weft insertion. The saving is also due to the reduced air pressure and to the single hole relay nozzle, which, at the same time, greatly reduces the need for maintenance of the machine. Furthermore, the double tandem nozzles guarantee a perfect distribution of the pushing force on the weft using lower air pressure, thus leading to reduced stress on the yarn and to the possibility to weave with lower pressure ensuring energy saving.
If we look at India, the Ichalkaranji Region is one of our excellence clusters where we have a sizeable number of Itema latest generation airjet machines running with amazing results in terms of speed, machine efficiency, fabric quality and energy savings.
We constantly work on new innovations to improve the performances of our looms and a textbook example is the R9500terry machine. Itema is the first and foremost rapier terry loom producer and we carry on the strong heritage and know-how of historic and leading brands, Sulzer Textil and Vamatex. The R9500terry perfectly combines the R9500 sturdiness and reliability with innovative textile solutions which ensure superior terry cloth quality and endless creative possibilities such as the positive pile back-rest roller. The R9500terry is an undisputed worldwide success – we installed the machine in more than 30 countries in the last 2 years – and we are proud to list the most renowned home textile producers in our customer base, including one of the biggest Indian conglomerates, Welspun – that recently decided to choose the Itema R9500terry.
During ITMA Asia 2016, we also launched a new rapier weaving machines tailored and fine-tuned for the benefit of denim weavers, the R9500denim. Denim is for the weaving industry the biggest market segment and, at Itema, we know very well the requirements of this special and famous fabric. Whilst it goes without saying that production speed, machine reliability and capability to effectively work even in the most demanding environments are high on the list of denim mills' must-haves, fabric hand-feel and quality are a must too. That's why the R9500denim is born: to provide a weaving machine designed, developed and built exclusively to weave denim featuring reinforced components to tolerate the demanding weaving conditions, a brand-new main motor with oil cooling to enhance speed and performances, dedicated rapiers to ensure superior fabric quality. Leading denim producers already installed the R9500denim, including some of the largest Chinese companies.
Apart from rapiers and airjets, what are the other products from Itema for the textile industry? Impossible not to mention our projectile weaving machines, the P7300HP. You have to know that today we still produce the projectile weaving machine in the original Sulzer Textil plant in Switzerland, recently re-organised according to the most stringent world class manufacturing principles, carrying on the excellence of this prestigious and unique loom. The projectile is still the best solution when it comes to weaving high-value fabrics such as technical textiles and premium quality denim due to its unique positive weft insertion system than can easily handle the widest range of yarns including the demanding tape yarns.
Itema also provides original spare parts for the existing and previous machine models (Itema, Somet, Vamatex, Sulzer brands) which guarantee extended life and top performances during all the machine life cycle, including upgrade kits to give new life to the weaving machines. We also implemented a new e-commerce portal – MyItema – where our Customers can experience an efficient buying experience.
As you know India is more of a spinning dominated industry. What do you think is lacking in the weaving sector?
During my recurring visits to India, I had the chance to visit many spinning companies and I can say that most of them are planning to invest in the weaving sector. The tides are changing, and I believe there is an important room to grow for weaving in India. We can say that even the South Region of India is gradually moving towards weaving.
In India there are nowadays two different segments in the weaving sector, one is made by the corporate conglomerates which are at the pinnacles of the worldwide textile industry and one is the non-organised segment which is actually essential for many aspects, such as employment rates and to bridge the production gaps of the corporate companies. I believe that here we can see the biggest opportunity to further enhance the competitive advantage of the Indian textile industry in the global scenario, and Itema – as a provider of advanced technology – can support these companies in switching from second-hand and tier 2 Chinese weaving machines to highly technological, added value weaving equipment. The return on investment from installing reliable, more productive, easier to operate modern looms is not even comparable in the medium and long term period to working with old, difficult to operate, high maintenance cost machines.
Moreover, I believe that an important opportunity is the evolution of the actual shuttle loom mills, that by switching to the latest shuttleless weaving machines will highly improve their competitiveness.
How do you look at the competition from the Chinese companies, and how do you tackle them?
It is actually not a competition. The vast majority of these weaving machines belong to the low-end segment. I am confident that now the weavers in India realise that these looms have a lifespan of 4-5 years and require continuous maintenance. When considering the return on investment, there's no question.
Itema has opened a new training centre in Pakistan. Please divulge more details on this.
We opened the state-of-the-art training centre — ItemaCampus — in Lahore because we believe that physical presence in a country is essential to create a dynamic and positive environment for business. The brand-new Itema Campus in Pakistan is equipped with weaving machines tailored for that market and all the weavers can take advantage of this center to attend highly professional training courses. Itema wants to be as much as possible close to its customers and the Itema Campus training center is our strong commitment to the Pakistani textile industry, which we are ready to serve with our best-in-class, innovative weaving machinery.
The technical textiles market is still in a nascent stage in India. Why do you think the technical textiles segment is not growing as expected?
There is a great buzz around technical textiles in India and it's easy to understand why, since the internal demand is booming in different applications, such as automotive, geotextile, agrotextile, medical fabrics. Indian weavers are enhancing their know-how and Itema can witness good examples of successful business for technical fabrics in India. What is required to further boost this segment here is to change the approach, I explain you what I mean. To produce technical textiles, you have to think to these fabrics as niche products and not as mass products. Raw materials are different and often more expensive and the production follows specific criteria for which the operators need to be well trained. In the end, the woven fabric will be less in quantity compared to cotton based fabrics but the selling price will be much higher due to the high rate of "scientific" content inside it.
Maybe, foreign investments or joint ventures could be the right direction to accelerate the growth of technical fabrics in India.
In terms of performance, how was the year 2017 for Itema in India, and what are your plans for 2018?
We had an excellent 2017 in all the markets, India included. Not only we accomplished our targets but we were able to do even better. This is the best business card for our products. If we look at India in detail, we experienced a great success of our rapier R9500, that we can name as the star of the Indian rapier market in 2017. Not only our trusted Customers confirmed their confidence in the Itema machines, but we have been appointed as weaving machine supplier partner in important new investments from leading companies, such as Welspun and Shahi just to name a few.
Looking at 2018, even if we know to operate in a volatile and unstable market, we are confident and excited. We see many opportunities to create new business relationships and to further establish Itema as the weaving partner par excellence.
Anything else that you need to share.
Just a few words about our organisation in India since I truly believe this is a proof of our commitment to the Indian market. Itema has a long-term strategy in India as it is one of the most important markets for us. We set-up our commercial and after-sales offices in Mumbai (recently renewed), Coimbatore, New Dehli and Kohlapur and we have more than 50 employees. Out of them, half are service engineers to guarantee real-time assistance to every Customers need, whenever and wherever they need it.