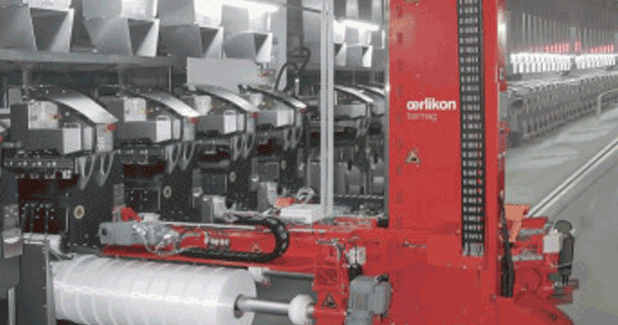 Production systems + automation logistics, Oerlikon's combo offer
In the Oerlikon Manmade Fibers segment's new automation division, in excess of 80 specialists draw on more than 30 years of experience in manmade fibre production automation.
In the Oerlikon Manmade Fibers segment's new automation division, in excess of 80 specialists draw on more than 30 years of experience in manmade fibre production automation.
Oerlikon is integrating the AC-Automation GmbH & Co KG, which is headquartered in Bernkastel-Kues – automation solutions for large-scale systems into its technology portfolio. The company is thus taking an important step on its journey towards now being able to offer fully-automated factories digitally networked using Industrie 4.0 solutions from a single source.
For many, mechanical looms are the embodiment of the first industrial revolution. Today – following the introduction of production line manufacturing and the advent of electronics within the production chain – the textile and fibre industry is on the verge of entering the so-called fourth industrial revolution – or Industrie 4.0 for short.
With the acquisition of AC-Automation in Bernkastel-Kues and Augsburg, Oerlikon Manmade Fibers – the leading solutions provider within the manmade fibre manufacturing sector – has now set a further milestone on its journey towards fully-automatic, digitally-networked fibre production. In the future, Oerlikon textile industry customers will receive production systems together with the automation logistics – including packaging and high-bay warehouse solutions – from a single source.
In the Oerlikon Manmade Fibers segment's new automation division, in excess of 80 specialists draw on more than 30 years of experience in manmade fibre production automation. Here, they have been closely collaborating with the Oerlikon Group as far back as the early-1980s. With the help of its highly-developed and tried-and-tested robot handling, packaging, transport and warehouse systems, Oerlikon is now creating turnkey, integrated production and logistics solutions for all customers across the globe.
"With the takeover and integration of the automation solutions from AC-Automation, we are creating new impetus for the manmade fibre business. In conjunction with our new digitalisation solutions, it will also enable us to clearly position ourselves as a supplier of Industrie-4.0 solutions", states Georg Stausberg, CEO of the Manmade Fibers segment, talking about the reasons for the acquisition. The target is the so-called 'digital factory', where production systems monitor, control and optimise themselves with the help of collated data and information. Here, the manufacturing process is becoming increasingly flexible.
"Industrie 4.0 is not just a marketing buzzword", explains Rolf Gänz, Managing Director of the Oerlikon Manmade Fibers segment's automation division. "Imagine a company requires fibres for airbags. Even the fibre producer has to be familiar with the precise safety-relevant composition specifications. The same applies to the downstream quality control, with the finished yarn packages ideally tagged in such a way that the machines used for manufacturing the airbag fabric notices whenever the incorrect yarn package has been selected for producing the warp beam."
All this is now possible as a result of the expanded product portfolio because Oerlikon is offering seamlessly-coordinated production, quality assurance and packaging systems without malfunction-prone and maintenance-intensive interfaces. All customers receive optimally planned, flexible systems from a single source from the very outset.
Rolf Gänz, Managing Director of the Oerlikon Manmade Fibers segment's automation division "Here, what will become the new standard in future-oriented manmade fibre manufacturing is coming together. The automation solutions will be an integral part of an Oerlikon Manmade Fibers segment Industrie 4.0 solution. It will assume the yarn product precisely at the point at which spinning plant solutions have extensively completed their work. This will create a coherent product chain – from the raw material through to final delivery. We are now offering all stages – from production planning, production tracking, quality control, packaging and palletising – on a single, new Oerlikon platform. So, there are now no longer any annoying data interfaces. Yes, we can now also take all automation considerations into account when designing the systems, which means that our customers can now acquire the entire process chain from a single source."
More intelligence, less work
A prime example of an automated solution is Oerlikon's cleaning spinnerets. Thanks to its intelligent control system, the Oerlikon Manmade Fibers wiping robot not only saves production time, work and operating costs, it also generates benefits for HR and health management.
Sure, manual work also has its benefits. However, nobody – and particularly not operators – look forward to manually wiping the spinnerets in the spinning head. In a fiercely hot environment, it involves using a brass tool to remove residual melt from the extruded filaments from the spinneret. Here, lots of silicone oil is atomized from aerosol cans. In view of this overall extremely elaborate measure and the costs involved, production managers are hardly thrilled by the prospect of carrying out this task.
Because a maintenance job of this nature practically cries out for automation, Oerlikon Manmade Fibers has now developed a wiping robot. And a smart one at that, as its control unit is able to communicate with the production system. "This intelligent control system contains the solution's actual expertise, which networks machines and processes – very much in line with the Industrie 4.0 concept", explains Stephan Faulstich, POY Technology Manager at Oerlikon Barmag.
Initially, this means: the information relating to all wiping positions, cycles and times can be saved in the management system. The robot accesses the saved wiping intervals in an automated and safety-relevant manner – without manual intervention, but accompanied by a whole range of advantages.
To this end, the robot can cope with up to 48 positions, corresponding to one entire production line. Both the wiping quality and the oil application remain constant around the clock. Furthermore, the silicone oil from canisters deployed here costs just a fraction of the manually-utilised 500-milliliter (ml) spray cans, which contain merely 12 ml of oil, as the lion's share is made up of propellant gases that are harmful to health and environment. So, applying oil from canisters saves costs for the procurement, storage and disposal of spray cans.
However, more decisive here is the impact of the intelligent control system, with whose help the spinning pump can be moved up and down in an automated and 'in-time' manner. To this end, pump stops can be kept to the absolute minimum using a robot, considerably reducing the impact of the wiping on both the polycondensation system process stability and on the yarn data of the spun yarn. And production times can be increased between two cleaning cycles as well: whereas repeated wiping is required after 48 hours in the case of the manual process, utilising the robot extends the interval between two wiping processes to up to 60 hours. Customers have already been benefiting from such optimised times: Oerlikon Manmade Fibers wiping robots have been operating at two major yarn manufacturers in China for well over a year now.