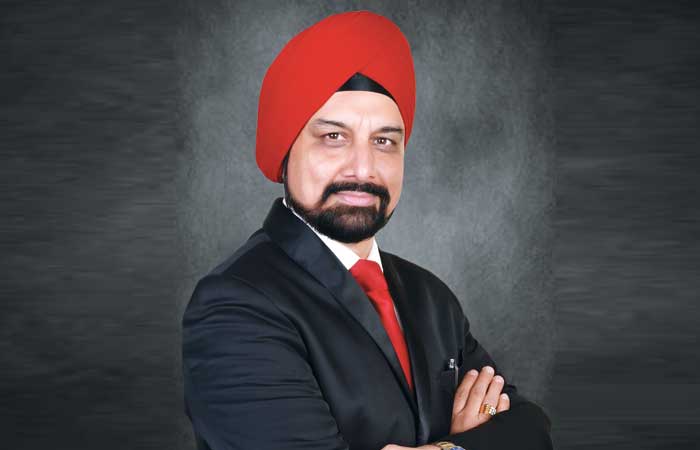 Paramount has introduced more than 12 world class footwear testing instruments
Paramount Instruments is an associate company of the Well-known Paramount Group, an ISO 9001, ISO 14001 and ISO 45001 Certified Group, established in 1964. The company provides world class testing instruments for textiles, yarns, coated fabrics, non-woven, footwear leather, artificial leather, automotive interiors etc. Manjit Singh Saini, CEO & Technical Director, Paramount Instruments, discusses the importance of the Indian textile industry on an international scale and discusses how Paramount is actively participating in this initiative with Divya Shetty.
Kindly give us a brief about your company .
Since 1964, Paramount is on a mission to help companies accelerate their growth exponentially thru Quality control. We have a Manufacturing facility at Bahadurgarh (Haryana) with 25000 square feet of area. We are coming up with a New State-of-the-art Manufacturing facility of more than 40000 square feet at Manesar (Gurgaon). We have more than 60000 installations of our testing instruments all over India and we export to more than 45 countries. We serve spinning mills, weaving mills, composite mills, garment exporters, garment manufacturers, buying houses, fashion institutes, technical educational institutes etc.
Our exports contribute 20 per cent to our sales and we are aiming to increase this to 25 per cent in the current year.
How did your performance fare during FY 23? What were the significant hurdles you encountered, and how did you navigate growth despite these challenges? Can you highlight any notable accomplishments that stood out during this period?
Our Performance in 2023 had been quite impressive. We could achieve 20 per cent increase in our sales. Although the textile industry went through several challenges and the demand of testing instruments was affected. But we have included another domain of footwear testing instruments in our range. We have set some of the biggest and finest labs in footwear industry in FY 2023.
Our R&D and innovation department has introduced more than 12 world class footwear testing instruments for which we have received very encouraging and motivating response from our clients in the footwear domain.
What is your present evaluation of the Indian textile industry and the field of textile engineering?
To me, the current assessment of the Indian Textile Industry seems positive. Despite challenges in the past one year, such as increasing competition from other countries like Bangladesh, Vietnam, Cambodia etc and fluctuating raw material costs, the industry has shown resilience and growth. The Indian government's initiatives like 'Make in India' and favourable policies are supporting the industry's development. The industry's export performance is improving, with an increase in demand for Indian textiles globally. Moreover, technological advancements and innovation are driving efficiency and productivity in the sector. Overall, the Indian Textile Industry continues to be a significant contributor to the country's economy and has a promising future.
Regarding Indian textile engineering industry again, the future seems positive. In the year ending 2022 there was a marked increase in the production capacity by 170 per cent which was really substantial. This shows that the industry has an innate virtue of grasping sudden spurt in the demand. It has witnessed significant growth and modernization in recent years, with the implementation of advanced technologies and techniques. The Indian textile engineering industry is known for its innovative and value-added products. It is also a major contributor to the country's economy, providing employment opportunities and generating substantial export revenue. However, there are still areas of improvement, such as inculcating R&D mindset, skill development and infrastructure enhancement, to further strengthen the industry's competitive edge in the global market.
What is the global standing of Indian textile industry and India's textile engineering industry?
India is the largest producer of cotton and jute in the world, the second largest producer of silk in the world the 6th largest producer of technical textiles. India stands as the 3rd largest exporter of textiles & apparel in the world. The Indian textile industry is globally recognised as one of the largest and most vibrant industries. It has a strong presence in both domestic and international markets. The industry's strengths lie in its rich heritage, diverse product range, skilled workforce, and competitive advantage in terms of cost and quality. However, there are still challenges such as infrastructure, modernization, and compliance that need to be addressed. Overall, the industry has a favourable global standing but continuous efforts are required to maintain and enhance its competitiveness.
India's textile machinery Industry holds a prominent global standing. It is one of the largest manufacturers and exporters of textile machinery in the world. The industry is known for its innovation, quality, and cost-effectiveness. It caters to the diverse requirements of the textile sector, which is a major contributor to India's economy. India's textile machinery is highly regarded for its technological advancements and ability to meet international standards. With a strong domestic market and increasing exports, the industry has a bright future and continues to play a significant role in the global textile industry. Overall, the Indian Textile Engineering Industry's global standing is strong and continues to thrive.
Do existing Government policies aim to enhance the growth of the Textile Engineering Industry? What additional measures should the government consider taking to further accelerate this growth?
Yes, our government has implemented policies to boost the Indian Textile Machinery Industry. The government has introduced various schemes and measures such as financial incentives, tax benefits, and subsidies to encourage investment in the sector. Additionally, initiatives like the Make in India campaign have focused on promoting domestic production of textile machinery, thereby creating employment opportunities and reducing imports. Furthermore, the government has also taken steps to improve infrastructure and simplify regulatory processes to facilitate growth in the industry. These policies aim to enhance competitiveness, promote innovation, and increase exports in the Indian textile machinery industry.
In addition to current efforts, the government could further promote the Indian textile machinery industry by providing financial incentives such as tax breaks or subsidies to encourage domestic manufacturers to invest in research and development. This would lead to the development of advanced technologies and innovative machinery that can compete globally. The government can also improve infrastructure, such as transportation and logistics, to ensure efficient movement of machinery and raw materials. Collaborating with international organisations to share knowledge and access global markets can also be beneficial. Lastly, the government can initiate skill development programs to train a skilled workforce that can meet industry demands. Although the government is taking appreciable steps in above realms, but speedier execution of the schemes & policies will further boost the Indian textile engineering industry.
What kinds of current market trends are you observing in the Indian Textile Engineering Industry? How is your company preparing to capitalise on these trends?
In the Indian textile machinery market, there are a few key trends that are visible. Firstly, there is a growing focus on sustainability and eco-friendly solutions, with textile manufacturers looking for machinery that can reduce water and energy consumption, as per the buyers norms across the world Secondly, there is a demand for advanced automation and digitization, with textile businesses seeking machinery that can streamline and enhance their production. Additionally, there is a trend towards compact and space-saving machinery that can be easily integrated into existing production setups. Lastly, there is an increasing interest in textile machinery that can handle a wide range of fabrics and processes, providing flexibility and versatility to manufacturers.
To tap the emerging trend of advanced automation and digitization, we at Paramount have introduced Industry 4.0 IIOT Functionality in our Testing Instruments. IIOT stands for Industry Internet of things. Paramount's latest Testing Instruments with IIOT operation, enables automation of Processes in testing instruments, which result in high accuracy of testing operation with minimum human error in testing. With advanced features like: Preloaded Standards, Predictive Maintenance, Instant Remote Technical Support, Remote Software Updates etc. IIOT clearly seems to be the future of testing and quality control.
What are your expectations & growth plans for FY 2024 ?
We at Paramount carry highly positive outlook for FY 2024. We are coming up with a new plant in Gurgaon with more than 40000 sq ft area. Latest Technological advanced machines like CNC Turning, CNC MILLING, CNC Brake Press, Metal laser Cutting, Laser welding, Laser Marking are being installed there. With the increase in the production capacity, we plan to enhance our sales by 40 per cent in FY 2024. We also plan to introduce at least 6 new products in this year. With our deep focus on quality control instruments, we look forward to serving our ever growing clientele of garment exporters, buying houses & textile mills, by providing them with world class testing instruments, which are true value for money.
For any query or question, Manjit Singh Saini can be contacted at manjitvision9@gmail.com.