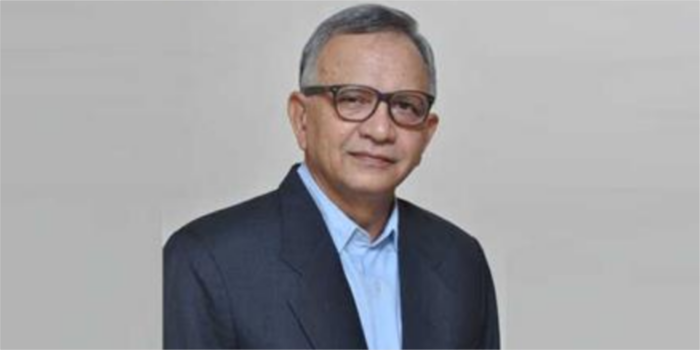 Our quality-first approach extends to all areas
Dhirubhai Shah, Chairman, Shahlon Silk Industries, speaks on the market prospects for Shahlon's products in India, and USPs of its product offerings.
Growing and developing on the foundations laid by a tightly knit family for more than 30 years, Shahlon Group is a leading textile enterprise based in Surat, the textile hub of India.
Dhirubhai Shah, Chairman, Shahlon Silk Industries, speaks on the market prospects for Shahlon's products in India, and USPs of its product offerings.
Excerpts…
Give us some brief information about the company and how it evolved over the years?
Shahlon Silk Industries, leading fashion to technical fabric player to domestic and leading fashion brands across the world, is based in Surat, the textile hub of India. With the unwavering vision to be a fully integrated textile enterprise, and the strong support from workforce of more than 1800 employees, the company has expanded from yarn marketing agency to texturising, twisting, sizing, yarn dyeing, weaving, finish fabrics and industrial infrastructure fabric player in the country.
Shahlon Silk Industries is engaged in manufacturing and exporting of supreme quality fabrics and synthetic textile yarn across the world. Headquartered in Surat, SSIL has three state of art manufacturing units in Gujarat located at Kim, Karanj, and Kosamba.
Established in 1984, the company has grown from a small textile unit to a fully integrated textile enterprise over the last 30 years.
What are the market prospects for Shahlon's products in India and how do you plan to position these products?
There has been a demand growth for fabrics and yarns over the years led by increasing demand of fashion and furnishing products. The company is leading player in fabric used in women's wear like sarees and garments, which are growing segments and have been growing at double digits. Shahlon's garment manufacturers in Delhi, Mumbai and Bengaluru export to top brands like M&S, Matalan, H&M, Belk, and many more.
Give us more information on the USPs of your product offerings.
We have three manufacturing units situated in Gujarat at different locations. The total installed capacity for Fabric manufacturing is 40 million tons per annum while it is 22,200 tonne per annum for manufacturing yarns.
In yarns segment, the company is producing polyester yarn from 30 to 300 denier having presence across all types of textured yarns, carpet yarns, dyed yarns and sized yarns. In fabrics segment, with presence across different types of fabrics like solid dyed, jacquard and yarn-dyed, printed, sustainable and greige, we manufacture fabrics for fashion and furnishings products like sarees and garments.
Can you brief us about the marketing strategies that were applied in order to stand out in the competition among industry?

Having been in business for over 30 years, the company has always been at par with embracing changes in technology, innovation and consumer preferences. Its quality-first approach extends to all our areas of operations, including customer support. From understanding the basic requirements of our customers to offering pre-sales and post-sales service, the highly responsive and dedicated team at Shahlon ensures we continuously exceed customer expectations.
Percentage-wise, how much is your exports compared to the domestic sales? How do you plan to increase the contribution?
With presence across 15 countries, exports contribute about 14% to our revenues. However, due to the external constraints and supply chain disturbances, we have not received any export order. We expect normal operations by the end of September or October 2020 when the situation across the major markets is expected to improve.
Modernisation and automation is increasing across industries. What is the significance of this for Shahlon?
At Shahlon, we continuously invest in state-of-the-art technology and equipment across all our areas of operations to adopt globally accepted manufacturing technology, delivering speed, versatility and most importantly, quality. Product quality is of supreme importance for us and we ensure exceptional quality control across our entire manufacturing process through extensive testing methods, to adhere to all quality specifications.
How has Covid-19 impacted the business? What are your expectations from the government?
The offices were shut down during lockdown phase, but the company adopted the work from home policy for office related work during the entire lockdown duration. With the lifting of the partial lockdown restrictions, the company restarted its operations at manufacturing plants and at Surat offices, in gradual manner from April 27, 2020. At all the locations, necessary arrangements of sanitization, self-quarantine and screening etc. were been made and are continuing. Though the overall capacity utilizations of our plants have been impacted due to constraints & supply chain disturbances, we are confident of getting back at normal utilisation levels in this quarter.
What kind of challenges are you anticipating this year?
We are confident of reaching pre-Covid level by end of fourth quarter. The company made efforts to convert a challenging period into an opportunity by manufacturing fabric for Personal Protective Equipment (PPE). This temporary pivot allowed us to make revenue and also buy some time for our primary yarn and fabric business to recover.
How do you intend to tide over the present crisis due to Covid pandemic? Have you recalibrated your growth plan due to Covid-19?
Shahlon is back on track with increasing capacity utilisation to 75 per cent and is expecting to reach pre-Covid levels by December 2020, on expected increase in demand during the festive season.
Economic activity is improving in the country, which will give a further boost to festive consumption. The demand has started to pick-up. The festive season will peak in October-November during Navratri and Diwali and accounts for over 30 to 40 per cent of our end users annual sales. We cater to fashion segment of women's wear fabric which is expected to go back to the January 2020 levels in less than three months.