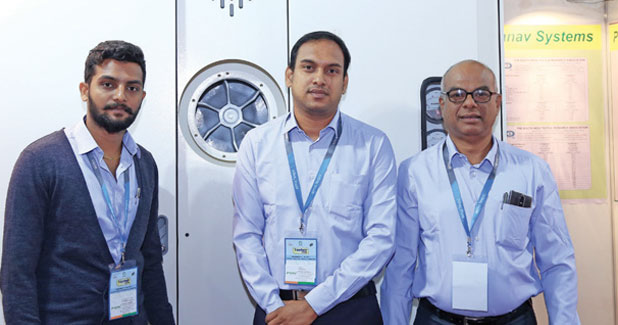 "Our products are completely made in India"
Coimbatore-based Pranav Systems, which has been manufacturing micro dust extractors and power saving devices, believes in the concept of Make in India. The company's Marketing Manager, S Shivaram, a B.Text in textiles from DKTE & MASTERS from the UK and the son of the Managing Director, brings in a loads of experience, which is required in this field. He says, "We are happy that our product is completely made in India and we want to promote India in the global market."
Coimbatore-based Pranav Systems, which has been manufacturing micro dust extractors and power saving devices, believes in the concept of Make in India. The company's Marketing Manager, S Shivaram, a B.Text in textiles from DKTE & MASTERS from the UK and the son of the Managing Director, brings in a loads of experience, which is required in this field. He says, "We are happy that our product is completely made in India and we want to promote India in the global market."
He proudly states, "Obviously there is huge market potential for our products in India because our product is related to the atmosphere. It helps reduce power and it can help them save on cost too." Pranav Systems was established in 2015. Initially, the company began with manufacturing of power saving devices for VEEJAY and Savio Espero autoconers, called as Pranav E+. Pranav's Managing Partner, S Sriram, shares an example: "If you talk about the textile industry, there is a lot of requirement for motors, and we at Pranav provide customised solutions for their needs. As you know, India is a power-deficit country, and our solutions can help save our customers on power, and at the same time, it is cost effective. It could help save around 24 units of power a day. It may sound less, but in the long-term, these small savings will have a larger impact. Our drives can save up to 30 per cent energy."
Presently, the company's complete focus on the newly-launched machine called micro dust extractor, which was launched earlier this year. "Micro dust extractor helps removes micro dusts in blowroom line in textile industry."
Advantages of the machine include: removes trash content in cotton, removes short fibre content, improves web appearance, reduces carding cleaning time, enhances the life of card clothing, cleans atmospheric air, better efficiency in next process, and improves yarn quality.
"As you see the entire market is moving towards fast fashion and new technologies. We are trying to come out with technologies which go on with the latest trends," says Shivaram.
"At present, we have provided a micro dust extractor to Vellingiri Andavar Textiles, Coimbatore. We have already received a positive feedback from them. They say our product has helped their mill in increasing their efficiency of their machine. We had sent the collected samples and examined the cleaning efficiency through trash separator, AFIS & HVI in SITRA, and have achieved good result," added Shivaram. Speaking on the market for their products in India, Shivaram says: "We are currently focusing on offering our solutions to the entire Indian market."
On competition, the Marketing Manager adds, "We don't want to compete with anybody. Because we know with our machine, one can have a good yarn type and quality."
The company has further plans to enter into GSM-based SMS alert, and one can use this application for different purposes. Shivaram shares: "If there is any problem in a company, related to fire then the GSM-based SMS alert will directly send a message to at least FIVE people – they could be the managing director, a manager or an electrical engineer. With GSM-based alert system, one can easily avoid unavoidable circumstances. It can be used anywhere like compressor industry, textile mills, commercial spaces etc. It all depends on the applications. Also, one can edit the numbers."
He was proud of the fact that no such company in India is offering such a device that can edit numbers. Pranav is the first company in India to bring this product.
Shivaram concludes: "We have a huge scope for SMS-based device. In fact, we are in talks with some companies for collaboration, but I cannot divulge more details on this. Our focus next year will be on the GSM based SMS module."