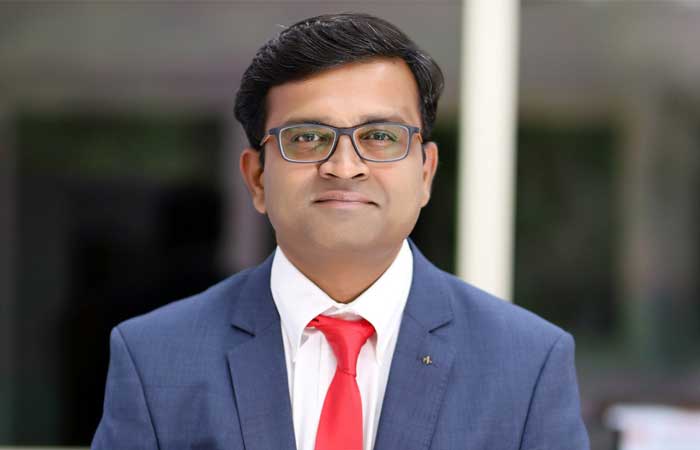 Our focus is to promote sustainable chemicals for textile industry
Established in 2020, Cosmo Speciality Chemicals has been focusing on providing not just innovative products, but also creative and functional benefits to manufacturers, apparel brands and retailers. In this interview, Anil Gaikwad, Business Head, Cosmo Speciality Chemicals, sheds more light on the company's growth plans by focusing on providing eco-friendly, sustainable solutions to the textile industry.
Cosmo Specialty Chemicals was established in 2020. How do you see the journey so far?
Cosmo Speciality Chemicals is a 100% subsidiary of Cosmo Films Ltd. The company was established in 2020 with a vision of acquiring the textile auxiliary market in India & abroad by providing best and the most competitive products through innovations based on sustainable science.
The brand purpose of Cosmo Speciality Chemicals is to enrich lives with chemistry and responsibly. The company is backed by strong research capabilities with an R & D facility equipped with sophisticated analytical instruments that supports the scientists to characterize developed products at molecular levels. The R & D team consists of scientists who have PhDs, Post-docs & Post graduate degrees from the best institutes of USA, Korea, Japan & Europe, and also from IITs, NITs & ICT etc.
How is Cosmo serving the needs of the textile industry?
The company has recently launched 60+ new products in the market for pre-treatment, dyeing and specialty finishing textile auxiliaries.
Some of the unique products developed by the company are:
Ecoclay: It is an eco-friendly multifunctional clay base product for pre-treatment of cotton yarn knits and terry towel. It allows almost 35% reduction in the COD & BOD levels in the effluent. It is non-foaming & extremely effective in removing processing oils & other impurities from the textile greige substrates
Cosmotex AVB: It is an Antibacterial & Antiviral finishing agent and effective against Human coronavirus. It gives an durable antimicrobial and anti-viral effect on finished goods. It has non-leaching behavior in waste water stream.
Wetofast LD: It is a wetting cum scouring agent for all types of substrates that gives a uniform re-wetting and better whiteness index for bleached fabrics. It is low foaming and can be recommended for exhaust machines with high liquor turbulence. Wetofast LD is APEO and NPEO Free, has excellent soil suspension property, and is suitable for cotton and its blends.
Superwash POL: It is an excellent soaping agent for after dyeing process. It improves fastness properties like wash fastness, bleeding fastness, wet rub fastness and anti-tinting properties of dyed / printed goods on washing off. It is effective in hard water and suitable for a wide range of pH.
Apart from textile chemicals, Cosmo Speciality Chemicals also started manufacturing master batches as part of backward integration for our films business, and are working towards launching industrial adhesives.
What kinds of solutions do you offer for dyeing, finishing, and processing in the textile and apparel industry?
Apparel is one of the fundamental needs of a human being and is also one of the fastest-growing businesses globally. Textiles and clothing are key exports, especially for low- to middle-income countries. The top textile apparel exporters are China, India, Bangladesh, Turkey, Indonesia, and Vietnam, accounting for over 70% of the total global textile apparel exports. ​
Increasing demand for textiles and apparel is expected to drive the demand for textile chemicals in these applications. As the largest market for woven fabrics, Asia-Pacific is witnessing healthy growth due to the increasing demand in countries like India and China.
In India, the demand for apparel has increased with growing consumer preference in response to the growing foreign textile brands. Some apparel manufacturers in India state that the growth rate in menswear brands is at 7-10%, while the growth rate of women and kids apparel is around 15-20%. Also, the growing number of working women has increased the demand for women's apparel.
By keeping this increase in demand, Cosmo speciality chemicals has focused on the dyeing auxiliaries like Reacto Lev RL (Dyeing levelling agent), Reacto SAR (Soda ash replacement), PET dyeing package, Superwash POL and Superwash ECO for washing off agent and Neutraden FAST (Garment washing PP neutraliser)
For finishing auxiliaries, Cosmo speciality has developed 21 products to fulfill the requirement for apparel fabrics and 19 products for pre-treatment auxiliaries.
How do you view the textile auxiliary market?
Overall Textile auxiliary chemical market stood at about 1,150 KT in FY20 and about 870 KT in FY21.
The Government of India has increased the basic custom duty to 20% from 10% on 501 textile products to boost Make in India and indigenous production & Gorakhpur is on track to become a major garment manufacturing centre. A no. of initiatives like the use of greener fibre, greener dyes and auxiliaries, eco-friendly solvents, efficient processing of textile and chemicals, recycling of water, and eliminating the use of hazardous chemicals have been taken & Sustainability is the core in textile industry, from using materials which have less environmental impact to the use of chemicals which can be recycled and reused. Companies have started moving with circularity.
What kind of opportunities the textile auxiliary industry offers to companies like Cosmo – globally as well as in India?
Cosmo speciality chemicals innovative products are not only focused on total chemical solutions, but also on providing creative and functional benefits to manufacturers, apparel brands and retailers. Our major focus is to promote continuous improvement toward safer, more sustainable chemicals for the textile industry.
From concept to creation, our chemistries and processes are focused on social, economic and environmental sustainability. By using a customer-centered research and development products, continually develops new formulations by keeping end-use consumers in mind. This approach to customer service and innovation allows us to provide solutions that truly meet the needs of the market and the ever-changing textile industry.
The government intends to give a boost to technical textiles and MMF. How is Cosmo gearing up to serve these segments?
Technical textiles are a fast-growing sub-segment that finds its usage in an array of sectors. The end use application of technical textiles is widespread and seen in industries such as agriculture, construction, sports apparel, healthcare etc. India's leap towards modernization and its manufacturing competitiveness are some of the key contributors to the growth of this segment. There is a huge potential to fulfil a large demand gap as the consumption of technical textiles in India is still only at 5-10% against 30-70%.
National Technical Textiles Mission has been set up that aims at an average growth rate of 15-20% to increase the domestic market size of technical textiles to $ 40-50 billion by the year 2024; through market development, market promotion, international technical collaborations, investment promotions and Make in India initiative. Despite the economic slowdown and downturn in the overall demand for textiles due to Covid-19, the industry continues to be the second largest employer in India
At Cosmo speciality chemical, we are focusing on development of OWR range, Moisture management and fragrance finishing products. The domestic MMF industry mainly comprises of two components i.e., polyester and viscose, which together accounts for about 94% (in volume terms). Under this, polyester accounts for about 77.5% while viscose accounts for the remaining share. MMF is primarily used to produce 100% non-cotton fabrics and blended fabrics, which are in turn used in readymade garments, home textiles and other industrial textiles.
Moreover, MMF production witnessed an increase of about 3.7% y-o-y in FY19 after declining about 0.7% in FY18. The total MMF production as of 2019 stood at 2.6 billion kgs. Factors such as increasing use in nonwovens and technical textiles, changing consumer trends including increasing emphasis on fitness and hygiene, rising brand consciousness, fast changing fashion trends, increasing women participation in workforce will further boost the demand of manmade fibres
Cosmo speciality chemicals' vision would be on development of speciality lubricants for man-made fibre, antistatic agents; spin finishes auxiliaries, low-foam wetting agents.
What are your plans to tap the exports market?
We export our products to more than 100 countries across the world. We also have sales offices and warehouses all across Europe, the US, Japan and Korea. I would say that currently, almost 40% of our sales come via export. We are also planning on increasing this number in the years to come.
Sustainability is gaining prominence in the textile and apparels industry. How is Cosmo helping firms on their green journey?
The chemical industry is one of the biggest polluters of air and water. There is a major challenge to shift to eco-friendly and sustainable chemicals, and that is what our vision is. Our focus is on creating sustainable and eco-friendly products which differentiates us from other players in the market. Also, we have an expert team of chemical scientists who are working day and night to engineer best in class products which accentuates the quality of the fabric, giving it a great finishing effect, without hampering the texture or the color of the fabric.
Which are the emerging trends in the industry to watch out for?
Some of the emerging trends in the industry are:
Many industry players have joined forces to create innovative amenities by applying advanced resources such as artificial intelligence, which are slated to begin new avenues in the market. These chemicals offer a chance to overcome profitability obstacles in the GCC countries, particularly in light of the low crude price environment, while also mitigating China's growing self-sufficiency in commodities
Leading companies should focus on acquisition and expansion strategies to garner market share
Digital textile printing ink- they have characteristics such as durability, high color, and superior image quality
Smart fabrics & intelligent textiles: Smart fabrics can detect different environmental conditions and intelligent textiles or e-textiles can not only sense environmental changes, but also can automatically respond to their surroundings such as thermal, chemical, or mechanical changes, as well
Keeping comfort and body protection in mind, the textile industry has also come up with solutions to keep your body hydrated and odour-less, such as moisture management finishes; fragrance finishes; antimicrobial finishes, and technical textiles.
What are your short and long-term growth plans?
We will soon launch our adhesives business under Cosmo Speciality Chemicals which will provide industrial grade eco friendly adhesive options and also make us one of the only companies to give a 360 degree solution with films and adhesives under one roof.
Apart from the adhesive business, we export our textile chemicals products to more than 100 countries across the world and we continuously look to expand our operations in all the different regions of the World. Currently, almost 40% of our sales come via export. We are also planning on increasing this number in the years to come
We are also on track to grow the business 5 to 6 times in next financial year while continuing to make sustainable eco friendly products by developing our own chemistries. We will also offer break through products in moisture management, technical and industrial textiles and develop patentable products for specialty finishes and technical/industrial textile.