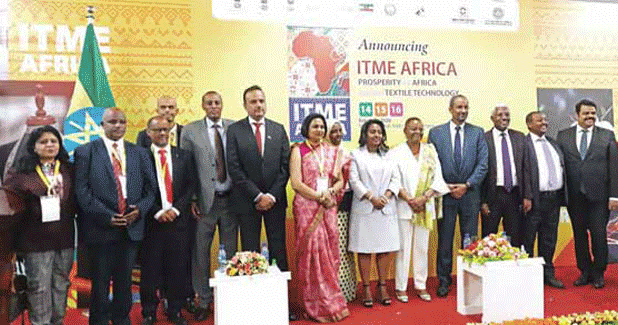 Opening new frontiers in Africa
For the first time in its 40-year history India ITME Society, which organises key textile technology industry exhibitions, has opened its doors in Africa.
For the first time in its 40-year history India ITME Society, which organises key textile technology industry exhibitions, has opened its doors in Africa.
Themed "Prosperity for Africa through Textile Technology", the 1st edition of ITME AFRICA concluded successfully in Addis Ababa, Ethiopia. The global textile manufacturing industry converged at ITME AFRICA, featuring many exciting new product launches and innovative technologies and products from a total of more than 172 exhibitors from 15 countries across the globe. ITME AFRICA 2020, the first-of-its-kind business and technology exhibition, which was held from February 14-16, 2020 at Addis Ababa, Ethiopia, is the world's most established textile and garment technology exhibition.
Ethiopia is an emerging production hub for the global textile and garments industry. Cheap labour costs, free trade agreements with major Western markets, and a constantly growing economy have made the Sub-Saharan African country an important destination for the manufacturing of garments by major fashion brands. Given the necessary upgrade in technology required, the demand for textile machinery is growing consequently, supported by incentive schemes provided by the local authorities to support and develop Ethiopian textile sector.
Exhibitors from 15 countries showcased modern textile technology and engineering sectors from wastewater recycling, dyestuffs and chemical products, pumps and valves, logistic equipment and more. Apart from 85 companies from India under the umbrella of the Engineering Export Promotion Council of India (EEPC) and Federation of Indian Chambers of Commerce & Industry (FICCI), Italy had a showed prowess of 22 companies, Swiss pavilion with 12 companies and China with 19 companies.
One of the exhibitors who was pleased with the visitor quality was NK Brahmachari, Managing Partner of Mumbai-based Amritlakshmi Machine Works. He explained: "Overall, it has been a good exhibition for us. We came with low expectations, but they have been considerably exceeded. Although we did not get a large number of visitors, the quality was very high."
Speaking on the low visitor turnout, Brahmachari added, "Rome wasn't built in a day. This exhibition is happening for the first time. We should give them time. In fact, we should thank ITME Society for taking such an important step to promote the African textile industry."
Senthil Kumar of Premier Evolvics said, "Premier Evolvics has already a strong base in the African markets. We exhibited at ITME AFRICA just to make our presence felt." He added that unlike others, we have received decent response at the exhibition."
Cornelia Buchwalder, Secretary General Swiss Textile Machinery Swissmem, had this to say: "For us, ITME AFRICA has been surprisingly positive. The current global economic climate, we are observing a downtrend, not only in textiles but also in other industries around the whole world economy. This is also a difficult business climate for an international exhibition." However, she was a little apprehensive of the forthcoming India ITME exhibition, which will be held from December 10 to December 15, 2020 in Noida, Uttar Pradesh. "The main challenge will be for the Society to get quality visitors. I have my fingers crossed," she added.
Dr Rafaella Carabelli, Sales Director of FADIS SpA, Italy, also felt the same. She added, "India ITME Society needs to promote wisely to get in quality visitors at India ITME exhibition in Noida. I hope it is not like the Bengaluru ITME event. In Mumbai event, there used to be a lot of quality visitors."
ACIMIT (the Association of Italian Textile Machinery Manufacturers) represents an industrial sector that comprises roughly 300 manufacturers producing textile machinery.
The first edition of ITME AFRICA trade fair featured 22 Italian textile machinery manufacturers at the Italian pavilion organised by the Italian Trade Agency. Among these are the following ACIMIT associated members; Arioli, Biancalani, Bianco, Bonino, Carù, Corino, Erhardt-Leimer, Fadis, Ferraro, Flainox, Lafer, Loptex, Mariplast, Mcs, Mesdan, Pugi, Ratti, Reggiani, IRO Roj, Santoni, and Savio.
"Our exports to Ethiopia have grown significantly over the past five years, although their overall value remains quite modest (Euro 2.8 million in 2018). In 2019 January-July period, Italian exports towards Ethiopian market reached a value of €3.3 million. The quality of our machine technology is superior to that of our competitors currently operating in this market. Our focus is on getting potential buyers to get to know and appreciate the quality of our technology, through opportunities such as ITME AFRICA, as well as through the institutional missions organised in recent years, thanks to the support of the Italian Ministry of Economic Development and Italian Trade Agency," ACIMIT President Alessandro Zucchi said.
This unique exhibition was inaugurated by H.E. Teka Gebreyesus, Honourable State Minister, FDRE Ministry of Trade Industry, Ethiopia; H.E. Dorothy Tembo, Executive Director, International Trade Centre, UN, Geneva; H.E. Anurag Srivastava, Ambassador of India to The Federal Democratic Republic of Ethiopia; and amongst other esteemed dignitaries who graced the programme with their presence. Other stalwarts gracing the event included: H.E. Dr Tizita Mulugeta, Ambassador of Democratic Republic of Ethiopia to India; H.E. Demeke Atnafu Ambulo, The Consulate General Of The Federal Democratic Republic of Ethiopia in Mumbai; Munteha Jemal Seid, Director General of Business Diplomacy, Ministry of Foreign Affairs Ato Silesh Lemma, Director General ETIDI; H.E Ambassador Dewano Kedir, Permanent Secretary of Economic Affairs, FDRE Ministry of Foreign Affairs, and official representatives from other countries.
The highlight of the first day of the exhibition included donation of a "Laxmi CM-R Shuttleless Flexible Rapier Loom" from the Laxmi Shuttleless Looms, to the Ethiopian Textile and Fashion Technology (EiTEX), Bahir Dar University. EiTEX is Ethiopia's premier textile educational institution. The powerloom will contribute to teaching of EiTEX's cadre of over 3,000 students and expose enterprises in the Bahir Dar area to the newest weaving technologies available. This donation was supported and facilitated by the International Trade Centre's SITA project. ITC also launched their report on Africa. India ITME Society and Kenya Association of Manufacturers signed a memorandum of understanding (MoU) for further co-operation between India and Kenya in textile engineering sector.
The other concurrent programmes on the first day were the Investment Seminar organised by ITC and moderated by Govind Venuprasad, Coordinator – SITA, ITC. This seminar saw an excellent response and was well received by the audience. The panellists for the session were Phyllis Wakiaga, Executive Director, Kenya Association of Manufacturers; Navdeep Sodhi, Partner, Gherzi Textil Organization, Switzerland; Sudatta Mandal, Chief General Manager, Lines of Credit Group, Exim Bank of India; Antje Steiner, DEG Invest, Regional Office East Africa; Sanjeeva Ileperuma, Director/CEO, Strathmore Apparel Manufacturing PLC, Ethiopia; Pankaj Bedi, Chairman, United Aryan (EPZ), Kenya; Dr Philip Osafo-Kwaako, Chairman, Akosombo Industrial, Ghana and The B2F Meetings with Bank of Ethiopia, AWASH and Dashen and B2G meeting with Ethiopia, Uganda, Rwanda and Tanzania.
H. E. Anurag Srivastava, Ambassador of India to The Federal Democratic Republic of Ethiopia, said, "India is a frontrunner for investment in Ethiopia for textile and garment industry. There is a tremendous untapped potential for export of readymade garments from Ethiopia to the West. Therefore the textile industry, which is the largest Industry of India should explore investment possibilities in Ethiopia and take advantage of the duty-free facilities."
H.E. Dorothy Tembo, Executive Director, International Trade Centre, United Nations, Geneva, said, "ITME AFRICA 2020 is a tribute to the African continent and the trade relation between India and Ethiopia over the past two decades have increased more than eight folds. While African companies are interested in upgrading their machinery but the major challenges they face is the financial support. A few of the companies are already looking forward to participate in the next ITME AFRICA event," she said.
S Hari Shankar, Chairman, India ITME Society, shared that more than 180 textile and technology companies from 15 countries have come to Addis Ababa to showcase their latest technology, machinery relevant to Ethiopian textile and apparel sector. Buyer delegations from Ethiopia, Botswana, Ghana, Uganda, Rwanda and Tanzania showed keen interest in doing business with the Indian participating companies.
Italian Trade Commissioner said, "We have different specialisation of textile machinery in the pavilion. The fair is well organised. As Ethiopia is the hub and an important market we expect more participants. Have a great expectation from this fair. The organisation was good."
Ernesto Maurer, President of Swiss Textile Machinery, said, "Happy with the presence of many of these companies shows the diversity of the exhibition. Many interested parties were here and from fibre to shirt. Ethiopia can take more steps to bridge the gap but should start soon, it might take time but it will get there."
Richard Salvatore, Co-ordinator, TEMSAD, Turkey, said, "The response to this maiden event by India ITME Society was exceptional with a good quality of visitors flowing in. We could meet and interact with many people from Industry Associations and officials, whom we could otherwise never meet and connect with in any other exhibition outside Africa."
Day 2 of the event has many value-added concurrent programmes with ETIDI conducting seminar on "Potential Africa" which shall be attraction for all business men and the technical Seminar on Cotton Development and Agro-copter from IIT Madras, which has seen unprecedented registration from technical community/academics /students. The B2B meetings with business delegates from Ethiopia, Kenya, Ghana, Uganda, Rwanda and Tanzania looked at sourcing from India and overseas opened up many possible opportunities for trade and investment and engaging and turning them into potential customers.
This one-of-its-kind exhibition showcased under one roof various technologies by leading companies like Lakshmi Machine Works, Lakshmi Card Clothing, Lakshmi Ring Travellers, ALG Group, Erhardt+Leimer, Ideal Sheet Metals, InspirOn Engineering, SIMTA Jacobi, Krossmark Innovations, Krsna Engimech, Kuesters Calico, A.E.T. Huber Envirotech, Lathia Rubber, Laxmi Shuttleless Looms, Luciel, Naren, Perfect Equipments, Picanol, Prashant Gamatex, Precision Rubber, Premier Evolvics, Rabatex, Rossari Biotech, Sieger Spintech, SMEW, Statex, Tech Mech, Texfab, Thakore Exports, Vetal, Alidhara Weavetech, Yamuna Machine Works, Zimmer, etc. showcasing spinning, weaving, processing, wastewater technology, knitting and dyestuff.
A special engineering pavilion by EEPC India and the Ministry of Commerce & Industry shall bring the Indian engineering expertise to the African shores.
Why Africa, why Ethiopia?
Despite an enormous untapped potential for trade expansion between India and Africa, India's trade with Africa is concentrated in certain sectors and countries and is dominated by exports of primary commodities. While the potential for export diversification exists, it may not be realised without targeted intervention. India is today the second largest textile industry globally and has a strong base in textile engineering, thus is well-positioned as a partner to improve the productive and export capacities of Africa. With the growing importance of South-South cooperation, India's expertise can be leveraged to build textile industry in Africa through the sharing of knowledge, technology and lessons learnt.
In this context, the United Kingdom of Great Britain and Northern Ireland's Department for International Development (DFID) mandated the ITC to design and implement a project, called 'Supporting India's Trade Preferences for Africa' (SITA) with specific objective of increasing value of business transactions between India and selected African countries with the ultimate objective to create jobs and income opportunities. This initiative shall benefit East African businesses exporting to India, Indian companies importing from or investing in Africa and National Trade and Investment Support Institutions (TISIs).
Human life and history is intricately woven with Textiles, which was not just extension of our skin but also technology, more ancient than bronze and as contemporary as nanowire. The story of technology is in fact the story of textiles. From the most ancient times to the present story of economic development and global trade has textile at its core. As much as spices or gold, the quest for fabrics and dyestuffs drew sailors across strange seas, origins of chemistry lie in the colouring and finishing of cloth, the textile business funded the Italian Renaissance and the Mughal Empire. Most conspicuously, the Industrial Revolution started with the spinning jenny, the water frame, and the thread-producing mills in northern England that installed them. Before railroads or automobiles or steel mills, fortunes were made in textile technology.
In ways both subtle and obvious, textiles made our world. Its right tool to livelihood, prosperity, creativity for both genders, across cultures and geography weaving cultures, communities and nations together. That's the base of ITME Africa 2020, a signature event by India ITME Society. Not just creating business, but harmony and prosperity together.
History shows that textiles is one of the prime gateways for industrial development, as it played a major role in the industrial revolution of countries like India. Ethiopia being home to the African union has the potential to be the gateway to bring prosperity to Africa through textile and textile engineering products. This business exhibition showcased complete range of textile and textile engineering with a total of 27 chapters covering various segments.