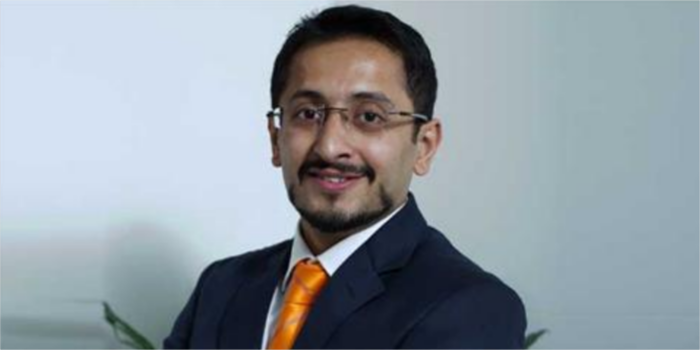 Ninad Deshpande: Automation is must for textile firms
Demand for higher throughput, less downtime, lower energy consumption and higher product quality in textile industry is increasing. B&R solutions help textile companies gain competitive edge in smart manufacturing and production effectiveness. In conversation with ITJ, Ninad Deshpande, Head - Marketing & Corporate Communication, B&R Industrial Automation Pvt Ltd, talks about getting ahead of competition with automation in the textile industry
Demand for higher throughput, less downtime, lower energy consumption and higher product quality in textile industry is increasing. B&R solutions help textile companies gain competitive edge in smart manufacturing and production effectiveness. In conversation with ITJ, Ninad Deshpande, Head – Marketing & Corporate Communication, B&R Industrial Automation Pvt Ltd, talks about getting ahead of competition with automation in the textile industry.
How is B&R Industrial Automation helping the textile industry increase their competitive edge?
B&R is an innovative company and we are consistently looking at providing our customers with technologically advanced automation solutions. Our integrated automation solutions help our customers worldwide to gain a competitive edge and stay ahead of competition. We have many years of experience in automating textile machines. We collaborate with our customers and help them right from the project-designing phase to the execution, commissioning and after sales service phases. Technologically advanced hardware and software, coupled with our expertise, provide our customers a complete solution under a single roof. In addition, our world class support hotline serves as a single point of contact for our customers nationwide. This world class support hotline enhances our customers' experience, by enabling them to offer their customers faster service and reduced machine downtime. Our highly qualified support team is committed to our customers' success and has all expertise it takes to help them gain a competitive edge in their market.
How is your company helping machine builders make highly-productive, efficient textile machinery?
Global trends like Industry 4.0, Industrial IoT and digitalisation are helping machine builders to build highly productive, efficient machines and lines. In India, machine builders are evaluating technologies and solutions and mapping their paths to implementation for which B&R is highly appreciated and preferred. B&R provides solutions for tomorrow's needs resulting in significant competitive edge in smart manufacturing and production effectiveness. There is an increasing demand for higher throughput, less downtime, lower energy consumption and higher product quality in textile industry.
In addition, further improvement is needed in ensuring safety of human operators and reducing pollution and wastage. B&R knows the exact challenges faced by machine builders in designing flexible and scalable machines and can help them by providing complete automation solutions. We excel in this area because our product range includes everything needed for machine and system automation. A decisive factor here is that all B&R products work together seamlessly. Automation Studio, the powerful tool used to programme and configure all our products, is the central hub for engineering. This perfect coordination brings unprecedented increase in performance and quality, giving our customers a substantial competitive edge.
What are the key challenges before the textile companies? How can automation help them overcome these challenges?
Many textile factories in India operates with decade-old infrastructure. Upgradation of existing equipment, machines, devices, and sensors incur high costs, and this acts as a major barrier for Indian textile industry to adopt advanced technologies. Another challenge these brownfield factories are facing is collecting data and moving it to upper layers and IT. Even today, many industrial operators collect data manually and enter it into a spreadsheet. This approach is prone to human error, and there is a possibility of data manipulation. Manual process does not give real-time information and hence slows down ability to find root cause of downtime and take corrective action. This results in unsatisfactory performance drastically lowers RoI. To overcome these challenges, textile industry needs continued push towards enhanced automation without modifying existing setup. Although this may sound abstract, its impact is tangible and fundamentally changes business models in many organisations.
To overcome these challenges, we have many automation solutions that provides greenfield installation benefits to brownfield installation in a cost-effective method. B&R solution helps previously unconnected machines and lines to upgraded ones for modern smart factory solutions with unprecedented ease. Advanced automation solutions make it possible to read and utilise operating data from older, digitally isolated machinery and systems in a smart factory. There is no need to change the existing hardware and software. The B&R portfolio includes a wide range of products and solutions not only for individual machines, but for the entire production line as well. Always up to date on the latest trends in the industry, we provide the most advanced automation technologies to achieve maximum performance on the factory floor.
Our comprehensive product portfolio is a perfect fit for the textile industry. The Automation Studio, the single tool for programming all B&R hardware, makes project management and version management much easier. Automation Studio is an excellent tool for machine building and systems engineering. Through its sustainable and efficient approach to software development, it helps machine builders maintain high quality, lower engineering costs and shorten time-to-market, even in the face of ever-increasing product complexity. B&R ACOPOS drives provide a wide-ranging drives portfolio for its customers. ACOPOS P3 reduces machine cabinet footprint by 69%, helping machine builders to not only save space but also reduce costs. With POWERLINK, openSAFETY and OPC UA, B&R offers its customers a perfect tool to meet high connectivity demands of Industry 4.0 from shop floor to IT or cloud.
Industrial IoT and Industry 4.0 are tremendously influencing machine manufacturing in India too. Best manufacturing practices, together with next-generation automation solutions, are paving the way for Indian machine builders to leapfrog in industrial development and achieve global leadership. Through a careful analysis and selection of all components used, B&R ensures that all its products meet the highest technical standards of quality, reliability and long-term availability. Its scalable and interoperable hardware provides a solid foundation for reusability.
Brief us about your new products/solutions that were launched in the recent months for the textile industry.
Last year we announced integration of ABB robots into our automation portfolio. Fully integrating ABB's robots with B&R automation systems helps machine builders with machine automation and robotics from a single source. Machine builders will be able to buy their robots from B&R along with all their control, I/O and drive components. Machine builders are now able to choose from a wide range of ABB robots, including articulated arm, SCARA, delta and palletizer robots in various sizes and with various payloads. This is particularly important for machine applications where a high degree of synchronisation with other components is required, for example with picking solutions.
With ABB robots integrated into the machine automation system, customers will benefit from an unprecedented level of synchronisation between robotics and machine control. Since the robot will no longer require a dedicated controller, all interfaces between the machine and the robot are eliminated, while the fact that all axes and sensors will now communicate on a common network increases precision to the previously unimaginable microsecond range.
Integrating robotics and automation also means only one controller and one engineering system will be needed for development, diagnostics and maintenance, so there will no longer be a need for an extra control cabinet just for the robot, which will save floor space.
The government is aiming to increase India's share in the global man-made fibre-based textile product market. Will this present an opportunity to companies like B&R?
Aatmanirbhar Bharat scheme for integrated textile parks (SITP), Make in India, Make for the World are some of the initiatives and steps taken by the Government of India to enhance textile Industry. The textiles ministry has even roped in the prestigious Indian Institutes of Technology (IIT) to address both immediate and medium-term action plans for the textiles industry. All these campaigns along with advanced automation technologies are influencing machine manufacturing in India. Best manufacturing practices together with next-generation automation solutions paves the way for Indian machine builders to leapfrog in industrial development and achieve global leadership.
At B&R India, our vision is to be an automation partner for Indian machinery manufacturers to enable development of domestic technology. We are proud of the fact that we are already working with market leaders from textile market. In addition, the assistance provided by the Government will play an important part in increasing domestic production of machinery. We could also urge factories in the textile industry to encourage domestic machine manufacturers rather than trusting on machinery imports.