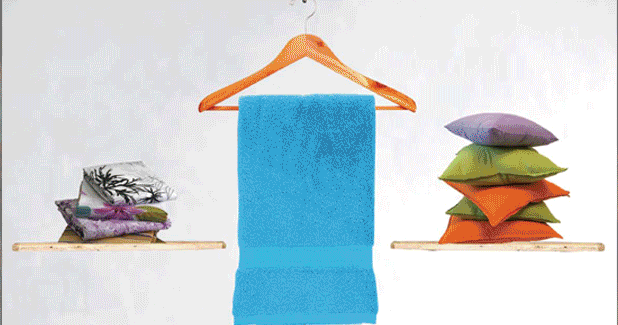 MULTIPLYING HOMETEX
Demand for Indian home textiles is expected to continue to grow at over 8 per cent as seen in the recent past, aided by exports to traditional markets and deeper penetration into non-traditional markets.
Demand for Indian home textiles is expected to continue to grow at over 8 per cent as seen in the recent past, aided by exports to traditional markets and deeper penetration into non-traditional markets.
Riding on a wave of near double-digit growth, home textile industry in India has virtually become a fertile breeding ground for hundreds of home-grown brands. From a trickle a decade back, now it's a tide with new, fanciful names of companies having entered the unorganised sector. NuHome Decor, Homescapes, Bella Casa, Batavia, Craftex… the list is endless. And against a handful of organised sector companies like Welspun, Indo Count, Trident, Bombay Dyeing, the unorganised segment has witnessed phenomenal growth particularly in the last 10 years, reaching 85 per cent of the market. The scope is still immense, since the annual per capita consumption of home textiles in India is still around $3 against a world average of $23.
There were a number of factors which have led to the boom in home furnishing demand in the Indian households in the last few years. The spurt of interest in the infrastructure industry coupled with the hectic pace of growth in the real estate market have pushed up the demand for home furnishings products in the country. With a higher disposable income, home furnishings, once clubbed with items of luxury are now affordable everyday necessity. Greater exposure to global trends and design are inspiring the people to decorate their homes with more appeal and the industry to make efforts to meet the rising demand for quality home textile products.
Domestic home textile firms have had a good show since fiscal 2012, with India's share of US imports of cotton bed sheets and terry towels increasing from 34 per cent to about 40 per cent in fiscal 2017 because of cost competitiveness compared with peers in China and Pakistan. The United States accounts for a third of global home textiles market worth $16 billion. Almost 47 per cent of India's home textile exports of $5.3 billion in 2017-18 was to the US.
According to CRISIL Ratings, demand for Indian home textiles will continue to grow at 8 per cent seen in the recent past, helped by exports to traditional markets and better penetration in non-traditional markets such as Asia, Australia, South America and Canada. Given the still healthy demand, CRISIL expects the 63 firms to spend as much as Rs 3,700 crore to expand capacities in fiscals 2018 and 2019. That would be significant considering that Rs 4,600 crore has already been spent in the previous two fiscals.
India has already carved out a comfortable slice in the home textile export market, despite competition from countries like China and Turkey. Most of the Indian home textile players target the exports markets (mainly United States and the European Union) as large retail giants such as Wal-Mart, Target, JC Penny, etc. source these products from low-cost labour countries such as China, India, Pakistan, etc. Indian companies have become more competitive in the home textiles market over the last five to seven years and have continued to gain market share in the US home textiles market over 2009-2016; however, their share in exports to European Union has remained stagnant as Indian imports into European Union attract 6-9 per cent duties while Bangladesh and Pakistan have duty-free access to European Union.
Welspun India and Indo Count are the most established players in the home textiles markets; hence their product mix is better than most others. Most of the companies have their captive yarn making facilities to ensure quality checks and timely availability of raw material. However, since yarn-making is capital intensive, outsourcing it can improve return ratios as is the case with Indo Count. The margins are also determined by the designs, the thread counts, the quality of yarn, etc. Indo Count is venturing into high-margin fashion and utility bedding while companies who have been late entrants in bedding markets such as Trident and GHCL have made big investments to carve out a bigger share in the market. Their capex and capacity utilisation of home textile units have risen phenomenally in the recent years.
Online promotion of home textile products has also added zest to the growth of this segment. As high percentage of India's population are youth so the retailers and manufactures are meeting precisely the characteristics of the home textile products as per the youth's desires and wants. Youth is more sensitive to seasonal and fashionable home décor ideas and this gels well with the growing demands for style, quality and newness.
These trends were clearly visible during the recently concluded Heimtextil and HGH exhibitions. At HGH, over 600 brands and manufacturers from 30 countries unveiled their innovations and new collections at HGH India 201 8, either directly or through their Indian partners. The exhibition forecasted the latest trends in home fashion and lifestyle. Conceptualised and implemented by the internationally renowned design studio Sahm + Permantier, the trends, under the title '#Transition', were showcased at the Trend Pavilion to bring fashion and style directions to the Indian home products community. It also focuses on the acceptance of Indian culture from the ethnic past to the modern present by contemporary Indian consumers, which was reflected in the range of new products on offer. The predicted trends are derived from intense research on colours, materials and patterns as well as on changing consumer values, lifestyle, evolving technology and attitudes. The #Transition trend book helps manufacturers, brands, retailers and professionals in home business to connect their products and innovations to the aspirational Indian consumers who see their home as an expression of their lifestyle and evolving culture. Given the success of last year, this year the Trends Pavilion was set up in a larger format to cater to the rising interest of the exhibitors, product developers, designers, buyers and other trade visitors.
Trident Group entered the home textiles business with the commissioning of its first terry towel manufacturing facility in the year 1998 in Punjab. Major expansion in this category took place in 2004 with the commissioning of second terry towel unit at the same location.
Avinash Mayekar, MD & CEO of Suvin Advisors, says, "Bed linen has 49 per cent share in Indian home textiles market. India exported $416.4 million of bed linen in 2017 growing with a CAGR of 13 per cent. Globally, retail value of home textiles segment is expected to grow with a CAGR of 7.7 per cent between 2018-2022. Globally China is the major supplier of home textile having a share of 39 per cent with $18 billion. However because of the rising labour cost and other varied reasons the market is slowly being captured by Indian players because of their competitive prices. Moreover China's has adopted recent strategy of investing into other countries like Africa, Cambodia, Vietnam, etc. for the production of textile materials. China's import from India is increasing in home textiles segment major products imported are carpets, bed linens, curtains and blankets with a share of 39 per cent, 16.3 per cent, 8.3 per cent and 6.7 per cent respectively as on 2017 (source: UN comtrade). Similarly, the UAE has also emerged as a significant market for Indian home textiles with carpets having a 41 per cent share in 2016."
He adds, "There are a few players like Trident (largest terry towel producer), Welspun, etc. who have done remarkable work and become leaders.
Other Indian brands like Indian Drape, RR Décor, F and F, Maspar, Goldtex, ABN, Portico New York, Birla Century, Spread, Swayam, MYCK, Zyneand Super Net, etc are recognised nationally and are growing at a healthy pace."
Rajinder Gupta, Chairman of Trident Group, said, "The year 2009 saw made-ups expansion when we commenced production at the third terry towel unit.
We carried out another major expansion with the commissioning of a large 300 looms at the state-of-the-art terry towel factory at Budhni, Madhya Pradesh in 2014. The latest development was in the year 2015 with the inauguration of a 500 loom first sheeting unit at Budhni."
Speaking on the buyers expectations in the home textiles today, Gupta said, "Jacquard fabrics and surface textures are making a come back, especially in the terry towel segment. But for catering to the buyers in today's times, the age-old approach of concentrating on just the price, product and packaging is not enough.
The consumer is keeping up with the latest trends as they are exposed to more and more visual and innovative directions through technology as also focused on solution buying rather than only on product buying."
He added, "From B2B approach, the company is moving to B2C approach and we will witness lot of consumer engagement campaigns at POS. Domestic home textiles has seen a very robust response in FY18 where sales grew 100 per cent in comparison to FY17.
Of this, bedsheets segment accounted for a huge jump in comparison to bath products. For FY19, we see further growth to the tune of 50 per cent improvement in bed and a stable outlook for bath segment. We will focus our energies in building a strong portfolio in top of bed and bathmats segments. We expect this segment to add another 10 per cent in sales."
Alok Banerjee, Chief Executive Officer, Bombay Dyeing, had this to say: "In home textile segment, buyers have two primary expectations – freshness in designs and quality of products. We have an in-house design studio where our designers work to provide our customers with fresh and innovative designs. Also our quality and sourcing team work with each of our strategic vendors to ensure that they understand our brand DNA and provide best quality products to our customers."
Added Banerjee, "Home textile industry is a self-reliant industry with complete value chain from the procurement of raw materials to the production of finished goods. The slowdown in the Chinese economy has rendered the cost of textile production in China high. This has offered an opportunity for Indian textiles sector to grab the market share of Chinese players. The Government under the 'Make in India' initiative has undertaken a number of steps to improve ease-of-doing business in India. More such initiatives from government will help textile industry to boost its growth further."
According to Manu Kapur, President and CEO – Home Textiles of GHCL Limited: "For buyers today, appropriate pricing, timely availability of merchandise on store shelves, correct quality and production under compliant conditions are pre-requisites. In addition, sustainability in terms of raw material usage, production processes and the entire supply chain are now crucial trends that are emerging and are influencing buying decisions in a huge way. Traceability and innovation are other trends that are looming large on the horizon. The future of home textiles borders on sustainability, traceability and innovation. A heightened technological interface in products and processes is to be expected. The other huge trend is the online business, which is expected to gain tremendous traction in times to come."
Creative Portico is growing at 30-40 per cent every year and the brand is doing very well. Estimated growth of Spaces brand of Welspun India was between 24 per cent and 30 per cent over past three years and it is projected to be between 30 per cent and 38 per cent for next three years. Currently, Spaces is among the top three home brands in India and aspires to be the leader in branded home segment. Swayam linen estimate 30-35 per cent growth YOY over the next three years. Tangerine another bed linen brand has experienced more than 50 per cent growth in its second year of launch.
A large number of international brands like Zimmer+Rhodes, Designers' Guild, Esprit Home, Harlequin, United Colour of Benetton have experienced a 20-30 per cent annual growth in the Indian market. IKEA, the world's largest furniture retailer, has also launched its first store in India at Hyderabad and plans to open 25 more stores in India by 2025. This penetration of international brands into India market shows the bright future for home textiles in India.
According to Rajiv Merchant, Founder & CEO of Tangerine: "Tangerine is selling more customised and design explorative sheets than others do in market now. No more plain-patterns, boring blues and browns, it is investing in product and design innovations that suit customer preferences and coming trends coming the new retail markets." Vaibhav Jain, CEO, Deco Window, says, "The home textile industry is flourishing in India exorbitantly. Indian products have made a mark in the international markets and have a strong footing. Over the next few years, one can find more innovation. Our customers are well-informed, conscious and aware of the trends. Customers opt for sustainable and easy to maintain solutions for their home. We have a creative and dedicated team who are devoted and meticulous.
The team comes up with designs that add panache to the interiors. Our team shows their complete passion for what they design. We believe in providing a 360-degree solution in terms of window solutions and our designers create trends to match the expectations of our customers."
Jain adds, "The textile industry today, is not just limited to the design, color, and feels besides there is a lot of technology that goes in. We today get to see black out, perfumed fabrics etc hence a new invention is required every time to be called new."
"Interestingly the market is moving in domain more promising for invention and uniqueness, stronger competition, design trends based on regions, newer brands emerging with uniqueness from the product origin, distinctive demand for organic and quicker expiration of designs, and younger audience," says Jain of Deco Window.
Gupta of Trident concludes, "The focus on consumer needs to increase multifold. The fortunes of textile industry are highly intertwined with the pricing of cotton. Raw material prices are almost 60-70 per cent of the overall product pricing and any spike in cotton prices (both positive and negative) is bound to significantly affect the profitability of industry."