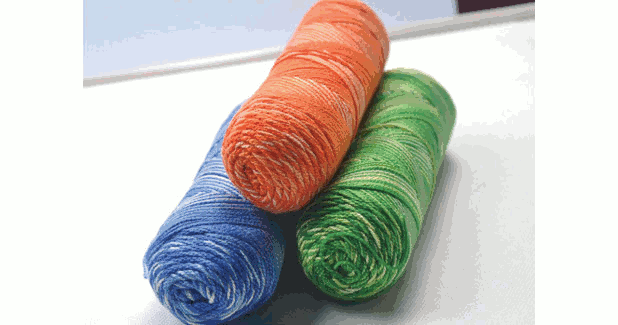 More innovations need of the hour
What?s next? Is the constant question that pops every second in today?s world. We all know that innovation and creativity has no boundary.
What?s next? Is the constant question that pops every second in today?s world. We all know that innovation and creativity has no boundary. People are exploring every possible segment wherein innovations can be made so that they can enjoy the upper hand in their business. The upmost important to one?s appearance and personality has led to tremendous demand for innovations in fashion industry. Both physical appearance and high performance are equally important in fashion.
The various techniques of fabric processing, innovations in fashion designing are all happening parallel. Every segment of the back-end process of textile is being exploited to bring out innovations that will ultimately be game changer for both the aesthetic appearance as well as the comfort factor.
This hunger for something new has led to some groundbreaking innovations in the yarn stage. The era for simply cotton and synthetic yarn is long gone. Today once alien terms like anti-fungal yarn, conductive yarn, etc. are all regulars. These innovations in yarns have widened the applications of textile. Today textiles are used in industrial and construction segments where high strength and durability are the most important aspects.
Trademarked yarn like dyneema or spectra is ultra-high molecular weight polyethylene- extremely long chains and with a molecular mass, which results in a very tough material having highest impact strength. These yarns are used in applications like cut-resistant gloves, helmets, vehicle and personal armours. As its application is highly fruitful in strengthening the defence system of the country or creating safer and stronger suits for the volatile operations their demand is increasing rapidly with rising awareness. The global body armour market size was valued at $2.1 billion in 2018 and is expected to expand at a CAGR of 5.5 per cent from 2019 to 2025 (Source: Grand view research).
Along with strengthening the defence of the country a lot of concern is shown for the health of public. Today the over exploitation of resources have also exposed world to numerous microbes and fungus which are harmful to health. Luckily the human research instincts have also introduced various anti-fungal solutions. The development of anti fungal yarns is changing the course of medical textiles. Antifungal treatment to yarn can be produced by using resin finish or grafting antimicrobials/antifungal agents to the fibre chain. Typically cotton, linen, silk, wool, synthetic fibre, or any combination of above is used as basic raw material. These yarns are majorly used to produce end products used in hospital like hospital bed sheet, curtains, pillow covers, surgical gowns, gloves, etc. As fungus is majorly exposed to our body on perspiration they are commonly used in sport wears, socks and also in babies garments.
The developments in medical textiles have also introduced new techniques for the healing procedures of human body. Textiles can be used to deliver medicines/treatments to the body in a less painful method than the traditional procedures. Conductive yarns are manufactured by wrapping metal wire around the textile yarn know as metal wrap yarn. Roving material at different thicknesses and copper and stainless steel-based wires having different diameters were fed into the ring frame to produce yarns containing metal wires. The core is normally cotton , polyester or nylon. These composition yarn examples are nylon/silver, aluminum metallised polyester and metal fibres outer metal coating on Kevlar fibres. These yarns are used in edema stockings, blood pressure/heart rate monitoring devices, etc. Garments with changing image or constant display screen are also manufactured using such types of yarns.
Flame-resistance yarns are also another fast growing segment due to rising awareness to safety. Just like the name suggest these yarns are used in applications where safety from fire is needed. Nomex fibre is inherently flame retardant and has moisture regain of 4.5 per cent. Fabrics made from Nomex fibre are uncomfortable for the wearer due to its hot feel. This is corrected by blending flame retardant viscose or with some flame retardant treated natural fibres. We have also seen flame-retardant treated cotton blended with KEVLAR® para-aramid and nylon to enhance flame resistance, prevent break through and improve abrasion resistance. A combination of 58 per cent cotton, 27 per cent KEVLAR® para-aramid and 15 per cent nylon blend ratio is used. Soon using flame resistance yarns will be mandatory in boiler suits, industrial uniforms & public servant uniforms. It is predicted that global flame resistant fabric market will reach $6.56 billion by 2024. The enforcement of standard international safety regulations will be one of the key factors in the growth of these yarns. The increasing manufacturing set up in India will further increase the demand for these yarns in India. Carbon yarn is used in high tech applications from defence, extreme automobiles and aerospace sectors as a substitute for steel and aluminum. High stiffness, high tensile strength, low weight, high chemical resistance, high temperature tolerance and low thermal expansion are some of its advantageous properties for which they are highly recommended over aluminum and steel in certain applications. The United States, Japan and Western Europe are the leading producers of carbon fibres.
Today most of the innovations in yarns are an outcome of bringing blends of varied varieties. Two different fibres are blended to form the necessary characteristics. Most of the blends are created such that the shortcoming of one fibre is overcome with the advantages of the other. Cotton and Modal, cotton and nylon, cotton and linen, cotton and bamboo, cotton and hemp, cotton and wool, cotton cashmere and cotton silk yarns are the various blends in market today.
Cotton Modal yarns are used in shirting, towels, knitwear, sportswear and dress materials. The global hosiery market was approximately $32.74 billion in 2017. In cotton/nylon blend, nylon adds strength, smoothness, silkiness and wrinkle resistance to the fabric. Use of nylon/cotton blend yarn in military uniform is common practice due to advantages in fabric in comparison to 100 per cent cotton fabrics. It is used as an outer shell in different version of military chemical protective uniforms and battle dress uniforms (BDU). Other fibres like Lycra, Kermel are also blend with cotton and nylon to achieve certain specific properties. For example Nylon Cotton Kermel will add thermal comfort properties to fabric and Nylon Cotton Lycra in Military Uniform.
Manufacturing of linen is tedious but the fibre is very absorbent and garments made of linen are valued for their exceptional coolness and freshness. They are most preferred in summers especially in regions where summers are too hot. They are blended with other fibres such as cotton, silk, viscose, wool and bamboo, etc. to bring out the best that the end application demands. Mostly used in high fashionable garments like shirting, suiting, other apparels, curtains, upholstery and many home furnishing items.
Bamboo fibres are going to show tremendous growth in the coming years. Bamboo textile products are having high demands in the market because of their speciality properties like antibacterial nature, biodegradable, high moisture absorption capacity, soft feel and UV protective capability. Cotton and bamboo blend are ring-spun yarns made from cotton and regenerated bamboo fibres. They are used to produce end products like undergarments, towels, t-shirts, curtains and socks.
Cotton and silk can be combined to make a hybrid fabric. It is usually made as a primarily cotton blend. It is lightweight, absorbent and soft, though not as smooth as silk. Basically used in saree, salwar kameez, ladies tops, luxurious bed linen, etc. These yarns are usually used to manufacture the budget friendly apparels over the pure silk wears. The women?s wear market in India contributes 38 per cent of the total apparel industry expected to grow at a CAGR of 9.9 per cent to reach Rs 2,86,456 crore in 2026. It is the fastest moving segment changing with the seasons of fashion.
Conclusion
The mix match of the different fibres has opened a portfolio for varieties of fabric type right from the feel to the look. This itself has created a market gap for basket of fashion from fabric selection to the color choices to the finish appearances. These fashion trends like earlier are no longer just limited to the female populas but the men?s category has also seen inclination towards the bolder and crisper shades. This fashion dynamics have created a huge volume of demands in the hybrid blends of yarns. The technical characteristics and rising importance to safety has also seen huge demand in technical textile yarns. As long as there are experimentation going on the innovations will keep on happening to explore the fibres and yarn combination to provide the best in appearance and feel with minute to no hole to the pocket of the end user.
The world dynamics is changing very fast and fashion is getting replaced by functional and innovative textiles. As new trends are emerging they are asking for new types of yarns which are made out of new combinations. A few years back Kevlar was a strange fibre and now it is part and parcel of all protective textiles. Modal, carbon, metallic fibres have shown their substantial legitimate claim in various types of yarns. New generation may bring yet more surprises and that will give rise to new innovations in fibre segment.
The article is authored by Avinash Mayekar, MD & CEO Suvin Advisors