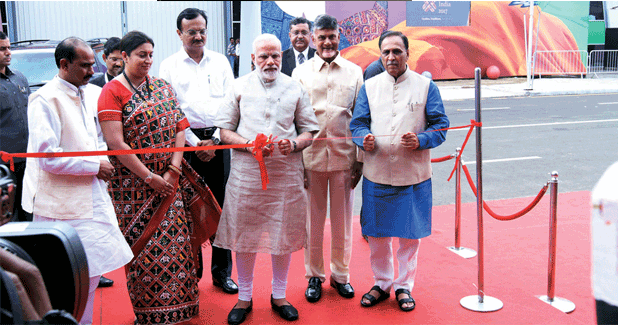 Modi sets $650 bn target by 2025: Textiles India
Indian Prime Minister Narendra Modi, while inaugurating India's largest ever textile meet, Textiles India 2017 on June 30 in Gandhinagar, Gujarat, spoke at length on the strength and capacity of the Indian textile industry.
Indian Prime Minister Narendra Modi, while inaugurating India's largest ever textile meet, Textiles India 2017 on June 30 in Gandhinagar, Gujarat, spoke at length on the strength and capacity of the Indian textile industry. The Ministry of Textiles organised the three-day event, which attracted a large technical audience and general public. Textiles India event was held from June 30 to July 2.
Speaking extemporaneously in Hindi and English, Modi thrilled a large audience with statistics about India's textile industry, outlining the opportunities for the sector. Using a slogan, 'farm to foreign', PM emphasised the need for increasing the exports to reach the target of $650 billion by 2025. Speed, scale and quality are necessitates for Indian textiles to compete against countries like China, said the PM. Innovation and research are needed to meet the demands of consumers in other countries as culture, lifestyle and fashion trends are different. He also emphasised on specific areas such as organic dyes that needs attention.
The mega textile event had over 1,000 exhibitors and 15,000 registered buyers and delegates from many different countries. Modi lauded the efforts of the Ministry of Textiles in organising the largest trade fair in the country for stakeholders of the textile sector to come together and promote skill that is close to Indian culture and heritage. Speaking at the occasion, he said, "India has the most liberal investment policy for investment in the textile sector. It has abundant supply of raw materials like cotton, jute, silk and man-made fibre, which provides the country a distinct advantage over other countries. The resulting higher demand of products offers a huge domestic market for textile products."
Modi said that the Government is focussed on the growth of textile industry and has, in the past few years, seen healthy competition among States in attracting investment in the sector. He added that the time has come to focus on textile exports and urged states to take necessary steps to channelise resources. He further added that innovation and research are the new mantra for the much-needed growth of the sector.
Highlighting the growing demand for products with zero carbon footprints, Modi said that efforts should be made to promote organic products and further explore the niche markets that demand such products. He stressed that further research should be made to develop fabric from other natural sources too, as this will establish India as valued partner for countries seeking growth and investment opportunities in the textile sector.
The Minister of Textiles, Smriti Irani, who was present at the inaugural function said, "Textile India seeks to bring together global leaders in value chain of Indian textile industry. We seek to understand best global practices in the textile sector. During the three years of our government, we have launched the India handloom brand. Textile India brings together textile, tradition, and technology. It is a mega conclave that has been organised with the objective of promoting the textile sector; connecting and collaborating with all stakeholders and helping in the realisation of PM's dream of giving the sector a push for further growth and aligning it with the Make in India campaign."
Vijay Rupani, Chief Minister of Gujarat, said that Gujarat is the textile capital of India and the summit has received more strength through the support received from States such as Andhra Pradesh and Assam.
Modi had launched the textile policy in Gujarat in 2012 to provide financial and physical support to the sector, as a result of which more than 28 textile parks have been established in the State. In last four years, Rs 29,500 crore has been invested in the sector in the State.
The Chief Minister of Andhra Pradesh, Chandrababu Naidu was also present at the inauguration. Among others Richard Heald, CEO, UKIBC and David Cummings, President and CEO of US Polo Assn. participated in the inaugural programme, where they expressed their interest in collaborating with India and sharing technologies to help India create new avenues for further growth of the textile sector on a global scale.
Bue-Heung Kim, the Director of the Korea Federation of Textile Industries (KOFOTI), thanked Modi and Rupani for organising this unique event. He expressed hope for better trade relations between India and South Korea.
Assam and Andhra partner
Andhra Pradesh Chief Minister Chandrababu Naidu spoke about the importance of jute and how the industry has helped in rural employment. During the session, he said about how the Andhra Pradesh Government held a number of seminars on the various measures to develop the textile industry in Andhra Pradesh and invested over Rs 5,000 crore into the industry. He stated that this has led to employment figures of over Rs 16,000 for Andhra Pradesh, especially as it currently has some of the best mills in the country.
Naidu further added that with the success of countries like Pakistan, Bangladesh and Thailand have had in recent years in the textile industry and how the industry is the second largest employer after agriculture, developing it will be important for the future of our country. Assam was also a leading partner in this one-of-its-kind fair and is known for their traditional handloom and textile industry.
Speaking at the conference, PN Das, Directorate of Handloom and Textiles, said, "The textile industry in Assam is not much advanced but has a huge potential. The State produces no cotton but two types of silk, has good climate conditions, other textiles like jute, bamboo, which provides it a lot of potential. The Assam Government has done a lot to make industrialisation easy in the State."
Dilip Barooah, Managing Director, Fabric Plus Pvt Ltd, said that Assam is surrounded by as many as six countries and with Asian Highway connecting Thailand, Indonesia, Singapore, Malaysia, Bangladesh places it in a favourable position for promoting the traditional textile industry.
Anil Saraf, who heads ease-of-doing business in Assam, said that single-window clearance system has been put in place in Assam and Assam Investment Promotion Bureau was created to ease out business. Many labour reforms, power reforms, municipal reforms, environmental reforms have been implemented and these have boosted business in Assam, he said.
Jharkhand, capable of leading the textile
Sanjay Seth, Chairman of Jharkhand Khadi Board, informed that a khadi park will be constructed in Jamshedpur, Jharkhand. The labour force of Jharkhand is very capable and textile industry has a lot of scope in the State.
He described, "GST as a very important step for India's rapid development, which has been implemented from today and thanked PM Modi for this. He further said that due to the implementation of GST, there would be a transparent system in the country, which would make merchants of all trades happy."
Roundtable discussions
Productivity and marketing constrains in wool sector: A roundtable discussion was held with the agenda to understand the productivity and marketing constraints in wool sector. India is the seventh largest producer of wool and contributes 1.8 per cent to the total world production. The Indian wool industry is primarily dependent on imported raw material. Rajasthan is the biggest producer of wool contributing 44 per cent of the total wool produced in the country. It was noted that one the primary constraints of the wool sector is the pre loom and post loom facilities available to this sector which are inadequate and outdated. It was also noted that there is a lack of opportunity for development of skill in woollen sector, there is a major shortage of trained workforce to undertake efficient production.
About 12 lakh people in India are involved in sheep breading and rearing for the wool sector. Wool production in India is primarily a rural unorganised sector where the producers are unaware of modern techniques of wool extraction. There is also an urgent need to make the wool producers aware of the qualitative as well as monetary aspect so that the producers can get better returns for their produce.
The panelist for the session were Peta Slack-Smith, AWI, Sydney; Dr AM Mir, Managing Director, Cashmere Marketing Agencies; Mridula Jain, Chairperson, Shawl Club of India and Managing Director, Shingora Textiles Ltd; and Vikas Mohatta, Managing Director, Felt & Technical Textiles, Jaipur. The roundtable was moderated by Ravikant Kapur, Chairman, Grentex & Co Pvt Ltd.
Waterless textile processing and 3D printing: Roundtable discussion was conducted to understand the utility if the innovation of waterless textile processing and 3D printing to reduce the water consumption in the textile industry. Water is increasingly becoming a scarce resource across the world. Today most industrial sectors including textile are facing crisis due to decreasing availability of water for processing and production. Textile sector consumes a huge amount of water starting from the production of raw material phase to the finished product and packaging phase. There is an urgent need to reduce this dependence and shifting to better and efficient of manner of production.
The speakers of the session included: Rene Van Berkel, Representative – Regional Office India (UNIDO); Dr Manisha Mathur, Deputy Director (SASMIRA); and Dr JLV Prasad, Sanganer Enviro Project Development. Asim Tiwari, IIT Bombay Dept of Mechanical Engg was the moderator of the roundtable.
Zero liquid discharge (ZLD): Effluent discharge from textile sector is one of the biggest environmental polluters in the world. There is an urgent need to drastically cut down this source of pollution. To discuss ways of developing a system of ZLD from textile sector a roundtable discussion was organised.
It was noted that the treatment of wastewater is an expensive technology and cost of setting up of water treatment plant must be reduced. Stricter policy norms and monitoring of polluting units will help in tackling the issue of pollution to a great extent. Textile sector is mostly dominated by MSME sector, these would require Government subsidy to set up ZLD systems. The Government is formulating a policy especially for textile industry to help and guide the MSMEs to implement ZLD.
ZLD is an expensive technology. There is an urgent need in countries like India to develop cheaper technology. For India, developing a ZLD system is a huge challenge. ZLD system will ensure that wastewater complete utilisation of water. About 80 to 85 per cent water can be reutilised for processing.
The panelist for the roundtable included Judith Buchmaier, Dy Head, AEE; Dr Madhusudanan, Central Pollution Control Board; Dr Rajah Vijaykumar, Scientist; and Dr Anil Misra, National Project Manager, UNIDO. Sajid Hussain, Chief Operating Officer, TWIC moderated the roundtable.
Discussions
Several discussions were held to deliberate on opportunities that could be explored to create market linkages with retail chains, ensuring branding and quality assurance and building the textile value chain to further promote the textile industry in the country.
Market linkages with retail chains: "Creating market linkages with domestic and international retail chains is essential for further providing momentum to the growth of the textile industry in the country. India is emerging as a favourable destination for Latin American countries as they want to reduce their dependence on Chinese markets for imports and are looking towards diversifying their markets", said R Vishwanathan, Marketing Consultant, Former Indian Ambassador, LAC Consultant, Former Indian Ambassador, LAC.
Vishwanathan also said that with increasing opportunities Indian producers have also started exported handcrafts garments etc to the European Union, USA and many more nations through Amazon. Amazon has eliminated middlemen, which has led to the growth of Indian producers to a large extent.
Branding and quality assurance: Gaurav Mahajan, President (Apparel), Raymond Group, said that the brand holds the Guinness book of world records to create the finest fabric in the world (11.4 micron wool). Branding is nothing but quality assurance and that a brand is all about functionality. Hence it is important that availability, accessibility and assurance of quality are made priorities and worked up, he said.
Madhura Dutta, Executive Director, All India Artisan and Crafts Workers Welfare Association (AIACA), said that the there is a mismatch of expectations between buyers and retailers regarding products and hence it is essential to educate buyers.
'Indian Handloom Brand' fashion show
India Handloom Brand fashion show was organised on the second day of the event. The vision of the show was to present the story of India Handloom Brand initiative launched by PM Modi on National Handloom Day in 2015. This initiative by the Ministry of Textiles focuses on branding of high quality and defect-free niche handloom products with minimal impact on environment, increasing the earnings of the weavers and other stakeholders of the handloom industry and generating a special market space for handloom products.
The show featured designs from a combination of designers and labels from across India. The designers showcased designs of various kinds of handloom fabrics in organic dyes. In one of the segment of the fashion show the designers showcased their work which was created in collaboration with handloom clusters from various regions of India and presented the looks created by the handloom weavers. Designers like Hemang Agrawal and Rajesh Pratap Singh collaborated with handloom clusters from Varanasi and Anavila Misra collaborated with handloom clusters from Gadwal.
(With inputs from Seshadri Ramkumar, Texas Tech University, USA)