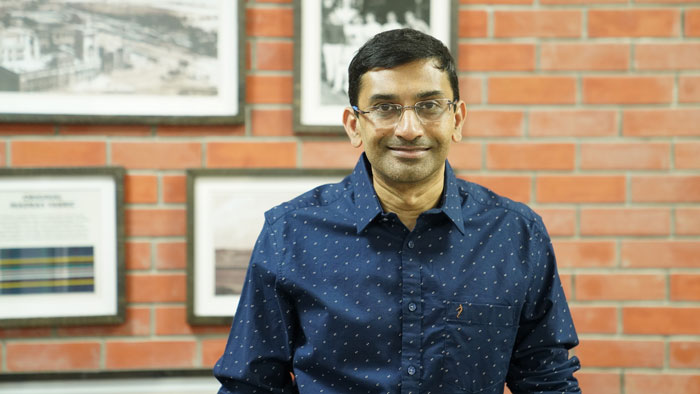 Linen shirts and Corduroy shirts and trousers are in high demand
Indian Terrain is one of India's leading fashion brands that caters to the needs of the cosmopolitan, upwardly-mobile young Indian man. The company today retails across the country through its 200+ exclusive outlets, 1000+ multi brand outlets, 400+ doors of large format stores. Charath Narasimhan, Managing Director, Indian Terrain, in this interview with Divya Shetty, highlights the recent trends in apparel industry and how is the company catering to it.
How has the apparel industry changed in the last few years?
The apparel industry has undergone significant changes in recent years. One major shift has been the increasing focus on sustainability, with more companies adopting eco-friendly practices and materials.
Sustainability has become a key concern in the Indian apparel industry as well. There is a growing awareness about the environmental impact of fast fashion, leading to an increase in demand for eco-friendly and sustainable clothing options. Many Indian fashion brands have started incorporating sustainable practices, such as using organic fabrics and promoting ethical manufacturing processes.
Online shopping and e-commerce have continued to rise, leading to changes in consumer behaviour and the way businesses operate. The rise of e-commerce has revolutionised the way Indians shop for clothes. Online platforms have made it easier for consumers to browse a wide variety of products and make purchases from the comfort of their homes. This shift has also given a boost to small and local fashion brands, allowing them to reach a wider audience through online marketplaces.
Additionally, the apparel industry has seen a shift in consumer preferences towards more comfortable and versatile clothing, especially due to the ongoing pandemic. Loungewear and athleisure have gained popularity as people prioritise comfort without compromising on style.
Which of the product categories manufactured by Indian Terrain is in the highest demand today?
Our Madras check shirts and Chinos are our unique selling proposition. We offer a wide range of options in the Chinos category, ranging from premium, smart casual to blended performance, with innovative fabrics and fits.
Linen shirts and Corduroy shirts and trousers are in high demand. Our Premium Linen collection has drawn attention from our consumers. Many of our customers use linen in both spring-summer and autumn-winter. Unlike linen, our Corduroy shirts and trousers are preferred for autumn-winter.
We have been constantly evolving over the past two decades, along with our customers, and we take pride in offering premium fabrics, superior tailoring, and comfortable fits.
Indian Terrain has become the apparel brands in India; can you elaborate on brands' global presence?
Indian Terrain is recognised as one of the leading menswear brands in India, known for our commitment to quality and style. While we have a strong presence in India and have made significant strides in our home market, it's important to note that we are primarily focused on serving our valued customers within the country. Currently, we do not have a global presence. However, we are continually exploring opportunities to expand and share our brand's essence and offerings with a wider audience beyond our borders. Our journey continues, and we are excited about the prospects that lie ahead.
What kinds of challenges apparel manufacturers are currently facing in India? Is rising raw material cost (cotton as well as MMF) a cause of concern?
Rising raw material costs, particularly in the case of cotton, are a pressing concern for apparel manufacturers in India. Fluctuations in cotton prices can significantly impact production costs, exerting pressure on manufacturers' profit margins. Manufacturers often find it challenging to maintain competitive prices amidst these volatile fluctuations. The quest for stability in the face of such cost variability is an ongoing struggle. In addition to this, the apparel industry in India faces a multitude of challenges in terms of fierce competition from other countries, especially those with lower labour and production costs. To thrive in this competitive landscape, Indian manufacturers must place a strong emphasis on efficiency, innovation, and unwavering commitment to delivering exceptional quality. This calls for continuous adaptation and improvement to maintain their market presence. Furthermore, in today's shifting landscape, consumers and regulatory bodies are increasingly pushing for sustainable and eco-friendly practices within the apparel industry. Meeting these growing demands while keeping affordability and quality at the forefront of the equation presents a formidable challenge for manufacturers. Sustainability isn't just a buzzword; it's a fundamental shift in how businesses must operate. Addressing these formidable challenges demands a strategic and holistic approach from apparel manufacturers. This approach entails not only efficient supply chain management but also substantial investments in technology and innovation. It requires the thoughtful adoption of sustainable practices to align with the values of modern consumers. Staying in tune with evolving market trends and the dynamic landscape of consumer preferences is non-negotiable for enduring success in this industry.
Is the company involved in any sustainable practice? Cite with some examples.
We are proud to be the first high street brand to partner with Fairtrade, a global organization that ensures sustainable practices and fair wages for the cotton farming community in India. We began our journey by manufacturing 40,000 pieces of Fairtrade-labeled goods in 2020. In the fiscal year 2023-24, we are projected to produce approximately 4 lakh pieces. Through this exclusive collection of Fairtrade-sourced cotton, we have positively impacted the lives of over 10,000 farmers, having procured 300 tonnes of seed cotton from Fairtrade farms to date. It is also a great honour for us to have received two prestigious awards this year: the Fairtrade Business Partner of the Year and the Fairtrade Impactful Communication of the Year, presented by the Fairtrade Organization.
Which is the new area of opportunities the company is focusing at present?
To further enhance our core men's clothing line, we're focusing on a few key goals. First, we want to reach more towns in India, around 200 to be specific. This expansion is important because it means we're bringing our products to a broader audience and serving people in different areas. Additionally, we're also adding new items to our collection. We'll be introducing accessories for men, which means you can now find more than just clothing in our stores. These accessories are designed to complement our clothing, helping you put together stylish and complete outfits.
As we move forward with these plans, our main goal is to continue providing high-quality products and great service. We're excited about the road ahead, as we strengthen our presence in India and offer even more choices to our customers.
Innovation and product development are key for success in hosiery. How does Indian Terrain take care of these two aspects?
In our journey towards success, innovation and product development are at the forefront of what we do at Indian Terrain. We've put in place several essential strategies to ensure we excel in these areas. We dedicate significant time to market research, getting a pulse on global and Indian trends to better understand what our customers want. This insight helps us align our products with their preferences.
We believe in the power of collaboration and partnerships. Working closely with key manufacturers and experts allows us to create distinctive fabrics, designs, and technologies that set our brand apart from the rest. Investing in cutting-edge technology and automation in manufacturing is another way we stay ahead, enabling us to craft intricate and modern products. In terms of the environment, sustainability is more than a buzzword for us; it's a core commitment. Our eco-conscious practices are not only a selling point but a fundamental part of our brand identity. We also keep our finger on the pulse of changing market demands, adjusting our product lines swiftly based on feedback and emerging trends, ensuring we meet the ever-evolving needs of our customers. Our customers are at the heart of everything we do, and we actively engage with them through social media, surveys, and feedback mechanisms. This interaction provides us with valuable insights into their preferences, which, in turn, allow us to tailor our offerings to better meet their needs. Quality control is another non-negotiable for us, and our stringent measures ensure we consistently deliver high-quality products.
Within our organisation, we foster a culture of continuous learning and innovation. We stay updated with the latest technologies and design trends by participating in industry events. These strategies collectively contribute to our ongoing success in a highly competitive market.
What are your long- and short-term growth plans?
Our growth strategy spans both the short and long term. In the medium term, we're setting our sights on achieving a consistent mid-teen percentage growth year after year, specifically from FY 25 to FY 27.
Looking further ahead, we're committed to expanding our presence and enhancing our performance in the market. Our near-term goal of mid-teen growth sets the stage for our broader, long-term objectives, ensuring our organization's sustained success and development.
What is the present production capacity of the company, and how do you aim to expand it over the next five years?
The present production capacity of our company is approximately 5 million units per year, encompassing eight categories that we produce globally. These categories include shirts, trousers, denims, T-shirts, jackets, sport coats, sweaters, shorts, and accessories. Within this production capacity, we manufacture approximately 0.5 million pieces of Fairtrade products, which align with our commitment to sustainability.
In the coming five years, we are actively planning to expand our production capacity. We aim to achieve this by investing in technology and infrastructure, streamlining our supply chain, and exploring new partnerships. The goal is to substantially increase our production capacity to meet the growing demand for our products while continuing to focus on sustainable and eco-friendly practices. This expansion will ensure that we remain competitive in the market and can continue to serve our customers effectively.