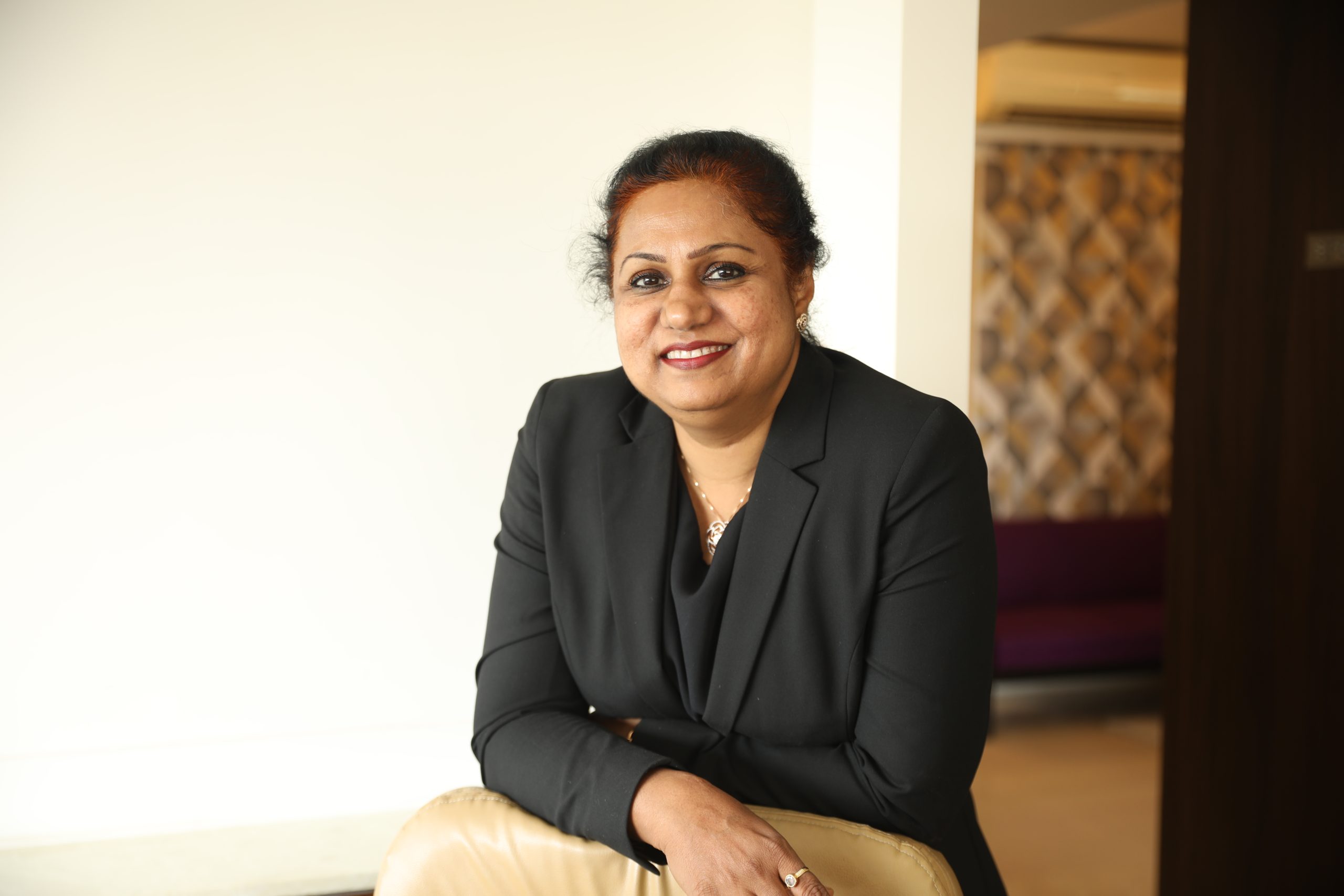 ITME's six-day event is packed with activities for every segment
Indian International Textile Machinery Exhibition Society (India ITME Society) is a non-profit apex industry body established in 1980 with sole motto to support and serve the textile industry through exhibitions & events. Born out of necessity and nurtured with perseverance, India ITME Society has established itself as a catalyst and initiator of change, influencing textile engineering and textile industry beyond geographical borders of its country of origin.
The ITME will hold its 11th edition this year in Greater Noida, and in this conversation with Divya Shetty, Seema Srivastava, Executive Director, India ITME Society, discusses the history of the ITME, the state of the industry today, and update on the upcoming edition.
In ITME's 43-year history, exhibitions have been pivotal. Please tell us about the history of the India ITME Society, its amazing journey over the years, and the significant milestones it has reached since its founding.
India ITME Society has slowly and steadily worked towards fulfilling its vision and has strived to adapt to the aspirations of new generation.
Late 70's the textile industry in our country was unorganised and scattered into pockets around the country, labour was intensive and textile were basic need for a growing country.
Unfortunately, the then existent policies had curbed industrial growth in India, with heavy taxation on imports.
India was nowhere on the textile map of the world, though it had the potential.
It was time for an awakening, a time to see an opportunity within the framework of a weakness and convert that opportunity into strength.
In 1979, five organisations, TMMA, ITAMMA, CITI, TAI & BIS (A Government of India Body), under the visionary leadership of Suresh Mehta, came together, with a unique vision to set up a non-profit exhibition society to hold International Textile Engineering Exhibitions in India once in every 4 years.
The idea was to create a single platform for both global and Indian manufacturers to showcase the latest development in the textile machinery sector.
At that time such a bold step was perceived to be highly precarious!
But this step wrote a new chapter in the history of the textile engineering sector, India ITME Society catapulted Indian Textile Engineering onto the global arena.
Many visionary leaders of Industry nurtured India ITME Society over the years.
How do you view the status of Indian textile & apparels (T&A) industry in terms of adoption of modern textile machinery and its global competitiveness (compared to its peers in the developing countries)?
As far as the Indian textiles & apparel industry is concerned, it is a bit different from the global scenario of the said industry. When we compare the requirements of our customers and the machinery developed by us, we can be certain that we have machinery that is indigenously produced ensuring the needs of our domestic market. However, if we consider global competitiveness into the picture then we are having certain weak links in the entire machinery business e.g. In case of ginning, we have low productive machines whose operating costs are very high.
Our ginners are medium to small scale their requirement of productivity itself is on the lower side hence our current machines are sufficient but off course when it comes to global competitiveness then we need to produce machines which are providing more productivity & are quality oriented. Certain Indian brands have acquired global brands e.g. Brands from the USA and they are catering to global demands.
In case of spinning, we have reputed brands like LMW which are at par with international brands, at the same time, we are having Truetzschler India, and Rieter India which are producing quality equipment in India and catering needs of the globe. This is the major reason for our Indian yarn market share to be much higher than our entire value addition.
When it comes to knitting and weaving, we do not have state-of-the-art machines that can compete in the international markets or even meet the domestic demands. It is a weak area as far as our Indian machinery manufacturing segment is concerned. We need to have joint ventures and strategies to come up with our make in India image in this segment. However, the story is different for weaving preparatory machines, we have very good machines from Prashant group which has a very good technology of international repute.
In the case of Finishing, we have certain machinery manufacturers who are producing machines to take care of the domestic demands. Still the large production capacities of continuous dyeing & bleaching range need a great improvement. The high operational efficient models are yet to be produced that will upscale us in the international markets.
Even in the case of garmenting, we have players who are taking care of assembly in India but much scope is there for improvement and have a our own model. Since it's a low-value machine the players are few but we need to remember that it is a low value but very high volume business, so a reputed brand building in this space will help us create a name in not only the machinery world but more so in the global textiles & apparels value added products and increase our pie share to a significant value from current distant no. 2 position in the globe.
Technical Textile is another area where we are having a good product share in the market but the machinery market for any of the technologies like Spunbond, Melt blown, spunlace, thermo-bonding, needle punching is next to zero. The market size of products is small with few dominating players across the globe hence an early entry with collaborations for technology transfer can help fill in the gaps and show our better strength.
As a proactive industry body, please tell us what are the major challenges facing Indian T&A manufacturers while sourcing machinery? How can we deal with these challenges?
As said in my previous answer, we need to have different manufacturers to produce different segments of textile machinery or one manufacturer who can take care of most of the requirements. The technological advancement in India are well known to the world. We are after all building our own satellites, reputed luxury & heavy vehicles, so we are efficient and capable to produce engineering and technologies. We have engineering excellence. The biggest challenge is the volumes & demands in our market. Since the levels are not that high, the break even for profitability scale is affected, making it a difficult business for the producers to invest in the production of these machinery.
We may have to explore neighbouring countries & developing countries for a cost competitive product. The market potential for competitive machinery for a successful venture and make a sufficient share with the domestic and neighbouring countries combined demand.
Could you list some of the emerging trends in the textile machinery & engineering space in the recent years?
In recent years, many developments have occurred in the textiles, apparel & technical textiles industry, the major impact is the conversion of shuttle loom/power looms into shuttleless loom. We have seen markets like Ichalkaranji, Bhiwandi and Rajasthan opting for high-speed machines to reduce operating costs. At the same time acceptance of technological conversion as far as automation & modernisation is concerned, most manufacturers are opting for it, as well as acceptance is seen to reduce dependency on labour. More and more electronic, electro-mechanic mechanisms are being preferred in machinery to produce quality products. A large number of spinning machinery are being produced, the textile machinery accessory business is growing. Most of the accessories are getting developed in India itself. We are sure, the same scenario will get reflected for capital goods, and the demand would be increasing year by year.
How is the India ITME 2022 preparation going? (in terms of no of exhibitors, expected visitors, types of machineries to be displayed, participation of oversees exhibitors, etc)
India ITME 2022 is the most important, prestigious and acclaimed event showcasing Textile Engineering & textile technology from across the globe and serving India and whole of Southeast Asia. India ITME 2022 has received support from Ministry of Textiles, Department of Heavy Industries, Ministry of Micro, Small & Medium Enterprises, Make in India – Department for Promotion of Industry and Internal Trade – Govt of India, EEPC as B2B Partner & National Small Industries Corporation.
This is one business event where export promotion councils, trade promotion departments, research institutes representing 22 chapters of textile segment come together to interact, explore and expand business network. India ITME is the single platform where all stalwarts of textile industries come together along with financial institutions, policy makers and government officials, making it the best & ideal forum for catapulting Textile business efficient & competent globally.
India ITME 2022 is expected to host more than 1500 exhibitors from Austria, Belgium, China, Czech Republic, France, Germany, Hong Kong, Indonesia, Italy, Japan, Slovakia, South Korea, Spain, Switzerland, Taiwan, Turkey, United Kingdom, United States of America in 22 Chapters with over 1,50,000 visitors over the 6 days period. This is a once in 4 year opportunity to view 1500+ live machineries from across the world on display from 22 chapters & meet Agents, Dealers, Government Officials on one platform years making India ITME 2022 the apex B2B event in the textile & textile Engineering Industry in the whole of South East Asian region.
Some of the confirmed business delegations are from Uzbekistan, Kenya, Poland, Botswana, Ethiopia, Egypt, Iran, Brazil & Bangladesh.
What are the keys highlights and the theme for India ITME 2022?
India ITME 2022 is the 1st Mega Exhibition for the Textile & Textile Engineering Industry post pandemic. This highly anticipated event is being held for the first time in North India at a world class venue IEML Greater Noida, a well- designed Exhibition Venue in the National Capital Region and one of the largest in India spread across 235,000 sq mtrs area.
Keeping in mind the need of the hour for not only India, but also neighbouring countries like Sri Lanka, Bangladesh, Vietnam, South Korea, Malaysia, Singapore, India ITME Society has organized multiple high quality concurrent programs over the 6 days making it the most awaited event of 2022. The six-day event is packed up with activities for every segment whether businessmen, technocrat, students, officials, overseas participants. Interested participants can log in to our website and register for specific sessions to insure optimum utilisation of their time at the event.
India ITME Technical & Engineering Awards
The society over the years has initiated several constructive programs to recognize & empower knowledge to innovative researchers, and technical faculties as well as to act as an active connect between the knowledge hub -technical institutes & the ever-changing industry. India ITME Society is sure that, the success story of innovator recognized in the awards will attract more youths towards R & D in textiles"
India ITME Society strongly believes that education is the foundation platform that has lifted this textile sector to such a glorious stage. So it has also introduced an award category specifically for research & innovations.
India ITME Society looks to recognise and felicitate awards in the following new categories:
Category 1 – Award for Overall Best Performer in Engineering Industry presented in 8 Specific categories (Ginning | Spinning| Weaving & weaving preparatory |Processing & Finishing | Garmenting | Printing | Accessories for Textiles | Technical Textiles)Category 2 – Award for Best Innovative Technology for Pollution ControlCategory 3 -Women Leadership Award in Textile & Textile EngineeringCategory 4 -Award for Research ExcellenceCategory 5 – Textile Maestro
Jury panel:

Sanjay Jayavarthanavelu, Chairman & Managing Director at Lakshmi Machine Works Ltd & a Past Chairman of India ITME Society & is a prosperous & an ambitious businessman.


Uday Gill, Group Chief Strategy Officer, Fibers, Indorama Ventures Ltd a magnificent textile fibre expert having a knack for identifying hidden gems from across the globe & successfully leading    acquisitions

Updeep Singh, President & CEO, Sutlej Textiles and Industries Ltd is a genius in textiles & a resourceful personality in textile technology.


Manohar Samuel, Advisor R&D, Reliance Industries Limited an expert in core dynamics of fibers and a passionate researcher, brand developer & value chain builder


Gurudas V Aras, India consultant to the ITA group, Germany and APS GmbH & Strategic Business Advisor & Mentor for many textiles & engineering businesses, a true technocrat.


R Anand, Partner, Eastern Engineering Company a mentor for MSMEs in engineering & a recognizable market specialist for the engineering sector


Sanjiv Lathia, Past Chairman of India ITME Society & a well- known entrepreneur from Rubber Industries is a sharp business acumen having expertise in technical operations of engineering & technologies.

S Hari Shankar, Chairman of India ITME Society a successful entrepreneur & a renowned personality in the textiles accessories world.


Ketan Sanghvi, Hon. Treasurer of India ITME Society a wizard in weaving technologies


Dr Manisha Mathur, Jt. Director, SASMIRA has in-depth knowledge of textiles and textile processing with a keen curiosity for research as well as a strong women leader

CEO Summit–
In order to have decision makers & top leaders of the Industry come together for discussion & interaction to spearhead the Textile Industry towards technology & quality driven growth, CEO Summit is organized which will be attended by CMD's. MD's, CEO's, Policy makers & Embassy Officials from various Countries looking to embrace business relations with India.
EEPC RBSM –
Engineering Export Promotion Council shall be conducting RBSM concurrently with ITME during the event enhancing the B2B experience for participants. The strategically planned & aligned B2B meetings pivoting lead generation resulting in the highest amount of conversions is one of the major pinnacle at India ITME 2022. You can register for B2B meetings at https://itme2022.india-itme.com/Forvisitor/registration
Conference Session & Knowledge Seminars.
India ITME 2022 strives to assimilate & disseminate more knowledge & power for industry through the futuristic Technology topics at the Conference Sessions and planned B2B meetings with visiting foreign delegates + business visitors.
The multi-day conferences during India ITME 2022 having eminent speakers from many reputed Institutes RWTH Aachen University, Germany, VJTI Mumbai, DKTE Mumbai on each day, which encourages Visitors across the globe to be a part of this mega Event.
Circular Economy in the Indian Context will be presented by Thomas Gries, RWTH Aachen University, Germany, Uday Gill, Group Chief Strategy Officer, Indorama Ventures Limited, Indonesia, Prashant Agarwal, Co-Founder and JMD, WAZIR Advisors, Justin Kühn, Aachen University, Germany, Gurudas Aras, India consultant to the ITA group
Innovate: Smart Manufacturing Conference by WTiN, UK
Technical Symposium on of 'Reduce-Reuse-Recycle:State of the Art' in Textile Sector by VJTI
Composites for the Energy Sector in India by PKC Bose, Global Sustainability Advocate, Dr-Ing Mohit Raina, Managing Director, Raina Industries, Kumar Jois, Scientist, RWTH Aachen University (ITA), Germany, Prof Asim Tewari, Indian Institute of Technology Bombay, Dr Rajalakshmi Natarajan, Former Senior Scientist and Head, Centre for Fuel Cell Technology, ARCI, IIT Madras, Gözdem Dittel, RWTH Aachen
University, Germany
Customised Joining Technologies for Technical Textiles by Philip Huber, RWTH Aachen University, Germany, Dr Ing Yves Simon Gloy, RWTH Aachen University, Germany, Antonio Braz dos Santos Costa, General Manager at CITEVE – Portuguese Technological Centre for Textile and Clothing Industries, Portugal.
Any message to this industry…
"India ITME Society is successfully working towards upgrading the quality & price competitiveness of our nation's textile industry. Your business prosperity and growth are our motto. "Come be part of this endeavour.