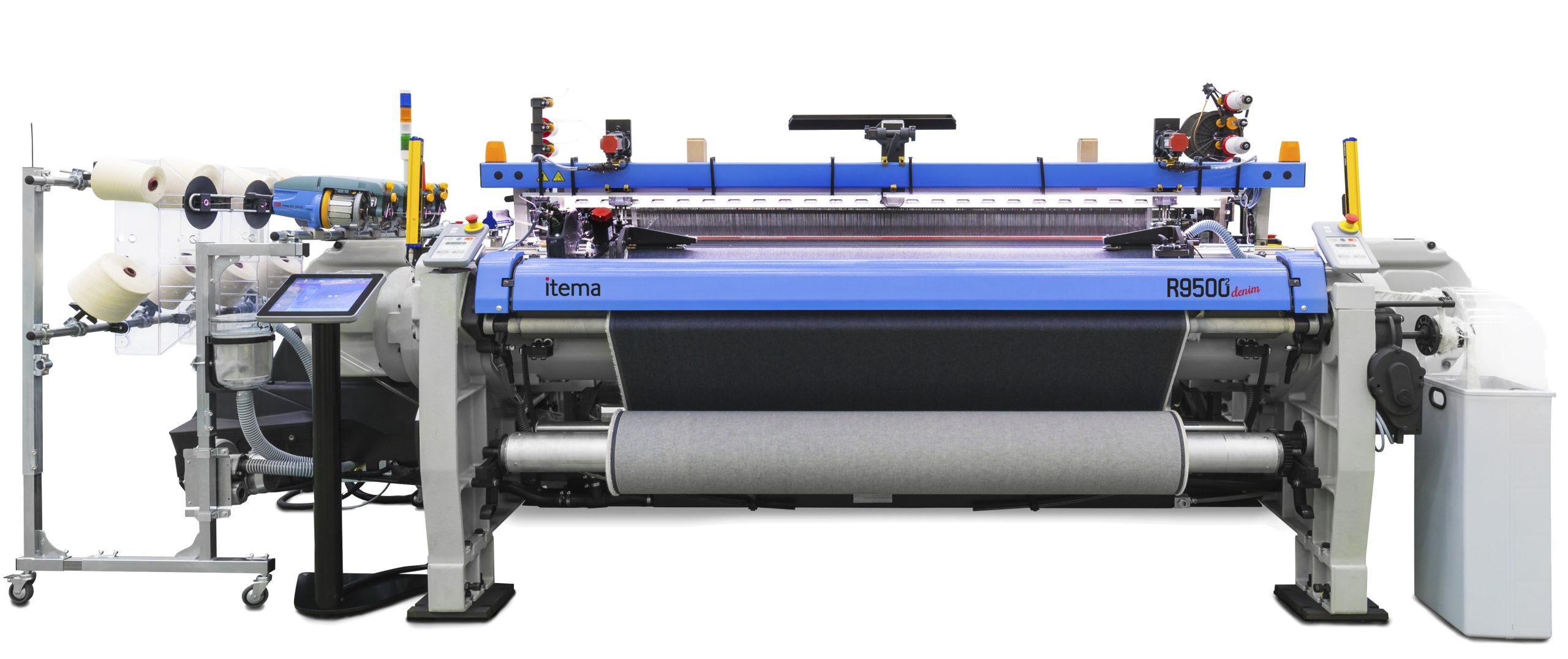 Itema exhibited its weaving solutions at SITEX 2023
Itema showcased its rapier R9500-2 weaving machine, in weaving width 3800mm and equipped with a Stäubli LXM 5376 hooks Jacquard shedding machine.
Itema, the global leading provider of advanced weaving solutions, including weaving machines, OEM spare parts and integrated services, exhibited at SITEX (Booth 226) from January 7 – 9 at the Surat International Exhibition and Convention Centre (SIECC).
Itema confirms its trust and esteem towards the Surat textile entrepreneurs and, for the second year in a row showcases its unique weaving portfolio at Sitex.
2022 has been for Itema a remarkable year in terms of growth and part of this success is specifically linked to the Surat Region. In fact, as Sameer Kulkarni, Weaving India General Manager Sales, Itema, explains "Itema registered in Surat an unprecedented growth over the last year. We installed an amazing number of Itema weaving machines in the textile mills of the region. We are proud to cooperate to the creation of some of the most beautiful fabrics in India and to support the talent of the Surat weavers with our advanced weaving technology."
Itema is by far the leading supplier of rapier weaving technology in the region, thanks to the excellent versatility and the superior textile mastery of its rapier machines which guarantee to Surat weavers to produce at best their fancy, sophisticated and fashionable Saree and women dress fabrics. The impressive number of Itema rapier R9500 and R9000 family models installed in Surat mills testifies how the Itema weaving technology is preferred by weavers to produce fabrics made with different yarns and weaving patterns.
At SITEX, Itema showcased its rapier R9500-2 weaving machine, in weaving width 3800mm and equipped with a Stäubli LXM 5376 hooks Jacquard shedding machine. The machine on display in Stäubli booth (booth 243) weaved a fabric traditionally produced in the mills of the region and is configured to meet the local weavers production needs.
Moreover, the Itema staff illustrated all the weaving innovations and the latest company updates to visitors. The Itema (and previous brands – Somet, Vamatex and Sulzer) spare parts and after-sales advanced solutions had a dedicated focus with the possibility to discover all the opportunities to give new life to looms, such as customised upgrade kits to optimise machine performance and retrofit latest Itema innovations on existing looms and electric, electronic and mechanic repairs.
Itema, with the Itematech division, also features the widest portfolio in the market to weave technical fabrics, and Sitex was the occasion to discover more about the company technological solutions to producing carbon tape and fibre, fiberglass, coatings fabrics, filter fabrics, just to name a few.
Schoch, the Itema Group company producing weaving accessories such as weaving reeds, reed dents and drop wires,was also present in the Itema booth to complete the Group weaving offering.
About Itema
Itema is a leading global provider of advanced weaving solutions, including best-in-class weaving machines, spare parts and integrated services. Sixty per cent of Itema is held by Gianni Radici's family heirs (the siblings Angelo, Maurizio, Paolo, Maria Grazia and Bruna) and 40 per cent by the Arizzi and Torri families. Itema Group business areas include also industrial and innovation. In fact, in recent years the Group diversified into complementary, high-growth markets through stakes in innovation driven companies, such as Lamiflex, Schoch and Itemalab, the Itema advanced innovation hub created in 2014 that in 2021 evolved into a fully-fledged company dedicated to develop breakthrough textile and industrial solutions. With more than 1.000 employees worldwide, world-class production sites in Italy, Switzerland, China and India (the latter for Schoch products, ndr), Itema features a global presence with commercial and after-sales services in Italy, Switzerland, China, India, Japan, USA, Hong Kong, Dubai, and Türkiye.