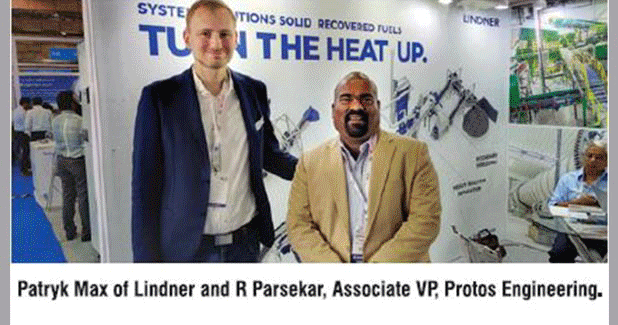 Industry shows increasing thirst for wastewater treatment, recycling
Water is life. As the nations realise the importance of saving this precious natural resource, many in the industry are increasingly resorting to practices that save water.
Water is life. As the nations realise the importance of saving this precious natural resource, many in the industry are increasingly resorting to practices that save water. And also a booming industry for saving water, treating wastewater and recycling is taking shape all over the world. India is not far behind, as the IFAT India, India's Leading Trade Fair for Water, Sewage, Solid Waste and Recycling, recently welcomed the fast-emerging environmental community of thousands of industry visitors, thirsting to know more about the technologies and equipment.
At the outset in the entrance to the Hall of IFAT India itself in BEC grounds, Goregaon, Mumbai, the keynote for the importance of water was at play. Martin W Kolodziejczyk, Managing Director of Greentec Aqua, a German firm, was showing with missionary zeal a new little, good-looking monster of a machine, with three module system, that can produce 250 litres of water out of air. He explained: "During the water production ambient air is filtered and run through a heat-recovery unit for pre-cooling treatment. The water vapour is condensed in a cooling battery, where external air reaches its dew point. The condensed water is collected in a storage basin and then pumped into an internal integrated water treatment system…. The water treatment system filters sterilise by means of UV radiation and finally mineralise the produced water in order to supply high-quality water." Bigger system that can produce up to 10,000 litres of water per day is also available, said Dr Ashish Srivastava, Director – Business Development in India Office, Greentec Aqua located at Vadodara, Gujarat.
Kilburn Engineering Ltd is a 40-year old company based out of MIDC-Saravali in Thane district of Maharashtra. Said Subir Chaki, Managing Director of Kilburn: "Kilburn has a Japanese tie-up for the last 30 years. For the textile industry, we offer a sludge handling system. The wastage that is generated by the textile industry is dried up with the use of paddle dryer. Shafts and paddles are used. The wet material is with about 80 per cent moisture. This is dried till the moisture level reaches up to less than 10 per cent. So, with 100 tonnes of waste material, after they are dried, the final material will be only 110 kg. The final material which is collected is generally pushed into boiler since it has burning calorific value. Our solution leads to zero solid discharge by the textile industry."
"Nowadays, a lot of restrictions on disposing of solid waste for the textile industry has come into force in States like Gujarat. We have so far produced about 130 such sludge systems and our capacity is about 3 such systems in a month. With environment norms being tightened, we are seeing increased demand for such sludge disposal systems in the near future," said Chaki. Lindner-Recyclingtech Gmbh is an Austrian company, which according to Patryk Max, Sales Manager, "is a specialist in shredding technology producing trendsetting solutions for waste processing – while constantly setting standards with our technological innovations." Its product portfolio ranges from stationary and mobile shredding machines for waste management through to complete systems for plastics recycling as well as for SRF/RDF production.
Said Max: "We produce machines for recycling industrial and post-consumer wastes. In textiles, carpet wastes are a big problem, and our machines can convert this waste into fuel. In India, we are operating in association with the Mumbai-based Protos Engineering Co Pvt Ltd. We have also offices in Delhi, Kolkata and Chennai. We have been in the Indian market for almost "a year and we are aggressively marketing in this country since we see a lot of potential for recycling machines. In India, the market for these kind of machines is in infant stage, but is growing, and will grow very faster in time. It requires some time. India has a waste problem, and "we are happy that the Prime Minister Modi is also laying emphasis on waste reduction. We see a great future for this in this country."
Said T Sairam, Senior Manager (Business Development), KEP Engineering Services Pvt Ltd, Telangana, "Our company has been in wastewater treatment since 2011. We have a lot of experience in zero liquid discharge, multi effect evaporators, agitated thin film dryer, effluent treatment plant, reverse osmosis, distillation columns, heat exchanger and crystallisers." "So far we have done wastewater treatment projects in 160 plants all over India, of which around 20 will be in textile industry. There is plenty of scope in dyeing mills for this kind of systems. Caustic recovery is very important today, and we have multi effect evaporators play an important role in textile industry," Sairam said.
KEP Engineering has recently introduced a new technology. "It is called MVRE -mechanical vapour recompressor evaporator. In multi effect evaporator, continuous steam has to be applied. In MVRE, no need to apply steam continuously and with recompressing technique, the steam can be used again. We have a pilot plant in Hyderabad, and customers can use it with their samples and see the wastewater treatment effect of our technology," Sairam explained.
The inaugural ceremony of IFAT India 2019 was done in the presence of Suresh Prabhu, Former Union Minister for Commerce and Industry, Government of India; Dr Ajay Mathur, Director General, TERI; Aabid Surti, Water Hero of India; Bhupinder Singh, CEO, Messe München India; Dr Jürgen Morhard, Consul General of Germany among other key industry players among other key industry players.
IFAT India 2019 saw over more than 300 exhibitors on an area of 14,500 square meters from 22 countries. The fair was marked by industries players like Andritz, Aqseptence Group, Astral Poly Technik, Endress+Hauser, Kirloskar, LANXESS, Larsen & Toubro, Schwing Stetter, Thermax and Wilo. Companies such as Arvind Envisol Hawle, Pentair Water Process Technology, Pratham Filter Industries and WOG Technologies were be there for the first time. IFAT India 2019 saw international participation from countries like China, Germany, Canada, the Republic of Korea, Norway and Switzerland.
Bhupinder Singh, CEO, Messe München India, said "With more than 300 exhibitors, a plethora of exciting products on display, support from key government bodies, associations and knowledge sharing, the IFAT India provided industry professionals unrivalled business opportunities to congregate network and discuss industry trends, challenges and market insights. The kind of industry response we at have received towards our 7th edition of the fair has been remarkable with a growth of over 23 per cent in footfalls which further validates the potential of this industry."