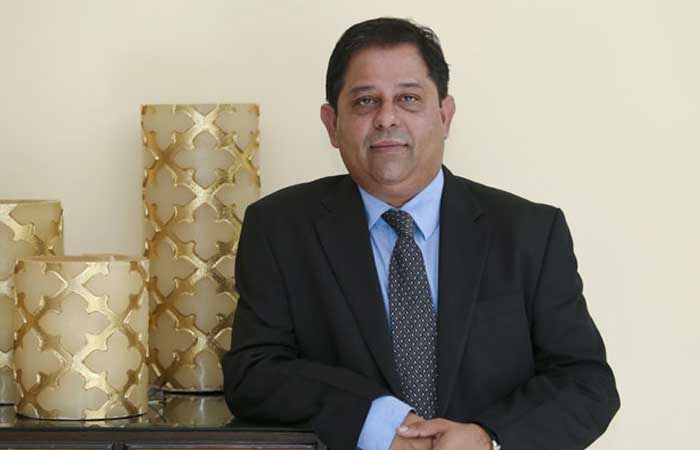 Indian textile industry is an ideal industry for adoption of solar energy
Trina Solar is mainly engaged in the research and development, production and sales of PV modules; power stations and system products; PV power generation, operation and maintenance services; development and sales of intelligent microgrids and multi-energy systems, as well as the operation of energy cloud platforms, etc. Gaurav Mathur, Director, Trina Solar India, discusses how their company is addressing the needs of the textile industry and elaborates on the advantages of employing solar power in a conversation with Divya Shetty.
How has the integration of solar power into textile manufacturing processes proven to be beneficial for sustainability and cost-efficiency?
The textile sector, like many other manufacturing businesses, is an energy-intensive sector. Each part of the textile industry and its supply chain consumes significant amounts of energy. For instance, large amounts of energy are required to provide a constant supply of hot water during the dyeing phase. Large amounts of energy are also needed to power the mechanical machines and chemical processes that turn raw fibres into usable textile materials. Energy accounts for 15-20 per cent of the sector's total production cost.
The global textile industry, of which India is a global leader, is a highly cost competitive business. Because energy accounts for up to 20 per cent of the business' total production costs, it means any reduction in energy cost will have a significant impact on the bottom line.
Adopting solar energy reduces operating costs and accelerates the scale of textile production. Solar adoption can vastly improve productivity and aid in income generation for textile manufacturers operating within rural micro-, small-, and medium scale enterprises segment.
Solar energy also decentralises energy production through rooftop solar modules, micro or mini-grids, and rechargeable batteries. This addresses the challenge of erratic power supply from the grid and unequal power tariffs. And it provides increased access to affordable, reliable, and clean energy for textile manufacturers in India, particularly those in rural settings.
Over-reliance on coal and natural gas to generate electricity and for heat and cooling, results in huge greenhouse gas emissions (GHG), especially in India which still relies heavily on coal for electricity generation. Adoption of solar energy reduces the textile industry's carbon footprint, helping the sector to become sustainable.
Trina Solar sees that the Indian textile industry is an ideal industry for adoption of solar energy. To remain internationally competitive, India's textile industry needs a reliable and cost-effective source of energy. Trina Solar has been operating in India since 2010. We have a very strong local presence and offer a full range of products to customers. We have shipped more than 9GW of solar modules to India, including modules for the textile industry.
Could you share some insights into Trina Solar's mission and how its technologies contribute to the broader goal of a greener and more sustainable textile manufacturing sector?
As a leader in the solar PV module manufacturing, Trina Solar strongly believes in benefitting mankind with smart solar energy solutions for a green net-zero future. In a bid to further our mission and support the textile manufacturing sector in India, we will soon be bringing our latest i-TOPCon solar cell technology to the India market.
The i-TOPCon technology, also known as tunnel oxide passivated contact technology, is the next big thing in the solar industry. This technology provides a further boost to the cell's efficiency. When a PERC solar cell is paired with an ultra-thin tunnelling oxide layer, it adds another barrier to contain unabsorbed light, increasing the cell's efficiency. Higher efficiency modules allow the module to harvest more energy per unit area. i-TOPCon modules also have an 80 per cent bi-faciality rate.
Our Vertex N modules, which are powered by the i-TOPCon technology, already provide 685W maximum power output and up to 22.1 per cent module efficiency, but this technology platform is also being further developed to provide 700W+ modules. We believe this technology is a 'game changer' not just for the solar industry but for our customers in the textile industry. This is because the modules provide higher power- output and efficiency, delivering lower balance of system (BOS) cost and levelised cost of energy (LCOE).
Trina Solar will also be introducing into India a portfolio of next-generation integrated solutions – integrating PV systems, with new-generation Vanguard 2P smart trackers and advanced energy storage systems. Trina Solar is unique because we are the only solar module manufacturer that also makes modules, trackers, and energy storage systems.
Can you elaborate on some of the successful projects or partnerships where Trina Solar's solar solutions have been implemented in the textile industry?
Trina Solar has been working closely with the textile businesses to meet the need for greener and more reliable sources of electricity rather than relying solely on the grid. As a sector with high energy consumption, textile manufacturers often have to deal with higher operational costs due to high electricity bills. Solar provides a cost-effective solution that reduces energy costs of these textile mills. To reduce their electricity bills, textile manufacturer Sri Desikanathar Textiles used Trina Solar modules for their 1.8 MW project at Chatrapatti, Tamil Nadu. Trina Solar is committed to advance power and efficiency boundaries with robust and rigorous R&D.
Solar power is often associated with electricity generation. Could you shed light on any innovative ways Trina Solar is exploring to harness solar energy beyond electricity?
Our vision is leading the way in smart solar energy solutions for a net-zero future, so we develop our business towards it. Trina Solar is mainly engaged in the research and development, production, and sales of PV modules; power stations and system products; PV power generation, operation, and maintenance services; development and sales of intelligent microgrids and multi-energy systems, as well as the operation of energy cloud platforms, etc., committing to lead the way in smart solar energy solutions for a net-zero future. Through constant innovation, Trina Solar continues to push the PV industry forward by creating greater grid parity of PV power and popularising renewable energy.
What upcoming products, technologies, or advancements can the textile industry anticipate from Trina Solar?
Textiles are one of India's mainstay industries but it, like with many other energy intensive industries, faces challenges such as erratic power supply and high power tariffs, amongst others. Unequal power tariffs among states impacts the textile industry's competitiveness. Many textile industry associations, from Gujarat, have demanded a 'one nation – one power tariff' policy to be implemented in the country.
In response to growing energy needs, including in the textile industry, Trina Solar has been expanding its offerings to be a 'total solutions provider'. For example, Trina Solar will soon launch n-type modules in India powered by i-TOPCon Ultra technology. These dual-glass bi-facial 210mm n-type modules have been tailored to operate in a wide range of settings, with lower BOS costs and LCOE to maximise customer value. The Bureau of Indian Standards (BIS) is evaluating the product. Trina Solar plans to launch its n-type i-TOPCon modules in India as soon as it receives BIS certification.
In addition to n-type modules, we will also be launching our second-generation Vanguard 2P tracker in India. We have observed that India, traditionally, has been a fixed-tilt market but our tracker solution will allow modules to capture more sunlight, generating 30% more solar energy than conventional modules.
Another key focus will be the introduction of Trina Solar's new version of Elementa, modular, flexible, and scalable system for utility applications and microgrids in India. This will be an additional piece to our total solutions offering to meet the ever-growing needs of local customers.
Can you share some insights into Trina Solar's future expansion plans that specifically cater to boosting the textile industry's growth and sustainability?
This year will be a phenomenal year of growth for the company globally as there is a huge market demand for our products. Trina Solar has expanded production capacity. Annual module production capacity is forecast to reach 95GW by year-end, while annual cell production capacity will reach 75GW, with 40GW dedicated to n-type cells.
Since we started serving the India market, we have shipped over 9GW of solar modules to India. Our business within the commercial and industrial (C&I) segment is very strong, including the textile industry from the western and southern parts of India.
To boost the growth of the textile sector, Trina Solar looks forward to deepening relationships with existing and potential partners by deploying resources to cater to business' needs. We will continue to work with our partners to support decarbonisation initiatives and make solar energy available to more textile manufacturers.