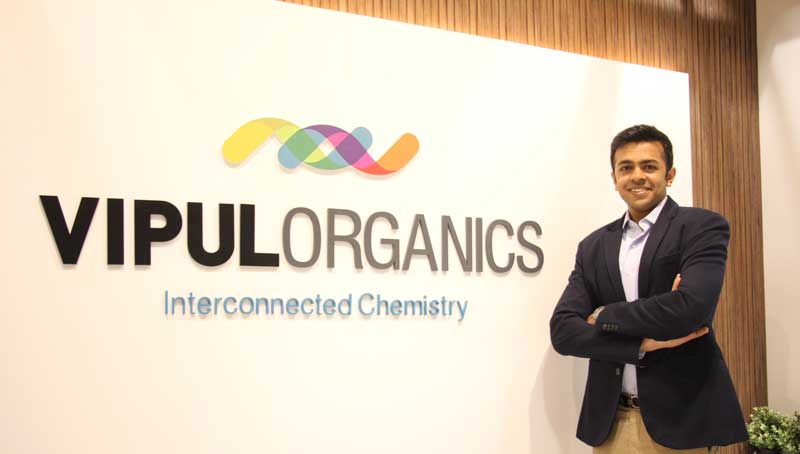 Vipul Organics is focused on providing its customers with the best colourants
Vipul group of companies currently serves clients across a broad spectrum of industries ranging from Textile, Paint, Printing Ink, Cosmetics & Food Industry, Plastic and several other industries and has presence in both local and international markets. Mihir V Shah, Executive Director, Vipul Organics, highlights the growing relevance of chemical industry with Divya Shetty.
Could you please provide details about the sector Vipul Organics intends to enter, along with additional information regarding their ZDHC Level 3 compliance?
Textiles is a very big part of our business offering. We have more than 200 products in pigment dispersions & dyestuff for the textile segment. These include the complete range of Textile Dyes, which include Reactive dyes, Direct dyes, Pigment dyes and Solvent dyes.
Our product lines for the segment include:
⦁ SUNACTIVE: Range of reactive dyes for dyeing and printing on textiles
⦁ SUNTHOL: Range of napthols used for textile dyeing and for pigment manufacturing
⦁ SUNPRINT: This is a well-crafted eco-friendly range of pigment dispersion for textile printing. We have OEKO-TEXÂ compliant ECO PASSPORT for our SunPrint range. Along with ECO PASSPORT we are also having ZDHC – Level 3 compliance.
Our commitment to becoming an environmentally responsible chemical player has led us to spend considerably in making our facilities and products sustainable in the long run. We have increased our spend on best manufacturing processes, so that our products follow strict ZDHC principles. In fact, we are the first pigment company in the country to acquire ZDHC Level 3 certification, registering all our 162 pigments products, which involves a stringent process of analytical testing, screening, onsite assessment of management system and finally an onsite assessment of chemical hazard assessment capability. 74 of our dyestuff products are also ZDHC Level 3 certified.
We are hopeful that in the textile segment, with our products being certified at Level 3, we will be at a substantial advantage to work with global multinationals that are environmentally focused and require such certification from their vendors. These certifications also indirectly make our product compatible for GOTS, Bluesign and INDITEX
We also have one of the best Zero Liquid Discharge (ZLD) systems installed at Tarapur and Palghar plants. We recycle and reuse almost 98 per cent of water which is a remarkable feat in a water intensive industry. This sustainable operation definitely gives us an edge in our industry and is also appreciated by conscious companies who understand and appreciate the complexity involved in operating a zero liquid discharge plant. Due to our sustainable manufacturing operation, we have been also conferred with ISO 14001 certificate.
Could you please provide an overview of Vipul Organics' performance in FY23?
We closed 2022-23 with total revenues at Rs 13,399.73 lakh, marginally up from Rs 13,386.44 lakhs from 2021-2022. This was despite very strong headwinds in the global markets, where most of our revenues come from.
The Export market presented a challenging macroeconomic environment: The geo-political issues arising out of Russia-Ukraine war also threw up the economy in a tail-spin. In addition, China, our biggest export market, was completely shut out due to the pandemic situation. However Chinese market has just opened up, so we foresee a positive outcome in the future from this market. In Africa, there was no foreign exchange available in most countries, like Egypt, to make payments and therefore the sales suffered. In USA, due to high inflation, there was a softening in manufacturing, impacting our clientele as well. In Europe, a stiff increase in the energy costs led to a recession in demand.
We were already in the process of de-risking our business from global turbulences by increasing our domestic presence. Moving away from being a 100 per cent export oriented company to also opening up domestic markets, where last year over 30 per cent of our top-line came from within India, also worked in our favour. We are in the process of setting up a pan-India footprint by strengthening our distribution channels.
The global challenges seem to be getting better and there are green shoots in the Indian economy. We hope to benefit from both and expect a robust 15-20 per cent growth hereon.
What is your current assessment of India's textile industry?
Global Research tells us that the Global Textile market is expected to grow to $ 1,522.3 billion by 2027, from the $ 1,005.2 billion in 2020, growing at a CAGR of 4.3 per cent from 2020- 2027. The Indian Textile and Apparel Market reached $ 172.3 billion in 2022. It is expected to touch $ 387.3 billion by 2028, exhibiting a growth rate (CAGR) of 14.59 per cent during 2023- 2028
Within the category, the reactive dyes segment dominated the market with a revenue share of more than 57 per cent in 2022. These products are composed of highly coloured organic substances and have primary applications in tinting textiles. The segment is estimated to expand further at the fastest CAGR from 2023 to 2030.
Vipul Organics is sweetly poised to take advantage of the increased environmental awareness among a larger section manufacturer, who are focussing on environmentally safe dyes and pigments. Today we have the highest available certifications for the textile dyes and pigments segment.
The Textile segment is slowing signs of recovery and this should propel the demand for the dyes and pigments segment. In addition, the China +1 movement as well as environmental restrictions on China are likely to help India's dye and pigment industry grow.
Within the country, there are early signs of recovery in North of India – Sonepat, Panipat, etc. are showing signs of growth. In the South, Erode and Tirupur remain sluggish, but we hope that they will also get out of the downturn soon.
Apparel segment has witnessed a real rebound in the last two years and within this segment, high end fashion is doing extremely well. Home Textiles industry is on the road to recovery and Carpet industry is already doing quite well.
Expectations from the government for chemical industry.
The chemical sector is knowledge-and capital-intensive and is the mainstay of industrial and agricultural development. It also provides the building blocks for downstream industries such as textile, paper, paint, pharmaceuticals, etc.
Governmental support for investments, which are hugely capital intensive, as well as creation of specific industrial parks with well laid out effluent treatment systems, can make the Indian Specialty Chemicals segment very vibrant and globally competitive. As of now, the industries are rather dispersed and not located in one geography.
The Government should provide an adequate infrastructure which can take care of the effluent load of our industry in the right and sustainable way. This should be done by setting industry parks with economical land banks, common effluent treatment systems and PLI schemes. This will really boost the morale of the industry in India and in true sense we can then have the scale and size and achieve economies of scale against China who is still dominating various manufacturing verticals due to their infrastructure support.
However, things are changing. A few parks are developing, including the one in Dahej, which is going to be home to one of the largest number of Chemical Manufacturers. This is still under development and we hope that this will streamline the issues faced by the industry.
Union Minister for Chemicals and Fertilisers Mansukh Mandavia calls the Chemicals sector a "sunrise" sector and has already announced Production Linked Incentive (PLI) scheme applicable to the Basic Chemical Manufacturers. This will boost domestic production and exports.
What kinds of trends are you seeing in the market at present? How is your company gearing up to tap these trends?
The textile industry in India is on a growth trajectory again. We are witnessing growth in exports in yarn again, which was quite sluggish for the last 2 years. The green shoots in the industry are becoming visible.
We are bullish on the India story for Textile industry. We are uniquely poised to benefit from this and we have already started the process of doubling our pigment dispersion capacity – from 150 MT to 300 MT at our Ambernath Plant. This will involve an additional investment of around 5.5 crore and should be functional by early 2024-25.
We are focused on providing our customers with the best colourants. Our focus on R&D and developing dyes and pigments that cater to every customer need has created a solid reputation for us. This has been possible because we have set up one of the finest labs which tests the application of colours/ intermediates/ bases on textiles and offers product innovations.
What are your expectations & growth plans for FY24? Is the company planning to expand its global footprint?
We already export to 50+ countries. We will possibly not look at actively opening new geographies but will look at increasing the stock and sale points within these countries. In the domestic segment, with the help of our partners – our distributors, we hope to make a real effort and increase our presence.
We are bullish on both India and the global markets and are looking at steady growth – 15% + in both our top line and bottom line, over the next few years.
We have already put in place our expansion plans and our new facility at Saykha will be operational by the end of next financial year.