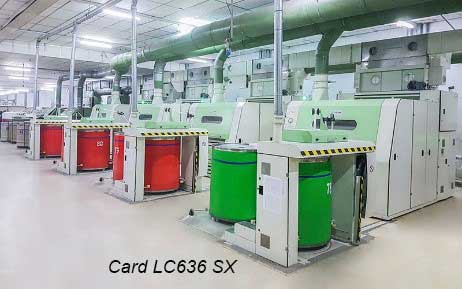 Impressions of ITMA 2023
Avinash Mayekar provides an update on several innovations and launches showcased at ITMA 2023.
Recovering from the impact of the pandemic, the global textile industry demonstrated remarkable resilience, capturing the world's attention with its strong presence at ITMA 2023 in Milan. This highly anticipated exhibition served as a comprehensive showcase of cutting-edge technologies, brought to life by an impressive gathering of 1,709 exhibitors.
Lakshmi Machine Works (LMW), India
Card LC636 SX
Smart card LC636 SX with optional features CDS (Card With Drafting System) and Fix-Fil- Can changer arrangement
Ensures high efficiency and productivity up to 250 kg/hr with consistent quality
1.5 meter working width and 36 working flats ensures quality derivable. Highly impressive active carding and cylinder area.
It's unique design of various technological elements and energy efficient drives, the smart card delivers higher realisation up to 1 per cent with power saving up to 15 per cent
New patented 120 mm height flats to have constant cylinder & flat setting across the card width.
Optical sensors installed on four flats to sense the setting between cylinder and flats.
LRJ 90/SX compact ring frame for smart spinning
LR 90 series is the longest ring frame in the market with maximum spindles up to 2400 with higher mechanical spindle speed up to 30,000 rpm
Machine gives quality package with 30 per cent improvement in yarn imperfections and classimat H1 faults.
Saves power up to 8 per cent with energy efficient low decibel HLED spindles. With improvised pneumafil suction and compact suction overall power saving is 10 per cent including spindles
Frame occupies lowest footprint and saves up to 8 per cent space as spindle gauge is of 65 mm
Automation with Ring rail drive, new auto –doffer drive mechanism and suction with AWES
LRJ 90/SX
Ring Frame Auto Piecing (RAP)
Fully automated yarn piecing system for ring spinning machines, receives information on yarn break through YBS (Yarn Break Sensor) and travels to the particular spindle and automatically pieces the yarn instantly. Piecing cycle is 35 seconds
RAP ensures auto piecing hence reduces dependency on skilled manpower. Package quality remains un contaminated due to non- handling by the human while piecing
Rieter, Switzerland
J 70 air -jet Spinning Machine
Delivery speed up to 600 meters/minute
Each spinning unit is individually automated and thus independent, enabling maximum efficiency & flexibility
VARIOlot enables to produce up to 4 lots at the same
Lower conversion cost due to low energy consumption
Quality monitoring with latest generation of Rieter yarn clearers Q 30A with larger measuring slot
J 70 air -jet Spinning Machine
Com4Recycling System
Production of Ring & Compact yarn from blends of recycled and raw cotton
Production of Ring and Compact yarns with almost 40 per cent of recycled fibres with high yarn quality
Presently recycled and raw cotton are still mostly processed on Rotor Spinning machines. The few ring yarns are available in coarse counts and with a recycled cotton content not more than 20 per cent. To produce fine yarns with higher proportion of mechanically recycled fibres is major challenge being faced by the industry.
Optimised their machines from blowroom to winding for processing of recycled cotton blends
Truetzschler, Germany
TC 30i Card
Achieves higher level of performance & quality with 35 per cent more active flats and 14 per cent extended carding length
Sophisticated waste suction makes to reuse more than 50 per cent of card waste. Or high- quality waste can be sold to third parties with attractive value
T-GO automatic gap optimiser for optimal carding gap settings which ensures increased productivity and quality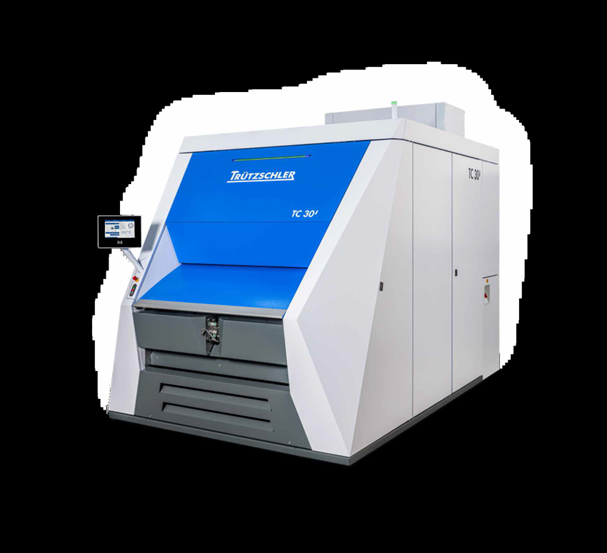 TC 30i Card
The TCO 21 XL Comber
TCO 21 XL with 12 heads maximise the productivity by 50 per cent and saves space by 25 per cent without compromising the sliver quality.
Operating 12 instead of 8 heads reduces energy consumption by 10 per cent per head, which minimizes conversion cost per kilogram
Online Noil Monitoring solves major challenges for combing and shows noil changes online

TCO 21 XL Comber
Truetzschler Card Clothing (TCC), Germany
Flat Tops PRECISETOP /MAGNOTOP
Higher constant yarn qualities are possible. Quick & precise replacement of flat tops
No need for a flats workshop
One additional grinding interval = +10 per cent production
new flat top 45R combines highest quality with the necessary stability for recycling applications
Flat Tops Precisetop /Magnotop
Supertip ultra- long service life
Clothings with enormous durability, great variety and highest precision
Excellent yarn quality
Significant added value due to longer operation time
Stationary flats
NOVOFIX stationary flats are made of exclusively of special steel
Ensures en even gap between cylinder and stationary flats, allowing optimum opening of the raw material lumps, the reverse side is also precisely machined
MY Wires – Digital Clothing Management
A digital App to keep track of maintenance schedules for their clothings. Users can choose Truetzschler's recommendations or their own to either grind the clothings or change it
Marzoli, Italy
Roving Frame FTM320
The innovative roving frame with a central headstock and independent double side modules works simultaneously, to allow spinners to increase efficiency by up to 5 per cent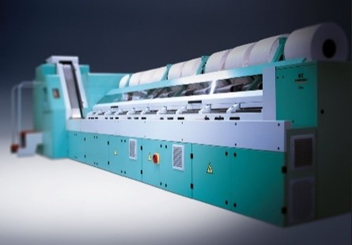 Roving Frame FTM320
The CMX state-of-the-art 10 combing head comber
Production capacity up to 115 Kg/hr
Productivity level 25 per cent higher than previous model
Energy saving of about 20 per cent KW/Kg
The MDS2 ring frame with Active Flute energy consumption reduction system
Capable to spin cotton, man-made fibre and blends up to 60 mm. Spindles up to 1824
Murata, Japan
FLcone Link Coner
Commercial launching will be in next 24 months
High productive winding Machine's concept is "non–stop" winding. Winder does not stop winding even during yarn breakage & splicing.
Process Coner AIcone
High productivity, energy saving and good package quality are the major features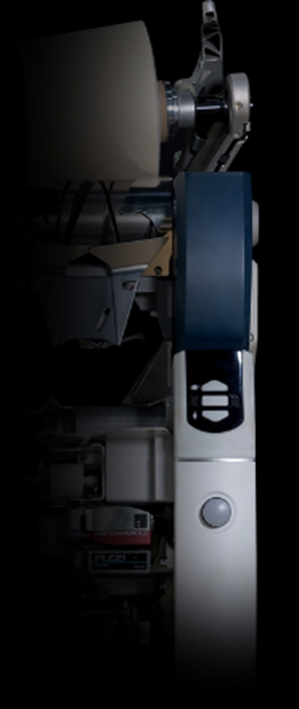 Process Coner AIcone
Saurer
Fusion Twister
With electronic drive system, inverter, conveyer belt etc.
No need to change pulley, wheels.
Savio, Italy
Proxima Smartconer
Stands for high-tech winding machine capable of perfectly adopting to demands of connectivity, Industry 4.0 and industrial internet of Things.
It gives an advantage for high productivity, low energy consumption, premium yarn quality, automation and data connectivity.
It enables to work faster and reduces manual and repetitive tasks, can increase both efficiencies and overall productivity.
It is faster, safer with better quality but with less waste, less maintenance and less resource usage.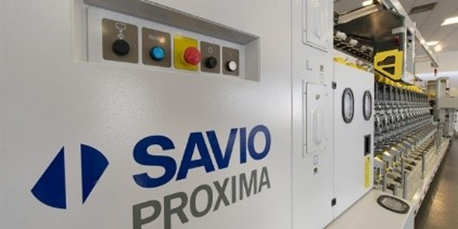 Proxima Smartconer
Nestling Technologies
Contamination removal machine i-Scan
I-Scan has separate compartments for colour contamination, dull, non-glittering PP contaminants and glittering PP contaminants with an aim to compete global brands.
I Spin -Spindle Monitoring and roving stop motion for ring spinning.
Groz-Beckert
Card Clothing – Spinning Carding
Maintenance free reel clothing with increased service life and low maintenance cost.
Developed fixed flats with new resistant aluminium profile and revolving tops are also available
Teraspin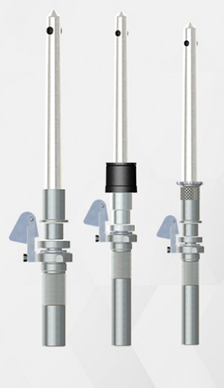 HF S Series
High speed, silent spindle HF S 682
Maximum mechanical speed up to 30,000 rpm
Minimum wharve dia. : 18 mm for ES (Energy Saving) spindles, 18.5 mm for other spindles
Sphero point foot-step design
Two radial bearings for higher radial loads, Dual damping system
Double elastic bolster construction with grease between the two housings for additional damping
Suitable for yarn count Ne 30s & above
Very high speed spindle, very low energy consumption, very low noise, very low vibration
Premium ES spindles
Energy saving spindles are available with HF1/HF100 spindle bearing units with 18 mm wharve diameter are designed to reduce energy consumption significantly.
The well proven, strong, and sturdy design make the spindles suitable for both manual and auto doffing machines.
10.32 per cent power saving with yarn count Ne 18
4.29 per cent power saving with yarn count Ne 38
8.6 per cent power saving with yarn count Ne 61

Premium ES spindles
Introduced Flexi Weighting Arms of PK S 3200 series
Addresses major issues attached with pneumatic drafting like saving sizeable recurring operations & maintenance cost as it do not require compressor, pressure hose, etc.
Suitable for short staple spinning offers maximum flexibility & can be retrofitted onto the existing arrangement of ring frames with existing drafting components.
Fits on the existing hexagonal tube of a pneumatic drafting system
Accommodates the existing top rollers, Easy height (pressure) setting
Consistent reliable loading through helical springs
Options of 5 different loads on each top roller
Easily replaceable weighting elements, adjustable front roller offset
Tsudakoma, Japan
Zaxneo001 air-jet weaving machine
Special frame structure, direct gear drive for smooth start-up and advanced beating system.
Significant increase in working rpm & 30 per cent reduction in vibration than previous model with advance weaving performance.
Enhancing weft insertion performance with optimized nozzles, valves and control technology.
The combination with TAP creates significant reduction in air consumption and low pressure in high speed operations.
High speed weaving by positioning the first heald frame closer to the beating point and further energy saving.
In-house developed heald frame is highly robust and light and designed for ultra-high-speed operation.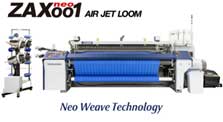 Zaxneo001 air-jet weaving machine
Picanol, Belgium
OminiPlus-I Connect Airjet Loom
The machine was running at highest speed of 1500 rpm on bottom weight even with 100 per cent recycled yarn.

Picanol series
O Leno
It is a big relief from changing E leno bobbins at every 4 days. No more moving of E leno assembly, regular consumable items.
leno is with bigger bobbin with 10 times longer running time. No more leno bobbin winder required nor you need extra person required for operating Leno Winder.
Ultimax rapier weaving machine
Ultimax 12-J-340 – for Flat Carpet
Ultimax 4-R-220 – for Denim
Ultimax 8-R-360 – for Voile
Ultimax Terry- 8-J-260 – for Terry towel
Laxmi Looms, India
LHR 450 high speed rapier loom
LHR 450 high speed rapier loom is a state-of-the art cam beat-up loom under "Make in India" campaign
Touch panel for easy access to operational parameters and with a vision integrating IOT 4.0 in the near future
LHR 450 is available in width from 180 cm to 340 cm with weft insertion rate of 1000 meters/minute with suitable servo take-up & let-off (up to beam flange dia. 1000 mm)
With stepper motor driven 8- colour presenter, with pick- finding device, independent leno motion
With energy efficient motor which make it sustainable for weaving light to heavy fabrics
LHR 450
ITEMA, Italy
EVO Weaving Machines
Advanced solution for weft transfer to enhance versatility and machine performance
iSAVER range available in up to 6 colours and for many more fabrics apart from Denim
Innovative digital software like iKNOW which contains know-how collected on the field by ITEMA experts and MyWeave advanced mill monitoring system
Rapier Weaving Machines
R95002, R95002 Denim, R95002 Terry, R90002 , HERCULES for Technical Textiles
Air Jet Weaving Machines
A95002, A95002 Bedsheeting
SMIT, Italy
High speed weaving machine
SMIT brought weft weft tension control device 2SAVE that saves selvedge at both left & right side. Thus brings sustainability by reducing the waste. 2SAVE saves 50 mm & 80 mm of yarn at each pick.
Staubli, Switzerland
Safir S60 – automatic drawing-in system
With Active Warp Control 2.0 (AWC 2.0) for setting standards in yarn recognition and management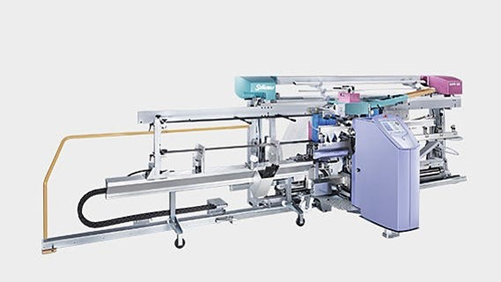 Safir S60
Staubli Jacquards LX PRO, LXL PRO, LXXL PRO
Energy efficient PRO series in the production of flat, terry or OPW (one – Piece woven) fabric.
Available in formats ranging from 4,608 hooks (LX PRO) to 25,600 hooks ( LXXL PRO)
Groz-Beckert
WarpMasterPlus – Automatic Drawing-in Machine
Reeds for the customers who produce fabrics in the range of high fineness (both wire and synthetic fabrics). Weaving reeds are used for production of fabrics used in technical filtration, membrane technology, solar cells or touch screens.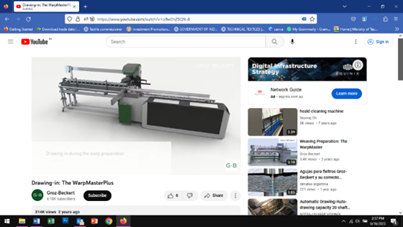 WarpMasterPlus
Toyota, Japan
JAT 910 Air Jet Loom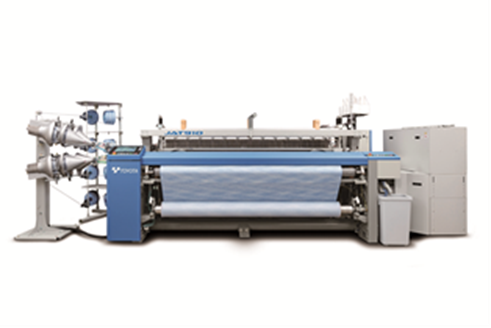 JAT 910 Air Jet Loom
20 per cent reduction in air consumption than previous model with 10 per cent reduced air pressure
New main motor & inverter achieves 10 per cent reduction in power consumption.
Use if i-SENSOR world's first sensor that detects weft yarn insertion timing as the yarn is passing inside the warp yarn, enables the optimum air pressure and weft insertion requirements to be automatically calculated based on Toyota Industries' proprietary algorithm, thereby supporting improved efficiency
(The article is divided into two parts, with the first part presented here. The second part will be featured in the upcoming edition.)
About the author: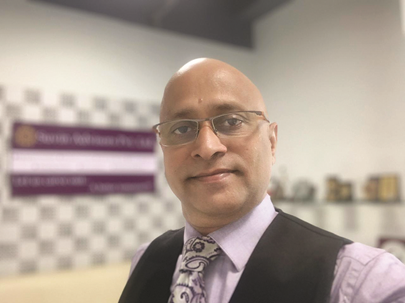 Avinash Mayekar is the Managing Director of Suvin. He has over 35 years of experience working in consulting firms and various reputed textile companies of India. His main specialisation lies in strategy building, business process re-engineering and technical textiles. Working with a reputed global consulting firm, Mayekar has worked on large spinning projects in India and gained huge overseas experience.