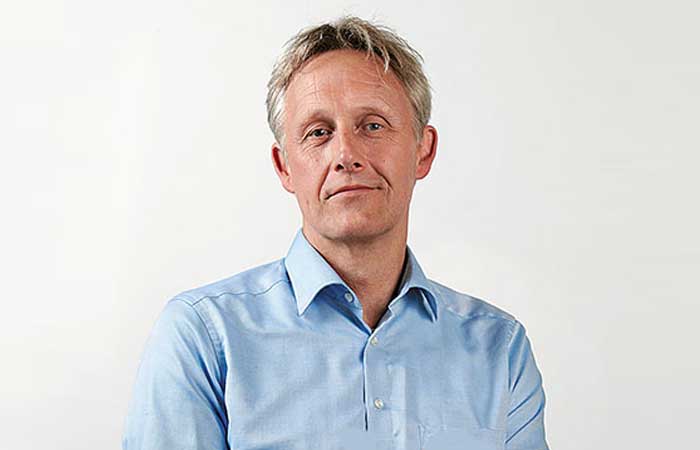 GFF expects third disbursement in India later this year
The Good Fashion Fund is a one-of-its kind initiative to create systemic change in the textile & apparel industry by financing the implementation of highly impactful & disruptive production technologies in Asia. GFF is managed by FOUNT. FOUNT provides ample investment and fund management expertise in emerging countries as well as industry knowledge and cooperates with Fashion for Good, (the Sub Advisor) which provides unrivalled industry network and technology knowledge. Bob Assenberg, Fund Director, Good Fashion Fund, in this discussion with Divya Shetty, shares company's future plans and what is the funding criteria.
What inspired the establishment of the Good Fashion Fund, and what are its main objectives and areas of focus within the textile industry?
The Good Fashion Fund, an initiative of the Laudes Foundation and Fashion for Good, was established to create systemic change in the textile and apparel industry by financing the implementation of highly impactful and disruptive production technologies and fair fashion practices in Asia. This impact will significantly benefit the environment and livelihoods of the local population and the workers – of which a high percentage are women.
Could you provide more information about the impact of Good Fashion Fund on the global textile industry?
The Fund aims to demonstrate how to invest beyond sustainability and the goal is the adoption of recyclable and safe materials in an energy-efficient manner. New impactful equipment for closed-loop manufacturing, waterless dying, digital printing and wastewater management reduce the energy usage and GHG emissions and also greatly support the creation of fair jobs.
To achieve this we provide long term USD loans to finance impact equipment plus technical, environmental and social support. Every investment needs to lead to a significant reduction of one of our 3 environmental goods (water, energy, materials).
Our impact methodology is based on best market standards, thanks to partnerships with leading organisations in the field of environmental and social impact. GFF uses the Higg Index, a widely accepted and adopted environmental index for the apparel industry in its assessment.
A key objective of the Fund is to contribute to the improvement of workers' conditions and rights (primarily women) within the industry, to start with the demonstration of improvement within GFF's investees. We work with the social expert Fair Wear Foundation to implement, measure and monitor the improved social conditions for the tenor of our investment.
GFF is a 'demonstration fund' and the first impact fund supporting sustainable manufacturers in the apparel sector. The Fund is relatively small with the aim to demonstrate to the sector that these investments are feasible, provide financial benefits and at the same time lead to higher sustainability. We therefore actively share our lessons learned and key achievements with the broader fashion and financial sector to create a change
In what ways is the company conducting experiments in India, and how many companies are currently partnering with GFF?
So far we have made 3 investments, of which 1 in Bangladesh and 2 in India. We expect a third disbursement in India later this year.
Pratibha (Q4 2021): The USD 4.5 million long-term loan, supports Pratibha Syntex's planned capital expenditures for the replacement of machinery and expansion of sustainable equipment in their spinning, processing and garmenting divisions. Pratibha Syntex supplies textiles and garments to popular brands including C&A, H&M, Patagonia and Zara.
SKML (Q2 2023): GFF has made an investment in Sri Kannapiran Mills – a leading Indian producer of cotton yarn and sustainable denim fabrics. The USD 2.5 million long term loan will support Kannapiran Mills' investment in the replacement and expansion of key sustainable equipment in two of their spinning factories (KG Naidu Mill, Balaji Mill) and a Denim fabric weaving & processing factory (KG Fabriks).
What types of initiatives does Good Fashion Fund support financially?
Investments relate to capital-intensive and high-impact equipment, often used in the wet processing like dyeing, washing, printing and finishing as well as wastewater treatment.
We provide USD loans to mid-size apparel manufacturers in Bangladesh and India to finance impact equipment that leads to environmental impact. We also work with environmental and social expert partners to develop jointly with the manufacturer a so-called environmental and social action plan that is to be implemented during the term of our loan. In this way we support them actively to become more sustainable.
What criteria does Good Fashion Funds employ when selecting companies to work with?
We focus on small to midsized apparel manufactures in Bangladesh and India with positive financials for the last years that are already intrinsically motivated to become more sustainable and are open to partner with a reputable international financier to take further steps towards sustainability. These manufacturers do have an investment plan to implement impact equipment in the production process. As we provide USD loans, our focus is on exporting apparel manufacturers. Furthermore every investment should lead to a minimum 50 per cent reduction in consumption of one of three environmental goods Good Energy, Good Water or Good Materials (inclusive chemicals) and the company is willing and committed to undertake social improvements.
From your perspective, what is the present state of sustainable practices in the Indian textile industry?
The sustainable fashion market in India is still in its relatively early stages, but it has shown steady growth over the past few years. In recent years, many Indian brands, designers and manufacturers have adopted sustainable practices. In terms of sustainable manufacturing, several Indian manufacturers lead the way in terms of recycling and implementation of new technologies in the area of dyeing, washing and wastewater treatment.
Could you provide further details regarding the funding structure of GFF for companies interested in accessing its benefits?
Currently GFF provides long term USD loans to exporting apparel manufacturers in the range of $ 1 to 2.5 million. This loan has a longer-term tenor, typically in the range of 5 years with possibly a grace period for repayment. As part of the process, GFF creates an Environmental & Social Action Plan which is part of the loan documentation.
What are the future plans and goals of the Good Fashion Fund? Are there any new initiatives or strategies being considered to further advance sustainable practices and innovation within the textile industry?
Focus for the next 1 to 1.5 years is on deployment of the remaining funds within GFF, i.e. additional investments in India and Bangladesh. Furthermore we will be actively engaging with the broader sector to share our lessons learned. On top of that, we intend to establish and launch a larger follow-up fund to GFF in cooperation with our partners and broader network, applying our learnings, methodologies and processes. We believe that significant steps still need to be taken and that impact finance can play an important role in making the fashion sector more sustainable.