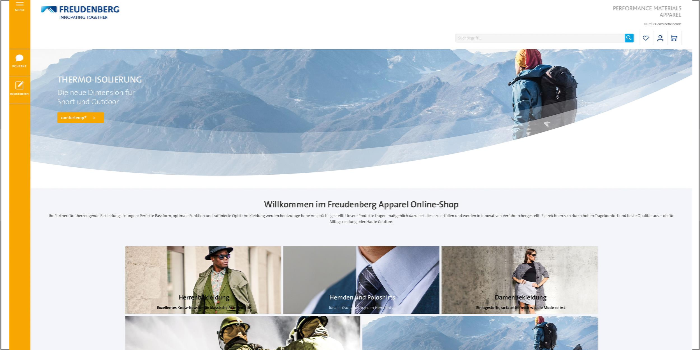 Freudenberg launches online shop for interlining
Freudenberg Performance Materials launches online shop for interlinings and padding for the clothing industry
Freudenberg Performance Materials is
setting an innovative milestone in the clothing industry with another service:
The Apparel business unit is the first market player in Europe to launch an
online shop with a comprehensive range of interlining materials, ribbons,
plaques and preformed materials, linings as well as comfortemp® thermal
insulation.
The right product for every
requirement in clothing production from Freudenberg Performance Materials
Apparel is now also available online. The full solution provider is expanding
its range of services for industrial customers to include an online shop. The
company is thus strengthening its customer orientation: around the clock, seven
days a week, registered customers can obtain information about the entire
product range according to their individual application area, query
availability, order samples and thus shop quickly, easily and directly.
2,000 different products on offer online
The choice is huge. Customers can
choose from more than 2,000 different products, from bonding solutions to the
recycling range. A clear segmentation makes the search easier: women's and
men's clothing, sports, outdoor and work clothing, shirts, jeans and leather as
well as special ranges for the production of accessories, for applications or
embroidery. Freudenberg's apparel online shop has been available to the first
customers in Germany since December 2020. The expansion of the customer base
with access will start in April. For customers, the online shop is an asset, as
Mark Flynn owner of Wailua says: "All articles and innovations at a glance,
quick and easy processing – we are very pleased about the launch of the
Freudenberg Apparel online shop.
Access with and without registration
In addition to their customer account
for address and order management, registered users have full access to detailed
product information and technical data sheets in PDF format for download.
Individually set desired delivery dates or a memo round off the online
experience. But even without logging in, the online shop is available in catalogue
form for comprehensive product searches and information on the entire range. An
application-oriented menu structure as well as detailed filter functions
support the search and accompany the way to the selection of the desired
product. Images with zoom function show thickness, structure, strength, case
and type of fixability. The contact form enables requests for quotations – as
long as you do not have your own access.
The online shop can be reached at:
https://shop.freudenberg-apparel.com