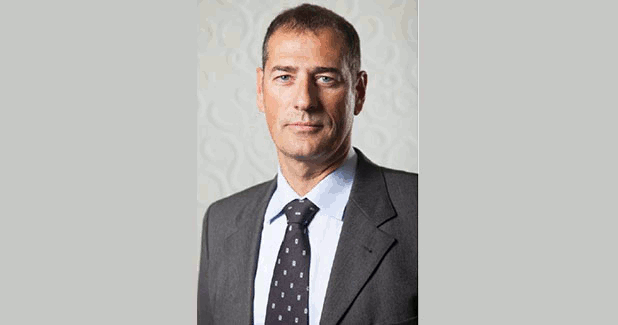 Epson's Total Solution covers entire cycle: Paolo Crespi
The Japanese pioneer in digital textile printing technology Epson, with its For.Tex and F.lli Robustelli subsidiaries, displayed at the ITMA Barcelona the latest innovations and solutions for the textile market.
The Japanese pioneer in digital textile printing technology Epson, with its For.Tex and F.lli Robustelli subsidiaries, displayed at the ITMA Barcelona the latest innovations and solutions for the textile market. For.Tex provides dyes, thickeners and products for pre/post-treatment of fabrics and F.lli Robustelli is a leading company in the engineering and production of textile printers.
At ITMA 2019, Epson showed its unique Total Solution, a turnkey, integrated system for the textile printing world. Total Solution helps operators seize digital textile market opportunities. The all-inclusive textile digital printing system features Precision Core printheads, which are a state-of-the-art textile printing technology. Genesta inks have been developed to offer their maximum results using Epson technology and fabric treatment expertise. This system finds its maximum expression in Monna Lisa series, the successful range of industrial printers and a reference for the high-quality textile printing sector.
Epson Europe BV, based in Amsterdam, is the Group's regional headquarters for Europe, Middle-East, Russia, and Africa. With a workforce of 1,830 employees, Epson Europe's sales for fiscal year 2017 were 1.7 billion Euros.
"Our ITMA 2019 presence confirmed Epson's commitment to the continuous high-quality ink and printer development", stated Paolo Crespi, Epson's Direct To Fabric Sales & Marketing Director EMEAR & Americas. He spoke to the ITJ Editor, Samuel Joseph, in an email interview.
What were the machines for DTF (direct to fabric) launched at ITMA Barcelona and please give some details about the key features of some of the major ones including the Monna Lisa series?
This year at ITMA, we presented two new models of Monna Lisa, but customers could see the entire line-up of our products there. For Epson, ITMA is one of the most important events in the textile calendar and the latest show had a fairly good success for us.
In Barcelona, we have launched our new Monna Lisa Evo Tre range and new Genesta pigment inks, representing the latest Epson innovations for an evolving digital textile market. The new Monna Lisa Evo Tre range features Epson PrecisionCore Technology and offers a complete solution for all textile market needs, from large scale, high speed production to small run, on-demand sample printing. Monna Lisa Evo Tre range includes the new Monna Lisa Evo Tre 64 and the Monna Lisa Evo Tre 8, as well as the Monna Lisa Evo Tre 32 (displayed in the 16 channel configuration) and the Monna Lisa Evo Tre 16. These new models will give our customers the opportunity to meet the needs of an ever demanding textile market; a market that is increasingly competitive and in which the exclusive high quality, productivity and colour fastness features offered by Epson is a way to stand out from the crowd.
Visitors have shown appreciation for our decision to exhibit the entire Monna Lisa series line-up: this way they were able to experience the outstanding quality of our machines, as they can do from 15 years by now. Above all, visitors were sincerely enchanted to see our latest top-of-the-range, high productivity Monna Lisa Evo Tre 64.
How has the Indian market developed for EPSON over the years? What are the Indian set-up and the facilities?
We approached the Indian wide textile market in 2010 and over the years, step by step, we installed several units up to the latest version of Monna Lisa Evo Tre equipped with Precision Core heads.
EPSON talks about Total Solution. Can you throw some light on this?
Total Solution is both simple and efficient: customers can benefit of 100 per cent comprehensive support from Epson. This means a total internal production of any components: heads, printers, inks, chemicals for pre- and post-treatment, software, service and all the knowledge that the whole textile process requires. In other words, we do not just sell the machines; we take care of the entire cycle.
That's why in 2014, Epson founded the Textile Solution Center in Como, in which we carry out research on the entire textile printing process with the best equipment possible. This allows us to offer high-level assistance to our customers throughout the process.
How have the global markets responded to the various EPSON products and which are the major markets?
Italy is undoubtedly the most important market and even today the largest number of printers installed in the latest 15 years is in Italy, in particular in the Como district, which has always been synonymous of excellence worldwide. Now we are investing, also in terms of infrastructures, in foreign countries, especially Turkey, India and South America, where similar textile districts are located.
Do you have any strategic plans for the Indian market? Can you give us some details?
As said before, we perfectly know India is a wide and important textile market. At the beginning, we have approached it carefully, starting with a limited number of customers operating in a selected market. Now, thanks to Epson's presence and capillary sales organisation, we can spread our technology all over the country and in different market segments.
Please give us some information on your company's facilities and R&D set-up? What are the future plans for the next few years?
Thanks to the strict cooperation between Japan and Como, we can better respond to the market demand and to printer production request, both in Italy and in Japan. The two production plants assure us the production capacity to face the worldwide demand.
Give us some details about other offerings like printheads and inks of EPSON in the digital printing space.
Monna Lisa printers are all equipped with the latest release of PrecisionCore Heads. PrecisionCore technology assures the best quality in terms of accuracy.
PrecisionCore printhead technology is the product of one of the largest investments in research and development in Epson's history, merging the company's expertise in MEMS (Micro Electro Mechanical Systems) fabrication with advances in materials science. With the flexibility to deliver high-speed solutions for commercial, industrial and office printing, PrecisionCore continues and extends Epson's tradition of providing renowned colour quality and output durability across the widest range of applications. It is the combination of speed and quality that allows the PrecisionCore to stand head and shoulders above other printing technologies.
At ITMA, we also announced Genesta PG-Revo, our new breakthrough pigment inks which provide high quality industry-standard dry and wet rub fastness in deep shades.
These new inks allow high-quality printing on a wide range of fabric types and applications, including fast growing on-demand fashion and home textile markets. In addition, PG-Revo ink significantly reduces water and chemical consumption during the post printing process, which makes it very environmentally friendly. PG-Revo inks can be also applied on fabrics without pre-treatment, further boosting their eco-friendly performances.
How do you see the growth prospects for digital printing in the future? Will these be more affordable to a wider section of users? What are the other drivers of growth for this printing, according to you?
According to textile magazines and field studies, the digital market today represents no more than the 5-7 per cent of the total textile printing market worldwide. If so, we can consider the remaining 93-95 per cent as a big opportunity to grow. The reality is probably a little bit different and complicated, because there are many factors we cannot control that can influence the growth of digital versus traditional printing. Despite this, we had a very nice experience in the Como district. In almost 17 years, since 2000, the digital printing has replaced almost the 70 per cent of the total volume printed here.
We wish the rest of the world will follow Como's example and do the same, sooner or later. And Epson technology will be for sure part of this revolution.