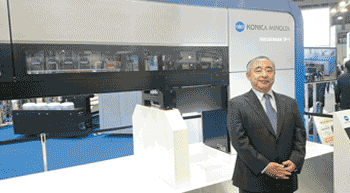 Downtime is critical to digital printing
Giving Shape to Ideas? is the major theme of everyone at the headquarters of Konica Minolta. Last year, it scaled a new peak of achievement. It was hectic time for Konica Minolta towards the end of 2015.
?Giving Shape to Ideas? is the major theme of everyone at the headquarters of Konica Minolta. Last year, it scaled a new peak of achievement. It was hectic time for Konica Minolta towards the end of 2015. Firstly, Konica Minolta?s Nassenger Series Inkjet Textile Printing System was making waves and with ITMA Milan approaching, the company was gearing up for the big launch of new versions of NASSENGER. Secondly, in October 2015, Konica Minolta launched its state-of-the-art technology centre that helps inkjet customers obtain first-hand experience in some of the world?s most advanced digital systems for textile printing.
The Konica Minolta IJ Textile Europe Demonstration and Training Centre at Bregnano, Como, features three of the world?s most advanced systems for the textile market. Live printing is shown on Konica Minolta?s pioneering NASSENGER SP-1, NASSENGER 10 and NASSENGER 8.
Konica Minolta?s innovative printing system meets industry?s growing demand for short run production with enhanced design capability. Among other benefits it has realised, digital printing technology has notably eliminated the time and labour involved in plate-making and ink blending in conventional screen textile printing. Konica Minolta?s NASSENGER Series offers enhanced productivity and high-quality fine images with high solid density through the use of high-performance multi-nozzle printheads developed in-house to a state-of-the art level.
The Konica Minolta NASSENGER SP-1 is a high-productivity, high-resolution inkjet textile printer employing a single-pass system. It is characterised by advanced features such as ultra high-speed, high productivity and high resolution, made possible by Konica Minolta?s expertise in print heads, printing mechanisms and inks. The Konica Minolta NASSENGER 10 and NASSENGER 8 models are scan-type high- and medium-spex1ed inkjet textile printers. The three models give customers a wider range of options and were formally launched at ITMA Milan.
Akiyoshi Ohno, Konica Minolta Inkjet Division former President and now Senior Adviser, event went to the extent of jubilantly singing from a song converting ?Downtown? to ?Downtime? and regaled a select knot of media persons at Milan. Many say that Nassenger has made an indelible impression in the digital printing arena.
Ohno spoke to The ITJ in an exclusive interview, explaining how the company remains firmly committed to innovations in the manufacturing process in the textile market by offering higher-performance, environmentally friendly products, and to helping customers enhance their corporate value, while joining the global effort to reduce environmental threats.
Excerpts:
How was Konica Minolta?s experience at ITMA Milano?
Wonderful! Reaction of the market was beyond expectation. What was appreciated by visitors was our seriousness to show the truth, the true performance of the machines, while others were showing the ?sunny side only? with a beautiful talks and printing easy designs.
Invitations to the nearby newly-opened Konica Minolta Minolta IJ Textile Europe Demonstration and Training Centre at Bregnano via a microbus was highly appreciated. Visitors could enjoy the free access Without barriers to the machines (SP-1, NASSENGER 10 and NASSENGER 8) to confirm they were really working, while others were showing the machine at ITMA booth with barriers, so that visitors could not access to the machines. We had and continue to have a strong confidence that digital textile printing has stepped into the real taking off phase.
In the latest products of Konica Minolta, what are the strong points and benefits for the users?
Launch of the most advanced single-pass printer SP-1 immediately available
DTM concept (Down Time Minimisation) to eliminate opportunity loss
Newly designed IJ head with small droplet grayscale, easy ink priming
Missing nozzle detection
Missing nozzle compensation
Automatic calibration by advanced camera system
Launch of the most advanced scan type printers NASSENGER 10 and NASSENGER 8
Common technologies with SP-1 are applied for the best performance
Emulation mode of SP-1 for sample printing
Combination of ?scan type & single-pass? offers ?sample print mass production?
Which are the market currently Konica Minolta has a strong presence? What are the markets with immense scope in the near future?
We have a strong presence predominantly in Europe, in particular Italy, and now we are expanding to Turkey. Our major domestic market is Japan, and neighbour giant China. Future important markets include India, Vietnam, Southeast Asia including Thailand, Indonesia, and South and Latin American countries.
How is Konica Minolta placed in the Indian and other Asian markets? What is its strategy to increase its share in the Indian market?
Konica Minolta is covering Indian and most of Asian market with dealers. We start these market with offering ?entry models? and ?mid-range models?, as we believe it is a necessary step for those country to accumulate digital experiences with a small investment rather than to rush investing huge money to copy the success of European companies. Having said above, now India seems ready to take off.
It is a perfect timing now for us to introduce newly-launched products at ITMA to India
Gamechanging inkjet textile single-pass printer. Give us its USPs.
DTM (Down Time Minimisation) because this will eliminate opportunity loss. Reducing downtime is critical. Our systems do this, which is why we describe this as gamechanging technology. Customers of our NASSENGER systems say they are now printing at the same quality and speed of screen printing systems. Thanks to this technology, which include newly-developed inkjet printheads, we?re meeting the needs of users in the fast-emerging markets of textile printing.
How do you think digital printing will play a big role in the future of textiles? Why do you think the higher cost of digital printing is worth investing in for big and small textile companies?
There still exist fundamental misunderstandings in the textile industry that ?digital printing has higher cost?, which I would like to change. People tends to focus on only the visible cost factors, in particular ?ink?. Indeed, inkjet ink is more expensive than screen printing ink per square meter. However, think about not only cost, but also ?the value of the print?.
Digital print could offer shorter lead time, volume flexibility and design flexibility, which should provide huge benefit to the fabric buyers. This benefit should be reflected to the ?price (value)? of the printed fabric from the printing factory.
The fashion industry would enjoy ?avoiding risk of obsolete stock?, ?not missing the opportunity of sales? through ?shorter lead time?, ?volume flexibility? and ?design flexibility? enabled by digital print. This benefit should be shared with everybody involved in the textile value chain including printing factory and to should be finally reflected to the selling price of the fabric in order to cover a bit higher cost. The selfish people who are not ready to share this benefit they might enjoy and always squeeze the benefit only for themselves would not make success with digital technology and could not sustain their business in the long run.
The price scheme should be changed according to the availability of digital technology, which is the real meaning of digital revolution.