Developing monitoring system in sewing machine to enhance yield
The on line monitoring system will improve the any kind of production based system with remarkable improvement in regular production. In the same manner we are going to introduce a new monitoring system which is purely concept based control system to alert the people who are aligned with slight lagging habit in the regular manufacturing cycle, says, T Menaka and Dr M Ramesh Kumar.
Introduction
A simple concept based single lamp monitoring system we are going to alert the sewing machine operators. Each sewing machine is equipped with a kind of signal lamp which is having two colour LED light system green and red in colour. The green colour indicates the machine is on condition and its working in operation. Other side we can receive the red colour indication signal when the machine is on condition but still machine is kept idle or not in working. This signal will give appropriate indication to the supervising team to monitor and attend the bottle necks in the manufacturing line. From the floor we can receive the signal from our direct vision. These result will activate the monitoring team to attend the slow downs and other kind of issues.
Objectives
To accommodate a on line monitoring system with cost effectiveness to improve the regular working cycle. It will produce better yield in the overall achieved production and turnover of the garment industry
A.Signal monitoring system
Monitoring helps to identify the unwanted process slow down and its relevant data from the floor directly, so that only we decided to monitor each and every sewing machine with a separate monitoring lamp in a floor. Cost involved in this new system is also very less and we have a suitability for all kind of sewing machines. This direct monitoring involves everyone towards the management goal and improvements.
III. Application
In all other textile related machines are already equipped with signal lamp monitoring system to indicate the machine working with the floor people. Garment manufacturing involves so many back processes with some measureable workers involvement. Also this process is one kind of continuous process if any delay in any stage will affect the whole line results less productivity, shipment delay and waiver etc. A kind of signal indicating system fixed with our regular industry model sewing machine and its produce a valid signal based on the machine working and idle simultaneously. Through this, we can eliminate unwanted machine stoppages reflects the productivity gain.
A. Industrial sewing machines and its application
Industrial sewing machines are normally used in mass garment production. An industrial sewing machine is power-driven and runs at a very high speed. There are different types of industrial sewing machines. There are some special sewing machines developed for making specific seam and stitch classes
B. Single needle lock stitch machine
This machine makes lock stitches (stitch class 301). Lock stitches are formed with one needle thread and one bobbin thread. This is a widely used sewing machine and used for sewing stitch class 301. Basic to computer-controlled version is available in this machine category. Single needle lock stitch machines are used for joining two or multiple fabric plies together. The machine is used to sew lightweight, medium weight, and heavy materials.
C. OverLock sewing machine
Over lock machines are available in 3 threads, 4 threads and 5 threads over edge sewing. An over lock machine can form various types of stitches like stitch class 503, stitch class 504 and stitch class 512.
This machine is used for serving garment panels (for example: trouser panels serving) and for over edge stitch. These types of machine are mostly used in knitted garment sewing for over edge stitch. Like side seam stitch of a t-shirt is done using an over lock machines
D. FlatLock sewing machine
This machine is called a cover-stitch sewing machine. Flatlock sewing machines normally come with 2-3 needles. For the bottom cover stitch machine 2 needle threads pass through the material and inter loop with 1 looper thread with the stitch set on the underside of the seam. Flatlock sewing machine form stitches like Stitch class 406. Flatlock machines are available in two types – A flatbed and Cylinder bed. Flatlock machines are used for hemming sleeve and bottom of the knits products. A cover-stitch machine can be used in any part of the garment for decorative purpose.
E. Feed of the arm
This machine is used in making flat and felt seams. Two-needle threads form the chain stitch. For example, this machine is used for sewing shirt side seams and underarms, and for sewing jeans inseam. Image of Shirt side seam/jean inseam
F.Button attaching machine
A special machine used only for stitching button in a garment. Different sizes of button can be attached in same the machine by changing the settings. Attach button. Machine stitches button and trim thread automatically
G.Button hole machine
This machine is used for making buttonholes on garments. Buttonholes can be made with different stitch densities. Like in Shirts, Trousers, and Polo Shirts etc
H.Bar track machine
Bar tack stitch is made to reinforce the seam and garment component. Like in belt loop joining and at the bottom of side pocket opening bar taking is done
I. Zig zag sewing machine
This machine is used for zigzag stitching. Used in bra manufacturing, jacket manufacturing
J.Multi needle chain stitch machine
This machine used for smocking operations and pin-tuck operations.
K. Double needle chain stitch machine
A double-needle lock stitch machine is used to sew two stitch lines at a time on the garment part. This reduces stitching time where a double stitch line is needed to sew. Other than these machines there are few more types of machines.
L.Signal lamp or stack light
   Stack lights ( signal tower lights, indicator lights, and on lights, warning lights, industrial signal lights, or  tower lights) are commonly used on equipment in industrial manufacturing and process control environments to provide visual and audible indicators of a machine's status to machine operators, technicians, production managers and factory personnel. It is a form of and on – systems in manufacturing which identify errors as they happen. Stack lights are used in similar applications as beacon lights/strobes, however the information they typically display encompasses more machine/process conditions. Stack lights typically use incandescent, LED or xenon-type strobes as their illumination source. Stack lights are generally columnar structures in a variety of shapes, placing colour-coded indicator segments on top of one another in a "stacked" orientation. A stack light will typically have up to 5 differently coloured segments to indicate various conditions on the machine or process.
Segments in any combination of (typically) red, yellow, green, blue or clear white are actuated independently and are either off, solid-on (continuous) or flashing. Stack lights are passive devices that may be controlled directly by programmable logic controllers, distributed control systems, PC control systems or hardwired to machine control such as timers, sensors and latching relays. Discrete signals activate illuminated segments at common industrial control voltages (including 12Vdc, 24Vac/dc, 115Vac, 230Vac). Some units support field bus networked control through popular industrial networks such as Modbus, DeviceNet, Profibus, CAN-Open or ASi.
Flashing control may be provided by the stack light's internal circuitry or externally controlled with timers or logic controllers. Stack lights are available for all types of industrial environments including washdown (IP65) and explosion proof.
M. Signal lamp or stack light – indications
Stack lights are used in a variety of machines and process environments; specific colour-coding is assigned by the system designer. Commonly used colour codes for machine state conditions include
RED: Failure conditions such as an emergency stop or machine fault
Yellow: Warnings such as over-temperature or over-pressure conditions
Green: Normal machine or process operation
Blue: External help request, where an operator might be requesting raw materials, scheduling or maintenance personnel assistance
White: User-defined conditions to a specific machine, often related to productivity monitoring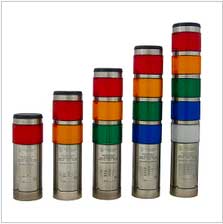 Electrical relay fixed in the machine for signal lamp activation:
A basic and cost effective lab model electrical circuit board had been developed to activate the signal lamp based on the operator position in the machine and its work as a relay in the sewing machine – circuit open and close will initiate the signal lamp output. The whole system is fixed in the sewing machine pedal system. Based on the working condition the signal lamp will produce the green and red light indication.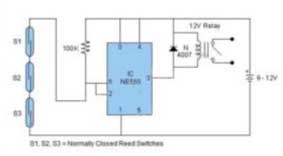 2. A model sewing line with and without signal lamp –demo
Typical garment manufacturing sewing machine line with and without signal lamp indication shows you the functioning of signal lamp in the line
N.Types of sewing layouts – in operations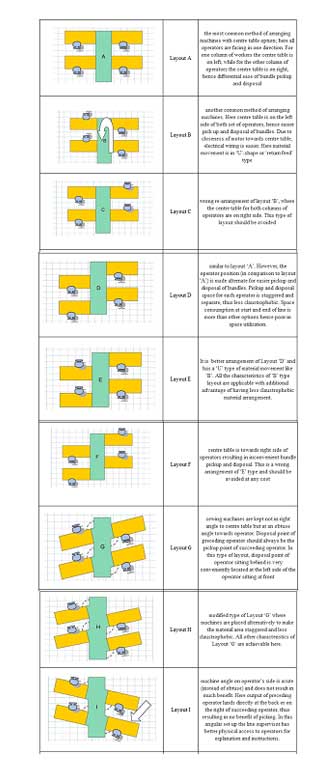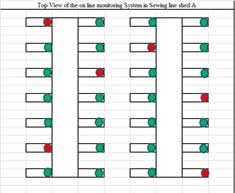 P. Proto Type development of signal lamp equipped sewing machine
The below diagram shows you the proto type development of signal lamp equipped sewing machine working in operation successfully.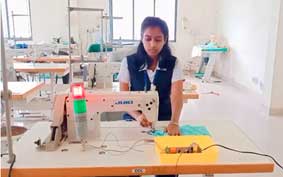 Q. Results and Discussion
Signal lamp equipped sewing machine, alert the every operator with the descried IE based sewing operation time cycle. It's understand by the machine operator that the system will indicate the unwanted stoppages to the supervisory team and that will directly related to top management action and all.
Conclusions
In this paper, we developed a prototype signal lamp equipped sewing machine for industrial application. Being a leading garment manufacture in the world this kind of innovation in very helpful to improve the productivity in a effective manner and it directly curtail the unwanted bottle necks and stoppages. This is not our prime motto to valiant work force by introducing the monitoring system. Hence every monitoring system will increase the productivity and reduce the idle time. In future we decided to collect the signals and analysis for the further development .
References
1. Palamutcu, S., "Electric energy consumption in the cotton textile processing stages", pages 2945-2952, 7, July, 2010
2. System for monitoring and controlling electrical consumption, including transceiver communicator control apparatus and alternating current control apparatus US 5880677
3. Robert S. Wrathall, Tempe, Ariz., "Current sensing circuit" Grant, patent. Motorola, Inc., Schaumburg, Ill. Appl no 595,764, Apr. 2, 1984
4. Rogale, D.; Petruni´c, I.; Dragˇcevi´c, Z.; Firšt Rogale, S. Equipment and methods used to investigate energy processing parameters of sewing technology operations. Int. J. Clo. Sci. Technol. 2005, 17, 179–187.
5. Muthukumarana, T.T.; Karunathilake, H.P.; Punchihewa, H.K.G.; Manthilake, M.M.I.D.; Hewage, K.N. Life cycle environmental impacts of the apparel industry in Sri Lanka: Analysis of the energy sources. J. Clean. Prod. 2018, 172, 1346–1357.
6. Çay, A. Energy consumption and energy saving potential in clothing industry. Energy 2018, 159, 74–85.
7. Jadhav, S.S.; Sharma, G.S.; Daberao, A.M.; Gulhane, S.S. Improving Productivity of Garment Industry with Time Study. Int. J. Text Eng. Procs. 2017, 3, 1–6. Appl. Sci. 2020, 10, 3104 11 of 12
8. Elnekave, M.; Gilad, I. Rapid video-based analysis system for advanced work measurement. Int. J. Prod. Res. 2006, 44, 271–290.
9. Bauters, K.; Cottyn, J.; Claeys, D.; Slembrouck, M.; Veelaert, P.; Van Landeghem, H. Automated work cycle classification and performance measurement for manual work stations. Robot CIM-INT Manuf. 2018, 51, 139–157.
10. Rajput, D.; Kakde, M.; Chandurkar, P.; Raichurkar, P.P. Enhancing Efficiency and Productivity of Garment Industry by Using Different Techniques. Int. J. Text Eng. Process. 2018, 4, 5–8.
About the author:
T Menaka is an Assistant Professor, Department of Fashion Technology, Rajas Institute of Technology, Nagercoil, Tamil Nadu, India. Dr M Ramesh Kumaris an Associate Professor of Department of Fashion Technology, Sona College of Technology, Salem, Tamil Nadu, India.