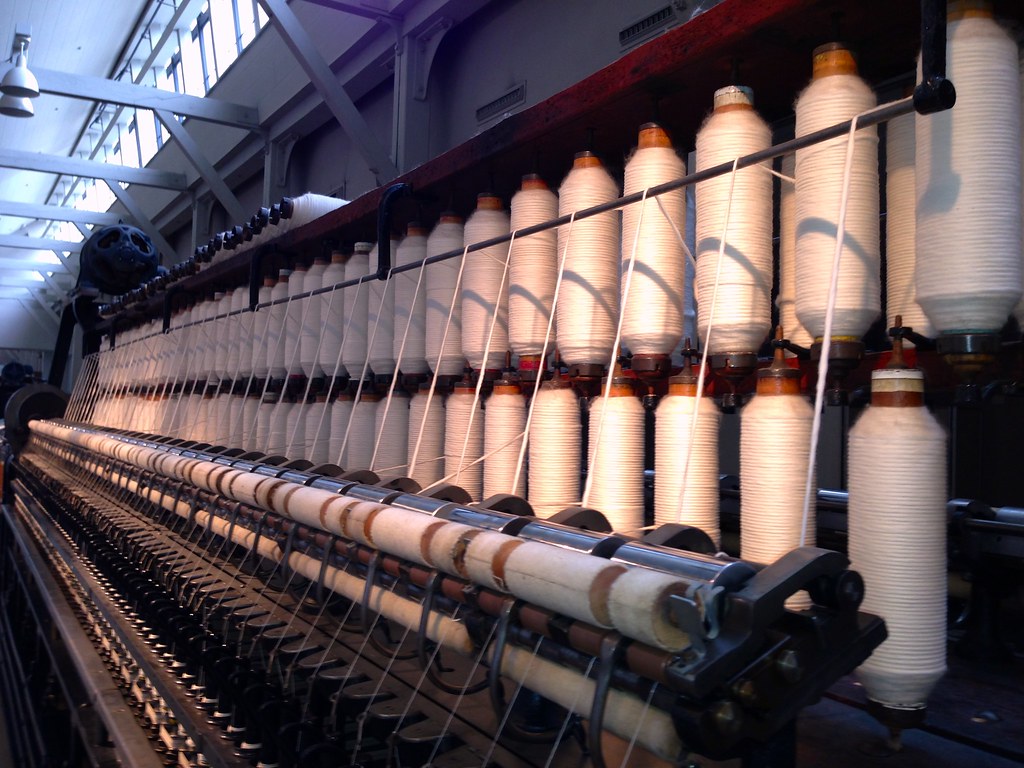 Crisil anticipates margin to unspool 800-900 bps for cotton yarn spinners
High raw-cotton prices, lower exports and utilisation reasons; credit outlook stable
A troika of headwinds —elevated domestic cotton prices, lower exports and capacity utilisation — will unravel the operating margin of India's cotton yarn spinners by 800-900 basis points (bps) to pre-pandemic levels of 12-14 per cent, compared with a decadal high 20-23 per cent last fiscal driven by supernormal cotton-yarn spreads.
Yet their credit profiles will be only slightly impacted because capital expenditure (capex) will be lower on-year, while working capital requirement remains stable. That will keep debt levels in check this fiscal. Last fiscal, robust cash accrual stemming from superior profitability had helped spinners deleverage. That, and lower capex will keep credit profiles healthy despite the moderation in operating margin.
An analysis of 110 cotton yarn spinners rated by Crisil Ratings, accounting for 35 per cent of the industry's revenue, indicates as much.
The spread between international and domestic prices of cotton determines the competitiveness of Indian yarn spinners. While global cotton prices fell 17 per cent between April and August this year in anticipation of higher production, domestic prices rose 2 per cent (see historical prices in annexure) because of limited supply. Pricier domestic cotton thus eroded India's competitiveness, leading to a loss of export market share to China and Bangladesh.
Between April and August this year, India's cotton yarn export volume plunged 58 per cent on-year, leading to moderation in capacity utilisation of spinners below 75 per cent in the first half from near-full utilisation last fiscal. Spinners had to even shut operations on some days in the first half of this fiscal. The second half is expected to see higher exports with the arrival of new cotton crop. Consequently, the decline in export volume would be restricted to 20-25 per cent on-year.
Annexure
Cotton and cotton-yarn prices have been falling from decadal highs this fiscal. However, they remain elevated compared with historical levels.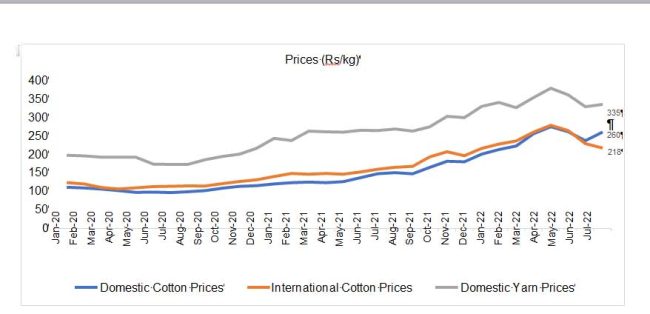 Mohit Makhija, Senior Director, CRISIL Ratings, says, "A normal monsoon and an 8 per cent higher sowing area on- year will increase cotton production in India. That should cool domestic prices and allow spinners to regain some export competitiveness. But international cotton prices could fall on slowing yarn demand from Pakistan and Vietnam amid stable global production. Net-net, Indian yarn exporters won't earn supernormal premiums like last fiscal."
Over the medium term, Indian cotton yarn will continue to benefit from the US ban on exports from the Xinjiang region in China, and supply-chain derisking by global customers. However, export volume will fall up to 20-25 per cent this fiscal because of the high-base effect of last fiscal. Domestic demand for cotton yarn is expected to pick up 7-9 per cent in the second half of this fiscal on more orders from end-user segments.
Gautam Shahi, Director, CRISIL Ratings, says, "There are three reasons for moderation in the profitability of spinners this fiscal. First is the fall in cotton-yarn spreads1 to Rs 90-95 per kg this fiscal (similar to Rs 85-90 per kg pre-pandemic) from Rs 115 per kg last fiscal. Second is low-capacity utilisation in the first half that can't be compensated fully in the second half, and third, expected inventory losses due to correction in cotton prices."
Consequently, the average debt to Ebitda (earnings before interest, tax, depreciation and amortisation) ratio of spinners could rise to 2 times this fiscal from an exceptionally low 1.4 times last fiscal. That would still be lower than the 3-3.5 times seen between fiscals 2017 and 2020. Capex is seen curtailed this fiscal to Rs 1,800 crore (akin to average annual capex Rs 1,700 crore between fiscals 2017-2020) compared with Rs 2,400 crore last fiscal.
In the road ahead, the removal of the ban on Xinjiang cotton and adverse movement in domestic cotton prices will bear watching.