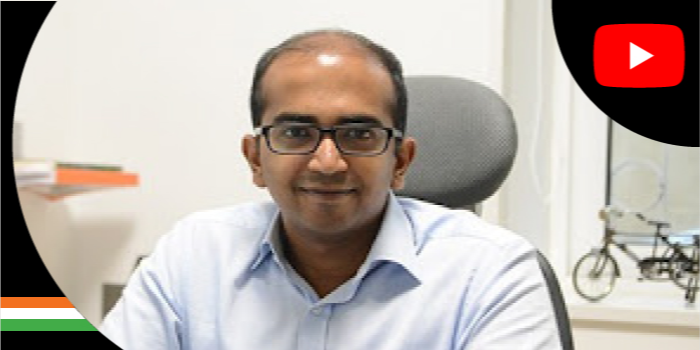 Covid-19 has reinforced our plans to digitise: G Dalmia
Gautam Dalmia, Chief Development Officer, Strata Geosystems (India), speaks on how his company is meeting the challenges of the markets demands today.
Brief introduction of Strata Geosystems. What are the major products for the industry? What are the distinguishing characteristics and features of your major products?
Strata Geosystems is a part of Glen Raven Group, which is a global leader in technical textiles. We were one of the early entrants into the technical textiles sector. Our sole focus was to promote geosynthetics at that time. As you know, geosynthetics was not very well known. After a lot of effort in promoting, geosynthetics is now much more widely known. Our products are now sold all over the world.
Some of our major products are used in different applications. The key products are geotextiles, geogrids and geomembranes. When I say geosynthetics, I mean, these are synthetic products made of polymers polyesters polyethylenes, which are used to replace natural materials, which are used for construction activities.
Geotextiles can be used in place of aggregates, which are used for drainage facilities during construction. So there are different types of products catering to different applications. All these products are based on their criticality.
We are the largest manufacturers of geogrids in India. We have been doing this for over two decades. So what makes these products unique? We made our geogrids which are the widest in the world. Wider width helps in the installation process, helps in reducing overlaps and many other properties.
How is your company meeting the challenges of the markets demands today?
Our products are used for civil engineering and construction. We are pushing the limits of designs. We keep trying to make designs more optimised using different technologies and software. The design standards are changing now, so we need to keep making and upgrading of products to cater to these designs.
In 2018-19, we introduced a new technology for coating. This is a new processing technology. For knitting, we use 245-inch knitting machines, which are very wide and are normally not easily used in the industry. These technologies offer tremendous technical benefits to our products.
Modernisation and automation is increasing across industries. What is the significance of this for Strata Geosystems?
We firmly believe in constant improvements. When we set up a new plant in Daheli in 2019, we had a very clear objective that we want to make this one of the best in the world and to make it as modern as possible using all the technologies.
We have automated material handling systems. We have sensor-based inventory management systems. We have all the digital monitoring parameters on our machines. One of the key requirements in our industry for geosynthetics is the traceability. You should be able to trace a product all the way back to its original source. We understand the need to provide a very strong system. We have strong quality control systems. Our reporting systems and data tracking systems are well recognised and automated.
Covid-19 has further reinforced our plans to digitise apart from manufacturing. We also have construction activities in India for major infra projects mainly reinforced soil wall for bridges. We have around 40 sites working in national highways.
Strata Geosystems opened a new state-of-the-art manufacturing facility in Daheli, Gujarat last year. Please share more information on this plant.
We were earlier manufacturing out of a smaller facility in Daman, which was into operation for more than 10 years. In technical textiles as with any other manufacturing, it is essential that we achieve scalability.
In technical textiles, the demand is very niche when compared to other regular products. It took us a long time [almost a decade] to get the demand to such a level wherein we were in a position to scale our manufacturing. It's very difficult to compete on the global scenario. The plan was to achieve that milestone wherein we had enough demand within the country so that we can set up new markets. To achieve that goal, we set up this factory where we tripled our manufacturing capacity and upgraded our machines.
Right now, we have a proprietary coating machine, which we designed internally. We have very wide knitting machines and state-of-the-art systems. So all of this is helping us get scalability on the product so that we can compete on a global level.
Do you think the government is giving enough impetus to the technical textiles segment? What are your suggestions to the government?
I will like to break this into two questions: Is there a recognition for technical textiles within the government circles? Yes. They understand the importance of technical textiles. They see this as a bigger growth sector for India, not only from internal consumption but majorly for exports too. There is very sound recognition across the highest levels.
So is the government doing something tangible for technical textiles? This is where the challenge arises. You have the textile industry, which is the manufacturing side and then you have the consumer industry, which is the user industry. For eg: In geosynthetics, there is lack of awareness and knowledge among the ministry level and construction site contractors. If you look at medical textiles, which is very much in demand today. There was not much importance given to medical textiles before, but now they have understood its importance.
We have used geosynthetics and technical textiles in many government projects. Demand creation is more important than looking at the supplier supply side.
Does your company have any future plans to expand or diversify into other related products? Give some details, if so.
As a company we are very growth-oriented and very aggressive in our strategy. Pre-covid scenario, we were actively planning to diversify our product portfolio into different geosynthetics. We had a very aggressive plan to get a bigger higher market share.
But now, with covid-19, the entire dynamic has changed now. We were almost finalising another expansion. But as of now, we put that on hold. We will have to wait and watch. Once the market sentiment improves, we would immediately get through the expansion plans. Right now, it has pushed our expansion plans may be for a year or so.
It has been more than a month for the lockdown. How it has impacted the business? What kind of challenges are you anticipating when you resume business post-lockdown?
As I said earlier, we have two divisions – we manufacture geosynthetics, and we have a big construction division, which builds these structures on projects. Our overheads are manpower, which are in large numbers and that's definitely a big cost factor.
The bigger challenge is more on the timing of the lockdown. Once the rain starts by June, most of the construction activities stops. So the months of March to May [just before the monsoon] was very important for us. So that's going to hurt us even more in the long run. We will soon enter into our monsoon season. So anyways, another three months will get washed out.
Labour shortage will be another issue for us. As per government directives, we were holding back all our site labours and making sure that they were well looked after. But once the lockdown is lifted, the migrant labourers will want to go back to their home States. We are asking people to stay back at higher costs. So getting labour once the construction begins, will be a challenge for us.
The government has allowed construction activities to begin, which is like a silver lining for us. The Ministry of Home Affairs has classified construction specifically road construction as an essential activity. We have been asked by all our clients and the government departments to restart our supplies and construction work.
Sitting at home does give you a lot of time to think. We are forecasting for the next few years considering different scenarios.
We see major risk factors as far as health is concerned. The number one risk factor is health and safety of employees. We have to ensure that our team members are all protected and we are trying to go the mile to make sure that happens.