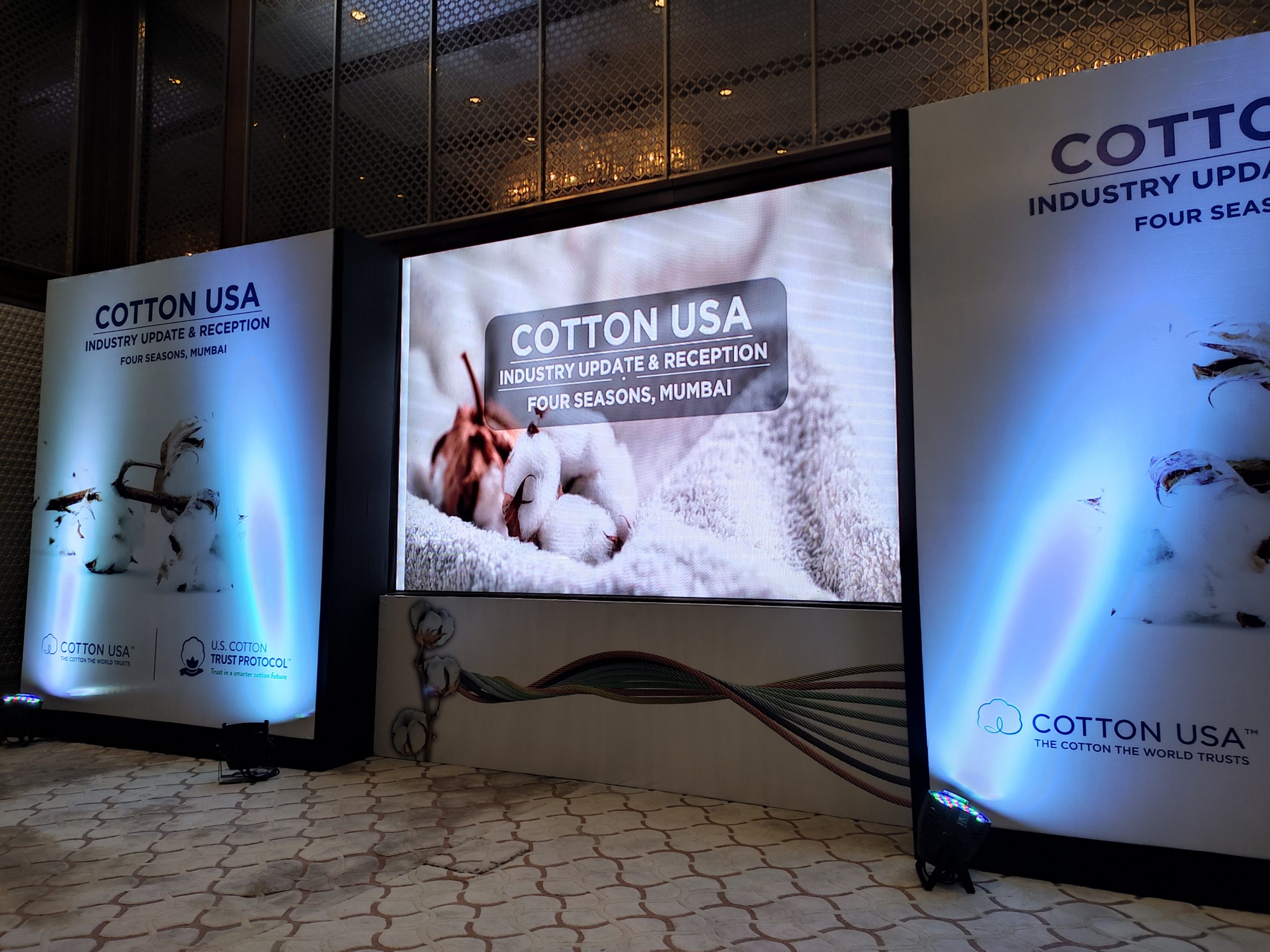 Cotton USA hosted a seminar on Industry Update in Mumbai
The supply chain between the USA and South Asia, cotton production, logistics, climate change, and current challenges were addressed by the industry experts.
Cotton USA hosted an engaging industry update session in which industry professionals covered the US and South Asian supply chains, cotton production, logistics, and the challenges being faced while attaining their goals. Peush Narang, Representative, Cotton Council International gave the welcomed William Bettendorf, Director, Cotton USA Supply Chain & South Asia, Cotton Council International; Lzaro Sandoval, Senior Agricultural Attache, USDA Foreign Agricultural Service; Carlo Bocardo, AMCOT / Calcot and Gagandeep Kanwar, ACSA/ LDC.
A brief update on the state of cotton in India and the USA was presented by Sandoval. He also discussed the supply and demand factors that will affect the Indian and international cotton markets in the years to come. He added, "about $240 million worth of cotton was exported from the US to India in 2020–21. India is already our eighth-largest market for US cotton, but we believe there is still much more room for growth. Exports totalled $146 million from January to April 2022. This is an increase of 127% from the prior year. So this just shows the type of resurgence we are experiencing in India. We anticipate an 8.6 percent increase in production in the upcoming fiscal year (i.e. 13.2 million hectares). On the production side, we anticipate a 12 percent increase in output. He also said that because of the high pricing of fibre globally and domestically, exports will decline by 7%."
Sandoval continued, "we should expect to see more cotton shipments in the coming days because the Indian government recently eliminated the import duty up until the end of September. In terms of Indian cotton production, it's noteworthy to note that we anticipate China and India to produce around 27.5 million bales each, with India accounting for the majority of global cotton production."
According to Bocardo, India has always been a great market for us. The US produced 3.8 million metric tonne during 2021marketing year, up approximately 0.6 million tonne from the previous year. The vast majority of nations are switching from cotton to polyester. There is concern that this could repeat itself when the Indonesian market switched entirely to polyester. However, we have observed that there is a general increase in market demand for sustainability. Therefore, the US and other countries should take care of this since those efforts will enhance the demand for cotton."
The supply is delayed as a result of continuing discussions concerning container traffic in the ports. The current issue in the US is that the ships are not departing and arriving on time. There was a 15-day or maximum one-month delay over a year ago, but now there is a three- to four-month delay. Additionally, our working conditions are difficult. Then there is the issue with vaccinations and chassi dysfunction. The logistics end needs to be less disruptive. The supply chain must be connected.