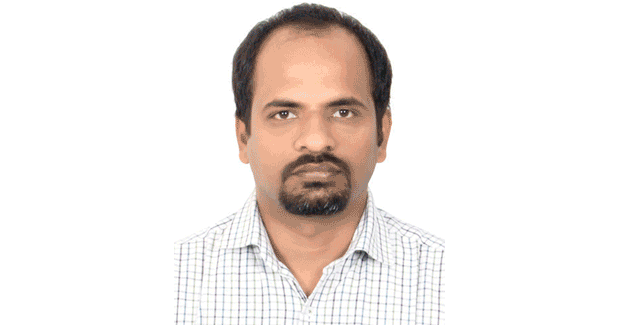 "Consul Neowatt's UPS provides 98% efficiency"
With the full mechanisation of all parts of the process in the textile industry, power quality and its effects on the efficiency, quality of output have started gaining a lot of importance. There is also an increasing consciousness among unit operators and textile manufacturers to protect factory equipment, which can be adversely affected by sudden fluctuations and power failures. Downtime due to power failure is a threat to textile units that are supplying for global customers with tight deadlines and quality norms to meet.
With the full mechanisation of all parts of the process in the textile industry, power quality and its effects on the efficiency, quality of output have started gaining a lot of importance. There is also an increasing consciousness among unit operators and textile manufacturers to protect factory equipment, which can be adversely affected by sudden fluctuations and power failures. Downtime due to power failure is a threat to textile units that are supplying for global customers with tight deadlines and quality norms to meet.
Consul Neowatt Power Solutions is one of the largest manufacturers and suppliers of a full range of power electronics, backup and conditioning products, services and solutions in the country with both value and number of installations. The company has developed an in-depth understanding of the Indian power environment, which has led them to design cutting edge products for demanding fields such as textile, plastic, food processing, manufacturing, etc. The company has over the last three decades developed products and solutions to meet the requirement of the textile industry and drive down electricity bills, product quality.
Aruppukottai Shri Vijayalakshmi Textile Mills in Tuticorin replaced 300kva Online UPS with 300kva Pelican Industrial Inverter for a six-figure saving in electricity bill per annum. Kalaimagal Textile Mill replaced 300kva Online UPS with 300kVA Pelican Industrial Inverter connected to 4 Elitex Machines (224 rotors each machine). Premier Mills was facing a problem of frequent drive failures with the display of their machines frequently hanging. With the installation of a 60amp AHF the problem was solved.
Consul Neowatt has been working closely with a large number of textile customers. Responding to an email questionnaire from the ITJ Editor, Lohithashan Potti, Product Head, Consul Neowatt, speaks about the company's products since its beginning to the present and future.
Excerpts:
Your company is ranked No. 1 power electronic company in India, which has been achieved within three decades. Please give us the background for this achievement since its inception.
Consul Neowatt has a heritage that dates back over 30 years. The company started out manufacturing servo stabilisers and earned recognition from various OEMs in manufacturing and healthcare segment for the superior performance of its products that were manufactured within sights got from a deep and keen understanding of the Indian power conditions. Consul Neowatt servo stabilisers also garnered recognition from the textile industry based in and around Coimbatore region of Tamil Nadu. The company slowly expanded its product range from stabilisers to UPS products.
Subsequently it started manufacturing larger three phase UPS systems. The company acquired Pune-based Megatech in 2013 to expand its portfolio of UPS and Solar products and in 2015 merged with Neowatt Power Solutions to form Consul Neowatt offering the widest power electronics product range spanning large three phase UPS, servo stabilisers, active harmonic filters, solar inverter and more.
It is the only company to fully design and manufacture all products in India, the R&D centre in Pune is a DSIR (Department of Scientific and Industrial Research, Ministry of Science and Technology, Government of India) approved centre for power electronics research. Recently the company joined an elite group of companies globally that have the capability of designing and manufacturing seismically qualified UPS that are being used at BARC (Nuclear Power Corporation).
The company today has one of the largest pan-India service covering over 80 locations in India. Consul Neowatt is also the fastest growing UPS company in the country having grown 200 per cent in the last four years.
What are the various power systems available for the various industries and what are their merits?
Over the last 30 years, the company has built up an enviable understanding of the Indian power environment which has enabled it to design and develop cutting edge power electronics products that can perform flawlessly in challenging power environments. Today Consul Neowatt offers the widest range of power electronic products in the country, and this includes mission critical UPS solutions which in India are currently dominated by MNCs and imported products. The company is a leader in product segments like UPS, servo controlled voltage stabilisers, active harmonic filters, solar inverters.
The Falcon range of online UPS, that is available up to 800kva, has impressed customers and gained customer acceptance and recognition for the next generational technology combined with robustness and reliability.
The solutions and products are backed with more than three decades of field experience in developing customised power products that meet the exacting standards of clients in supporting critical and sensitive equipment in various industrial and commercial applications.
The company also assists customers optimise their power protection and energy consumption through tailor-made products and solutions. All this is in keeping with the vision of Consul Neowatt that is to be the preferred power solutions partner of choice for every customer.
Consul Neowattis also playing a pioneering role in solar energy with its solar inverter technology in India offering the industry leading Sunbird solar inverter range, which are available in off- grid, Grid -Tie or Hybrid variants. We have recently received approval for the largest battery based solar power Sabzi Mandi project in India totaling over 3 MW for uninterrupted power supply. The solar power in this project will serve a mix load of pump motors, lighting, cool storage fans and other infrastructural needs of the Mandis.
The company's active harmonic filter Iora 3000 is another industry leading product that has helped solve the harmonic problems in a variety of industry applications like data centers, textiles, foundries, manufacturing and other commercial and industrial applications. The innovative three phase industrial inverters of Consul Neowatt can provide you a cost effective and energy efficient power backup solution.
This is also a green alternative to DG Sets and UPS for lighting, lifts and other process applications which require uninterrupted power. We are the only company in India to offer industrial inverters for commercial and industrial customers in a range from 10-600kVA. This solution helps customers meet the requirement of the national building and lighting code for emergency and safety lighting power back up.
How does textile industry figure among your clients? What kind of power systems are in use in these industry? Which are the segments in textile industry targeted?
The textile industry has been one of the traditionally important segments that Consul Noewatt has been addressing over the last 30 years. Consul Neowatt offers a comprehensive power solutions portfolio to the textile industry, as most of the equipment that are used across the value chain in the textile industry are imported. Additionally these equipment are sensitive to power issues. If there is voltage fluctuations beyond the point to which they were designed for, these machines stop.
The traditional solution for this problem has always been servo-stabilisers, an area where Consul Neowatt is the undisputed No.1 in the country. The company supplies Servo-controlled voltage stabiliser with both air cooled and oil-cooled options. It offers an unprecedented 5-year warranty for its servo-stabilisers which is an industry first.
The company also offers the most comprehensive range of the UPS in the country from 10 to 600 kva with and without transformer. The Falcon range of UPS has gained recognition from customer for it ruggedness, efficiency and performance. Another unique advantage with the UPS and inverter solution offered by the company is the fact that they can work without air-conditioning, which results in enormous savings.
Most of the typical UPS systems available in the market are designed for working at ambient temperature in the range of 300 celsius.The Falcon UPS is designed for working in the 450 Celsius range and it is the perfect solution for the typical Indian working conditions.
Apart from stabilisers, UPS and inverters, the company has also carved a niche for itself in the field of harmonic filters. Across the textile value chain — whether it is spinning, dyeing, printing, or weaving, all are driven by motors. These motors are driven by variable frequency drives (VFD). These drives cause 'electrical pollution' because they draw current in a chopped manner thereby giving rise to harmonic currents. Not many know that the harmonic currents not only affect other equipment in the factory premises, but also affect those in the neighboring factories.
Bringing a solution to this, Consul Neowatt offers 'IORA' which is the country's leading harmonic filter.
The state-of-the-art active harmonic filter works by measuring the level of current harmonic in the supply line and eliminating it by generating counter harmonics in real time. Loyal Textiles, a top name in the textile domain, uses harmonic filters from Consul Neowatt
The company is a preferred partner for hundreds of textile mills across the country and also for a number of OEMs from the textile industry today, namely LMW, Muratec, Savio, Schlafhorst, TruetzschlerCarding, Lakshmi Kaipo, Skaat in spinning; in knitting, Mayer & Cie. And Pailung; and in weaving Toyota, Picanol, Itema also Karl Mayer for sizing.
The company is working on changing the perception about it amongst the textile industry as being a stabiliser company. Consul Neowatt today offers a comprehensive range of solutions consisting of not only stabilisers but also UPS, inverters and active harmonic filters, all of which can make a world of difference to the textile industry. Today it is the only Indian that is as good as the MNCs. It is a company with which they can work as its trusted power partner.
Have these systems really helped in tiding over power crisis? Can you briefly give us a case study?
The company offers the perfect solution for every customer's need. For those wanting complete protection it offers the 'Falcon' range of UPS systems, which it has successfully supplied to over 1,500 customers over the last three years. Similarly for those wanting higher efficiency it has the 'Pelican' industrial inverter range.
Pelican Offline UPS, industry's first 98 per cent high efficiency power backup solution is one of the unique products offered by Consul Neowatt. When a UPS is running there is also a loss happening. Supposing an industry has a 500 KVA UPS running at 93 per cent efficiency, it will be losing 7 per cent power for the benefit of getting uninterrupted power supply.
The Pelican industrial inverter offers a 98 per cent efficiency. A couple of examples we can give are:
Aruppukottai Shri Vijayalakshmi Textile Mills in Tuticorin replaced 300 kva Online UPS with 300kva Pelican Industrial Inverter saving a huge amount in electricity bill per annum
Kalaimagal Textile Mill replaced 300 kva Online UPS with 300 kVA Pelican Industrial Inverter connected to four Elitex Machine (224 rotors each machine).
What are the facilities in your production centres and how have they contributed to upgrading of technology in the products, especially with reference to R&D?
One of the key strengths of Consul Neowatt has been the focus on R&D. As a company we have spent considerable resources in developing a strong R&D base as it gives us a strong edge in being able to translate our deep understanding of the challenging Indian power conditions into products and solutions that address the needs of our customers. The company is a strong supporter of the Make in India program designing all products in India at our R&D facility in Pune approved by the Department of Scientific and Industrial Research (DSIR), Ministry of Science and Technology, Government of India. The R&D team has delivered many milestones like: Seismically qualified UPS; 600KVA IGBT Front End UPS system; 500Amp Active Harmonic power Conditioner; 500 Amp Intelligent Static Transfer Switch; String Type Solar Inverter; Transformer less Three Phase UPS Systems
A recent example is the design and approval of special seismically qualified UPS by Nuclear Power Corporation for BARC (Bhabha Atomic Research Centre). Today, we are now among the few companies globally that have the capability to design and manufacture seismically qualified UPS.This milestone is a testimony to our world class R&D team which has a rich experience and industry leading expertise in designing UPS for demanding applications.
Our product development process keeps the customer and his requirements central to the process, this has ensured superior HMI(Human Machine interface) that is user friendly with intuitive MIMIC screens and TFT / LCD options. The internal communication is based on CANBUS technology to enhance the reliability of the products.
We are the only Indian company with fully integrated R&D, Manufacturing, Sales and Service Network. In-house capabilities include:
Control and power circuit R&D. Multicore, multiprocessor DSP programming capabilities for high reliability and scalability.
Firmware and software development related to, UPS, remote and local monitoring and control of UPS through serial and Ethernet
Expertise to use power electronics simulation tools to optimise the design.
Seismic design capabilities required for nuclear applications
Customised product development capabilities
Give us some information like mergers, take-over that have happened in the company over the years.
The heritage of Consul Neowatt dates back to 35 years. For the first decade servo stabilisers was the focus area. Then the company went on from stabilisers to UPS products. Subsequently it started manufacturing larger 3 phase UPS systems. The company also began spreading its footprint, from being a South India-based company to having a pan-India presence, and in 2012 it grew to a little less than a Rs 100-crore company. During this time new investors came into the company and the focus was to build the business to be the No.1 Indian power electronics company.
In consequence to that the company started looking at how it could improve its product offering. The search led to a phase of mergers and acquisitions (M&A). The company acquired the Pune-based Megatech in 2013. It then merged with another Pune-based company, Neowatt, in 2014. The company name was changed from Consul Consolidated Pvt. Ltd. to Consul Neowatt Power Solutions Pvt Ltd in 2014. The acquisition of Megatech helped the company get into the solar inverters domain, the merger with Neowatt helped it get easier access to some cutting-edge technology. After the merger with Neowatt the company got access to their complete range of UPS products, as well as harmonic filters and higher-end solar inverters.
Consul Neowatt already had a strong pan- India sales and service network and leveraging the advantages of the M&A today it has become the No.1 Indian company in this space and the fastest growing UPS company in India. In fact, the company has grown 200 per cent in the last four years.
Additionally the company moved to a new factory in Chennai and upgraded the Pune facility. It has also implemented an end-to-end SAP CRM system and started a 4 language-based IVR call centre. All the service engineers of the company have smart phones with a mobile application from which they are directed to customer calls and generate real time electronic service reports. Thereby creating a strong foundation for scaling up the business
What are the investments and strategies for the future? Does power electronics have scope for widening its base in India?
Today, we are a part of a connected world, even a small disruption in supply of electricity can cut us off from the world and business operations suffer huge losses. In today's data driven world connectivity and consequently UPTIME is the key to success for business operations.
In such a situation uninterrupted power is the key to ensuring connectivity and uptime for business success. An interesting example to bring alive this point can be seen by the fact that the US is the world's largest market for UPS (Uninterrupted Power Supply) but in a whole year the total amount of power cut or power disruption amounts to only 4 minutes!! This shows the importance that is given to uptime because the cost associated with even a few seconds of power disruption runs into millions of dollars with customers not able to complete online purchase or banking transactions, data centres that need servers to be re-started. As India integrates with the global economy and industry adopts best practices there is going to be an increasing demand for power electronics products (power conditioning and power back up) to ensure that operations run uninterrupted. Uninterrupted power is of paramount importance to maintain product quality, to reduce the rejection of products due to variations in quality.
As operations in industry including textile industry become power driven and automated the need to ensure high efficiency has become one of the important focus points as energy costs are one of the top 3 costs. Hence we see that the demand for power electronics is going to see a growth keeping in mind the need for efficiency as well as uninterrupted power for product quality as well as uptime.
The current market in India has abundant products of UPS, inverters and stabilisers with varying price points. The market of UPS is fragmented with a lot of small and unorganized players penetrating the market, while there are leading MNCs that still dominate the industry.
This rise in local players is due to the increase in demand and supply gap of power in India. The instability in power supply has given rise to number of players in the country. Secondly, there has been a gradual increase in the awareness among population on the benefits of good quality power backup solutions. The lack of high quality power supply, expansion of industries that highly depend on power will create a surge in the demand for UPS systems in the market.
With an increase in demand comes advancement in technology and innovation. We at Consul stand out in the market by providing 98 per cent efficiency with UPS systems. Also, the products are designed to function in high temperatures of up to 45 degrees without the aid of an air-conditioner. With such innovations we feel optimistic about the UPS market in the coming years.
Will your systems be a bail-out for the power crunch crippling many textile industry? How?
Machine stoppage means loss of productivity and material. More importantly, inefficient power management systems can affect the performance and reduce the life of the expensive imported machines. This is where efficient power management as a topic is becoming increasingly important in the textile industry.
As a company it is being seen that the mindset of customers is gradually changing and they are becoming more open to embracing new concepts and technology. Illustrating an example from the textile industry typically in an open-ended spinning system there would be damages such as spindle threads snapping due to voltage fluctuation. In such a situation the entire system has to be stopped, re-threading has to take place, all of which leads to wastage of material and time. This also affects the quality of the threads. So now customers are willing to use UPS systems, which while being more expensive option when compared to a stabilizer, offers you uninterrupted operation. This is an area where people are now willing to make investment to improve quality and productivity.
Are your systems being exported? Which are the countries so far and what is the scope for the future?
Consul Neowatt is currently focused on the Indian market. The company has recently started exporting to Sri Lanka. It has also recently participated in a trade show in Bangladesh and has already got a good number of enquiries from textile mills in that country. It also has a presence in Africa with Nigeria being a big market for the company products. Countries like Tanzania and Kenya are also being served by the company albeit at a small scale. The focus for now remains on further increasing the reach and penetration across India.
Give us your wish-list for the industry and the Government to promote power electronics in textile industry, stating its various advantages and benefits?
Energy is probably the second most important variable cost after labour for industries. So, people look to reduce energy costs. This is what Consul Neowatt products help them to do. There is rising awareness to increase productivity and improve quality. Those in exports already know the value of these efforts. Though there still are some views like 'since there is no power I will shut down. Why should I invest when I am already in loss'. It is expected that as the economy improves and businesses grow, clients will no longer want any interruptions due to power related issues. Additionally the company is seeing an increasing awareness among various industries about Consul Neowatt as an Indian company that offers world class power back up solutions. As the textile industry moves to increase its focus on productivity and quality requirement for power conditioning and power quality products is expected to increase. All these factors mean that Consul Neowatt is well positioned to take advantages of the changes in the market.