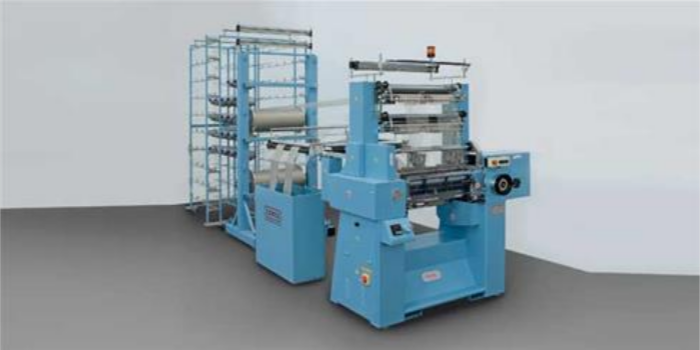 Comez high speed circular knitting machine
High performance machine for the production of all types of chainette cords, to be used in passementerie as well as ear loops for surgical face masks.
The 1700/20 machine is suitable for the production of any kind of tripolino, whether for passementerie, knitwear production, accessories and in many other sectors including the medical field. This machine is especially designed for the production of elastic, resistant and soft to the touch chainette cords. The specifications of these elastic cords enable easy connection to the fabric and make them ideal as ear loops for protective face masks, both disposable and reusable.
Main benefits for users:
Wide number of applications: Hole diameter and quantity of needles can be defined according to each sample
Easily interchangeable knitting heads: Needle cylinders are available with 4, 6, 8, 12, 16 and 24 needles each, with unloading holes of various diameters
Possibility of processing all yarn types: Latch needles allow natural, man-made and synthetic yarns to be employed
Electronic stop motion: The machine stops automatically, with a red warning lamp signalling empty bobbins or thread breaks
The machine is equipped with:
20 operating heads
Single take-down
20 cylinders with 12 needles – diameter six mm each (interchangeable according to each sample)
Electronic speed variator inverter
Standard supply package of consumables and accessories
As optional 1700/20 can be equipped with a bobbin creel with 40 positions and a finished product collector with two rollers for high boxes.
High speed warp knitting machine with double needle bed
The ideal machine for mass production of simple articles, such as sportswear accessories and bands for technical articles.
Beside the innovations on our electronical knitting machines, COMEZ continued in the study and development of numerous machines models with mechanical control to improve their efficiency, productivity and easy operations.
The result of this ongoing research is the new DNB/600-2B, a high speed mechanical warp knitting machine with double needle bed, suitable for the mass production of simple articles, such as bands for sportswear.
The machine is equipped with two mechanically controlled guide bars and can process any type of yarn, both synthetic and natural, according to the machine gauge. In addition, the two needle beds and guide bars allow the production of double face fabric structures.
The DNB/600-2B machine enables very high productivity, thanks to its operating speed and the low stitch density value required by fabrics produced. Its compact design and reduced working width allow fast article change overs, in both small and long production runs.
Users of COMEZ machines are in a position to obtain high quality products in large quantities. They can therefore count on continuous production (overcoming changes in fashion tastes and market trends), enabling them to also be competitive in new market segments.
Notable features of the DNB/600-2B:
high efficiency and operating speeds
simple structure
easy operation and maintenance
The primary application sectors for articles produced on this warp knitting machine are sportswear accessories and technical articles.