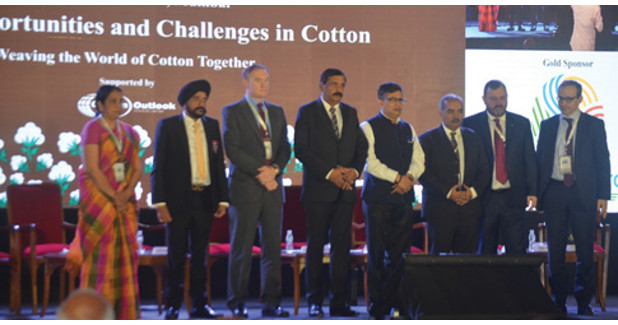 CAI global meet digs deep into all issues of cotton
The present status and future prospects of cotton, the king of fibres, were put under microscope, dissected and analysed at a global meet on cotton,etc.
The present status and future prospects of cotton, the king of fibres, were put under microscope, dissected and analysed at a global meet on cotton, organised by the Cotton Association of India (CAI) in Mumbai recently. Stalwarts from the cotton industry including such big names like Dr KR Kranthi, Head, Technical Information, ICAC, Dr Christian P Schindler, Director, ITMF, Atul Ganatra, CAI chief, R K Rewari, MD of Morarjee Mills, BK Patodia, CMD of GTN Textile Ltd, Dr P Alli Rani, CMD of Cotton Corporation of India, Dr Ajit Ranade, Group Executive Vice President & Chief Economist, Aditya Birla Group, Bill Ballendon, President of International Cotton Association, to name a few graced the occasion and enriched the knowledge on the situation of cotton internationally and in India to a crowd of over 250 people from a cross-section of the cotton community.
Dr Seshadri Ramkumar, Professor, Nonwovens & Advanced Material Laboratory, Texas Tech University, in his inimitable style gave food for thought, proclaiming that an experiment at his university revealed that low-micronaire cotton can be effectively used for producing mops to mop up oil and separate water in polluted coastal areas. He challenged the industry to use such kind of innovative methods to set up profitable businesses. "By just investing 50 cents in a piece of cloth made from coarse cotton, one can earn $2.5 per piece. The scope for innovation in cotton is immense and India being a country with a lot of low-micronaire cotton, can reap benefits by utilising such cotton," he said.
According to Dr Ajit Ranade, Group Executive President, Chief Economist, Aditya Birla Group, the challenges for cotton sector in India are many: Low productivity of 500 kg per hectare against the international average of 779 kg; Rising cost of cotton production; Cotton price volatility; Infestation of GM variety, and; Farmers income suffering; Global consumption in favour of synthetics. Ranade said despite all the critical issues, India has the following advantages: India's median age is 28 years against 37+ in China and USA and 45+ in Japan and Europe; By 2025, India's workforce will overtake China's and cross 1 billion in 2027.
Atul S Ganatra, CAI chief, in his welcome address, disclosed that there will be another international cotton conference sometime in October this year in one of the cotton-growing States. Listing the problems faced by the cotton industry, he revealed the steps being taken by CAI to upgrade the infrastructural facilities. CAI will be completing 100 years of service by next year, he said. India has the highest acreage under cotton, but the production has been declining and is hovering around 33 million bales now, Ganatra said. Because of higher MSP for other crops, cotton has been suffering in cultivation.
For the first time in the country, a farmers training centre will be opened at CAI headquarters, said Ganatra. "We have entered into MoUs with international organisations like International Cotton Association (ICA). Soon we will also sign an MoU with Bangladesh Cotton Association. All these collaborations will help us promote ties for improvement in cotton.
Appreciating the efforts to improve facilities for the cotton industry, Dr P Alli Rani, CMD of the Cotton Association of India (CAI) said that what extraordinary things that has happened with Atul Ganatra at the helm of CAI is integration of the cotton industry. Despite all the advantages in cotton industry, still India is lagging in taking advantages fully of the situation for the benefit of the industry. The Indian Government has realised the potential of cotton in the economy. It is not only the Government but also the stakeholders of the cotton industry, who should come together for the improvement of the cotton community, said Rani. She also talked about the importance of standards since this is one fibre which suffers in quality by the time it comes to the end of value chain. Measures should be taken by all the stakeholders to produce very high quality cotton and the buyers also should not compromise on quality and instead must be ready to pay a high premium price.
Ashish Kumar Chauhan, Managing Director and CEO of Bombay Stock Exchange, gave a rousing speech on the revolution in cotton futures trading in the stock exchange. Panel discussions on "Outlook on Cotton and Manamade Fibres" with participants of textile industry leaders including Prem Malik, R K Rewari, B K Patodia, Ranvir K Vij, S K Gupta and Manish P Daga brought out the many-sided glories of the fibre industry.