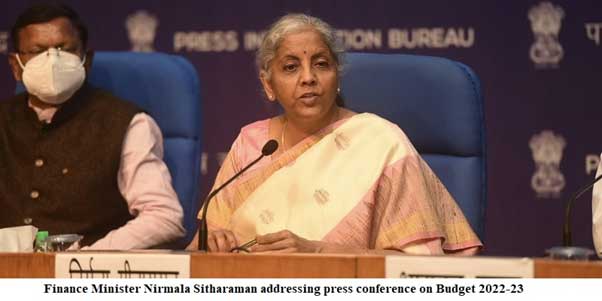 Budget 2022 – Govt rejigs customs duties to promote exports
It aims to simplify customs rate and tariff structure particularly in sectors such as chemicals, textiles and metals, etc. Govt announces additional credit of Rs 2 trillion for MSMEs under Credit Guarantee Trust for Micro and Small Enterprises (CGTMSE) scheme.
New Delhi
India's economic growth in the current year is estimated to be 9.2%, highest among all large economies, said Union Finance Minister Nirmala Sitharaman while presenting the budget 2022-23. The overall, sharp rebound and recovery of the economy from the adverse effects of the pandemic is reflective of the country's strong resilience, she added.
To promote Make in India, the Government proposes to phase out the concessional rates in capital goods and project imports gradually and apply a moderate tariff of 7.5 per cent. Announcing this while presenting the Budget 2022-23, Union Finance Minister Nirmala Sitharaman clarified that certain exemptions for advanced machineries that are not manufactured within the country will continue. Further, the Government would introduce few exemptions in cases like specialised castings, ball screws and linear motion guide to encourage domestic manufacturing of capital goods.
She stated, "Our experience suggests that reasonable tariffs are conducive to the growth of domestic industry and 'Make in India' without significantly impacting the cost of essential imports. Several duty exemptions granted to capital goods in various sectors such as power, fertilisers, textiles among others have hindered the growth of the domestic capital goods industry. Similarly, project import duty concessions have also deprived the local producers of a level playing field in certain areas like coal mining, power generation among others."
Recalling that the Government has rationalised several customs duty exemptions in the last two budgets, Sitharaman said that after extensive consultations along with crowd sourcing the Government proposes to phase out more than 350 exemption entries. These include exemption on certain agricultural produce, chemicals, fabrics, medical devices, drugs among others. Further, as a simplification measure, several concessional rates are being incorporated in the Customs Tariff Schedule itself instead of prescribing them through multiple notifications. This review would simplify customs rate and tariff structure particularly in sectors such as chemicals, textiles and metals, and minimise disputes. Nirmala Sitharaman added that removal of exemption on items which are or can be manufactured in India and providing concessional duties on raw material that go into manufacturing of intermediate products will go many a step forward in achieving the objective of 'Make in India' and 'Atmanirbhar Bharat'.
The minister pointed out that customs reforms have played a very vital role in domestic capacity creation, providing level playing field to MSMEs, easing of raw material supply side constraints, enhancing ease of doing business and being an enabler to Government's policy initiatives like PLIs and Phased Manufacturing Plans. In alignment with these objectives sector specific proposals are as follows:
To facilitate domestic manufacturing of high growth electronic items, wearable and hearable devices, and electronic smart meters, FM Nirmala Sitharaman announced that customs duty rates would be calibrated to provide for a graded rate structure. Duty concessions are also being given to parts of transformer of mobile phone chargers and camera lens of mobile camera module and certain other items.
To enhance domestic value addition, the Government, through budget 2022-23, proposes to reduce the customs duty on certain critical chemicals namely, methanol, acetic acid and heavy feed stocks for petroleum refining, while increasing the duty on sodium cyanide for which adequate domestic capacity exists.
To incentivise exports, exemptions are being provided on items such as embellishment, trimming, fasteners, buttons, zipper, lining material, specified leather, furniture fittings and packaging boxes that may be needed by bonafide exporters of handicrafts, textiles and leather garments, leather footwear and other goods. Nirmala Sitharaman added that duty is also being reduced on certain inputs required for shrimp aquaculture to promote their exports.
MSMEs in focus
The Finance Minister underlined that the Emergency Credit Line Guarantee Scheme (ECLGS) has provided much-needed additional credit to more than 130 lakh MSMEs to help them mitigate the adverse impact of the pandemic. She, however added that the hospitality and related services, especially those by micro and small enterprises, are yet to regain their pre-pandemic level of business and after considering these aspects, the ECLGS will be extended up to March 2023.
Similarly, Credit Guarantee Trust for Micro and Small Enterprises (CGTMSE) scheme will be revamped with required infusion of funds. This will facilitate additional credit of Rs 2 trillion for Micro and Small Enterprises and expand employment opportunities. She informed that Raising and Accelerating MSME Performance (RAMP) programme with outlay of Rs 60 billion over 5 years will be rolled out to make the MSME sector more resilient, competitive and efficient.
Hike in capex
The Finance Minister stressed that public investment must continue to take the lead and pump-prime the private investment and demand in 2022-23 and, therefore the outlay for capital expenditure in the Union Budget is once again being stepped up sharply by 35.4% from Rs 5.54 trillion in the current year to Rs 7.50 trillion in 2022-23. This has increased to more than 2.2 times the expenditure of 2019-20 and this outlay in 2022-23 will be 2.9% of GDP. With this investment taken together with the provision made for creation of capital assets through Grants-in-Aid to States, the 'Effective Capital Expenditure' of the Central Government is estimated at Rs 10.68 trillion in 2022-23, which will be about 4.1% of GDP.
Reflecting the true spirit of cooperative federalism, the Central Government enhanced the outlay for the 'Scheme for Financial Assistance to States for Capital Investment' from Rs 100 billion in the Budget Estimates to Rs 150 billion in the Revised Estimates for the current year. Moreover, for 2022-23, the allocation is Rs 1 trillion to assist the states in catalysing overall investments in the economy. These fifty-year interest free loans are over and above the normal borrowings allowed to the states. This allocation will be used for PM GatiShakti related and other productive capital investment of the states.
As a part of the government's overall market borrowings in 2022-23, sovereign Green Bonds will be issued for mobilizing resources for green infrastructure. The proceeds will be deployed in public sector projects which help in reducing the carbon intensity of the economy.
Focus on PM GatiShakti
Nirmala Sitharaman emphasised that this Budget continues to provide impetus for growth. It lays a parallel track of (1) a blueprint for the Amrit Kaal (the 25-year-long leadup to India@100), which is futuristic and inclusive that will directly benefit youth, women, farmers, the Scheduled Castes and the Scheduled Tribes. And (2) big public investment for modern infrastructure, readying for India at 100 and this will be guided by PM GatiShakti and be benefited by the synergy of multi-modal approach.
Elaborating the PM GatiShakti, the Finance Minister said that it is a transformative approach for economic growth and sustainable development. The approach is driven by seven engines, namely, Roads, Railways, Airports, Ports, Mass Transport, Waterways, and Logistics Infrastructure. All seven engines will pull forward the economy in unison. These engines are supported by the complementary roles of Energy Transmission, IT Communication, Bulk Water & Sewerage, and Social Infrastructure. Finally, the approach is powered by Clean Energy and Sabka Prayas – the efforts of the Central Government, the state governments, and the private sector together – leading to huge job and entrepreneurial opportunities for all, especially the youth.
Similarly, PM GatiShakti Master Plan for Expressways will be formulated in 2022-23 to facilitate faster movement of people and goods. The National Highways network will be expanded by 25,000 km in 2022-23 and Rs 200 billion will be mobilised through innovative ways of financing to complement the public resources. She added that contracts for implementation of Multimodal Logistics Parks at four locations through PPP mode will be awarded in 2022-23.
In Railways, the Finance Minister said that 'One Station-One Product' concept will be popularised to help local businesses & supply chains. Moreover, as a part of Atmanirbhar Bharat, 2,000 km of network will be brought under Kavach, the indigenous world-class technology for safety and capacity augmentation in 2022-23. She also informed that four hundred new-generation Vande Bharat Trains with better energy efficiency and passenger riding experience will be developed and manufactured and one hundred PM GatiShakti Cargo Terminals for multimodal logistics facilities will be set up during the next three years.
Defence collaboration
On the Defence front, the Government reiterated its committed to reducing imports and promoting AatmaNirbharta in equipment for the Armed Forces. About 68% of the capital procurement budget will be earmarked for domestic industry in 2022-23, up from 58% in 2021-22. Defence R&D will be opened up for industry, start-ups and academia with 25% of defence R&D budget earmarked.