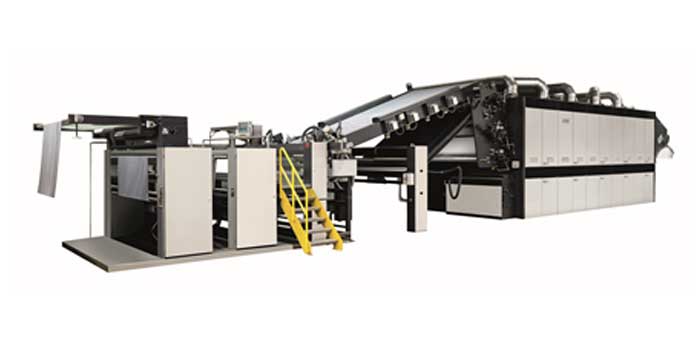 Breathable, soft, and stable…the finishing touch for textiles
The launch in 1982 of Santashrink, the first relaxation dryer, laid the foundation for a remarkable success story. Today, Santex and Cavitec are world-renowned brands of the Santex Rimar Group, parts of which grew from that breakthrough development. Their combination of tradition and innovative strength offers confidence for ongoing future prosperity.
Santex specialises in machines for finishing knitted fabrics, while Cavitec built its reputation on systems for coating, laminating and impregnating technical textiles. The Santex and Cavitec brands embody innovation and cutting-edge technology. Developed and manufactured in Tobel, Switzerland, the products are characterised by the highest precision and reliability. Meet the experts at booth A110 in Hall 18 at upcoming ITMA 2023.
Look and feel of Santex
When yarn made of cotton, cotton blends or viscose is used for knitwear, Santex machines come to the fore. Their finishing processes provide knitted fabric with soft handle, sheen, smooth surface and no pilling. Items such as t-shirts and fitted sheets do not shrink during washing. World-famous fashion labels rely on Santex know-how.
Founded on more than 40 years' experience, Santashrink continues to deliver convincing performance, with excellent results in shrinkage, relaxation and tensionless drying of tubular or open-width knitted fabrics. Its future-oriented design brings technical and economic benefits, along with a number of application advantages in operation.
Clever plus from Cavitec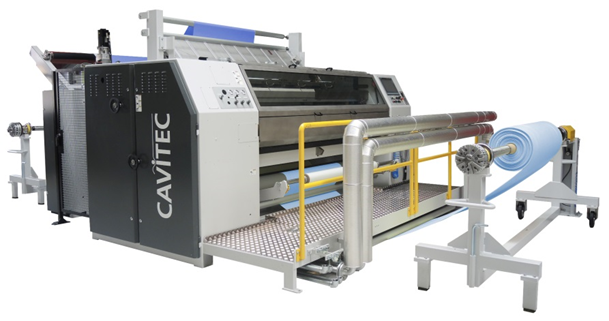 Cavimelt Pro for multi-functional coating
The aerospace, automotive and wind power industries demand textile materials with special properties. For these applications, surfaces might be modified, or different textile materials combined. Cavitec supplies high-tech solutions enabling world-class corporations to manufacture products of the highest quality. An aircraft's vapour trials in the sky remind us of one Cavitec specialty – since its wing components likely feature sophisticated technical material produced on Cavitec machines.
Cavimelt Pro is the brand's latest innovation, for multi-functional coating based on hotmelt technology. Cavimelt Pro is a two-in-one solution covering the most important application ranges, and giving users the opportunity to extend their customer base. It has high flexibility, as some applications require material to be coated only to change the surface composition, while the more common task is to bond two layers of material together to build a composite material.
Success factors
The textile industry demands top technical performance – as well as sustainability along the value chain. Santex and Cavitec back up their machinery ranges with an excellent level of service, with the commitment and enthusiasm needed in the highly competitive international textile machinery market.
As part of the Santex Rimar Group, both brands are strong pillars of its overall success. Says Ferdinando Businaro, President of Santex Rimar Group: "Santex and Cavitec introduce new technologies, which allow applications that were unthinkable just a few years ago. Innovating means to us as a textile machinery manufacturer renewing our products and processes. This requires a high degree of flexibility and the willingness to leave our comfort zone. This is exactly the attitude that is anchored in our Swiss workforce."
Santex and Cavitec are well positioned for a prosperous future through times of dynamic development in the textile industry and changes in the global value chain. They aim to anticipate customer needs and meet them directly, managing the business in an agile manner.