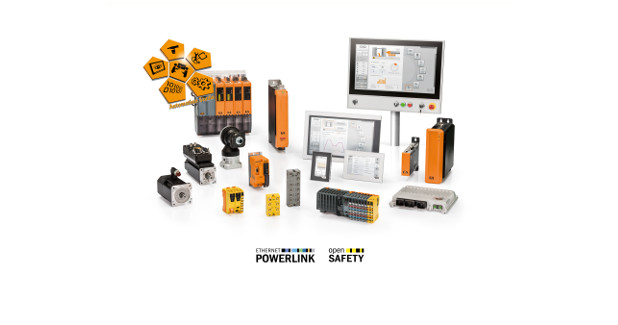 B&R: Right automation partner for guaranteed success
Integrated automation solutions, dedicated support and service activities with a lot of experience in working with market leaders in textile industry globally make B&R an ideal automation partner.
Integrated automation solutions, dedicated support and service activities with a lot of experience in working with market leaders in textile industry globally make B&R an ideal automation partner.
Everyone has become increasingly aware about the role partnerships and collaborations are playing in the industry. Strong partnerships are based on confidence, transparency, trust and quality. These partnerships evolve over a period, with most of them being long-term. Application of automation concepts in machine building is not new. Today, every element in the textile industry, right from fabric production, thread, yarn until the finish product requires automated machines. A strong partnership between machine builders and automation providers help in easier adoption of advanced automation concepts. It also facilitates knowledge sharing and efficient optimisations of machines.
With higher degree of collaborations, Indian textile industry will immensely benefit on various fronts. Choosing the right automation partner becomes an increasingly important aspect with technology and quality being the focus. As it is rightly said, the bitterness of poor quality remains long after the sweetness of low price is forgotten.
Importance of choosing right partner
Strong partnership are key to the success of any project. Choosing the right automation partner is important for long-term success. It makes a big difference in productivity, and opens up new opportunities for future development. When looking at selecting an ideal automation partners, knowing their expertise, capabilities, innovation competence, after sales service and support commitment are equally important. This could be just the tip of an iceberg.
Partnerships will further flourish with transparency, quality and trust. In addition, while looking for perfect automation partners, it is utmost essential to look at available technical expertise with a preferred similar industry experience. In textile industry, it is crucial for automation vendors to know the shop floor environment, restrictions and other challenges they might endure. An industry-experienced partner who understands the specific needs of the manufacturer's industry could enhance operations and guarantee success.
Benefits of advanced automation with the right partner
With advanced automation, high precision and availability of machines is possible with increased efficiency and flexibility. Automated, technologically advanced machines help in optimising costs by increased productivity, reduced wastage and safer workplace. The demand of advanced machines is rising due to the exponentially growing textile and clothing market. However, the biggest challenge for Indian machine manufacturers is competition from international machine builders providing shorter time to market for new machines, higher machine availability and latest technology features. The way Indian machine manufacturers can sustain in the competition is by delivering efficient machines with lesser lead-time, better after sales services and incorporating latest technology innovations.
B&R: Your Ideal automation partner
Strong competition in the textile industry exerts enormous pressure on machine manufacturers in order to build efficient machine. Along with cost, technology and experience in the domain plays important role in the manufacturing process. With many years of experience in automating textile machines with innovative technologies, B&R helps machine builders globally to build innovative, flexible and high performing, yet cost-effective machines. Many well-known machine builders place their trust in the innovative strength of B&R products. In doing so, they have increased their technological competitive advantage in their respective markets. B&R provides integrated automation solutions for all types of textile machines, making us an ideal partner for those seeking a complete solution.
Capabilities and competency
B&R easily meets market demands such as standardization and modularization of software and hardware with its long-term product availability. B&R portfolio includes a wide range of products and solutions not only for individual machines, but also for the entire production line to achieve maximum performance on the factory floor. Higher degree of automation to lower costs and increase quality, greater speed for more output, integrated safety for humans and machines, energy savings and reduced environmental impact, synchronous and precise motion for high quality and less maintenance, self-diagnostics and predictive maintenance to increase machine and plant uptime are some of the demands machine manufacturers face frequently. B&R help them rise to these challenges; achieve excellent performance, safety and flexibility while staying up to date.
Technical expertise & industry experience
The textile market expects continuously expanding functionality, with high quality, a long machine life and low operating and service costs. Yet, with added functionality and advanced technologies, the machine design and software complexities are increasing. However, increasing the time spent in planning, developing and building these machines is not an option owing to fierce competition, which is driving companies to gain a technological edge with reduced time to market.
B&R's technologically advanced, state-of-the-art products give textile machine builders a decisive edge. It has integrated automation solutions for machine and process control covering all aspects of PLC, motion control, HMI, industrial PCs and integrated safety technology for textile industry. With high-performance industrial communication standards such as Ethernet POWERLINK, OPC UA and openSAFETY together with the versatile software and simulation environment, Automation Studio, B&R is constantly redefining the future of automation engineering. In a time of global competition, the uniqueness of B&R's solution makes all the difference. For a final product to perform up to its full potential, it must be built on a foundation of outstanding technical expertise. This need is well addressed by B&R's young and dynamic team of experts in the form of application engineers. B&R India also maintains full-fledged training centers for customers and partners in Pune, Ahmedabad, Bengaluru, Delhi, Mumbai and Coimbatore.
Quality, Support & Service
"Perfection in Automation" – this slogan underscores B&R goal of fully satisfying the customer and market demands. To meet these demands, it is necessary to ensure well-established standards and continue to improve all products, processes and services.
While tackling this task, the Quality Management team of B&R uses a systematic and professional approach to support all machine builders throughout the entire lifecycle of the products. B&R India has adopted express support and services activities, in order to fulfil huge demand of machine uptime. With a dedicated hotline number +91 83 80 800 008 and expert support team, B&R helps customers debug and diagnose the faults faster. Dedicated facilities enhances customer support experience and delivers satisfaction efficiently in a shortest possible time. With this approach, B&R is providing best in class service and support to customers enabling them reduce machine downtime. B&R has highly qualified service and support team is committed to ensuring customer satisfaction and success.
In addition, B&R also has a dedicated support and service portal that provides users with additional functionality. In "material return portal", customers can handle repairs and reclamations quickly and efficiently. Clear tracking of repairs, seamless flow of information between customers and B&R and online availability of all service documents for a service order (repair or reclamation) are just some of the advantages of using this portal. With the "Support portal", customers can easily create support requests and view the status of existing requests.
Integrated automation solutions, dedicated support and service activities with a lot of experience in working with market leaders in textile industry globally make B&R an ideal automation partner for those seeking an integrated, technologically advanced solution.