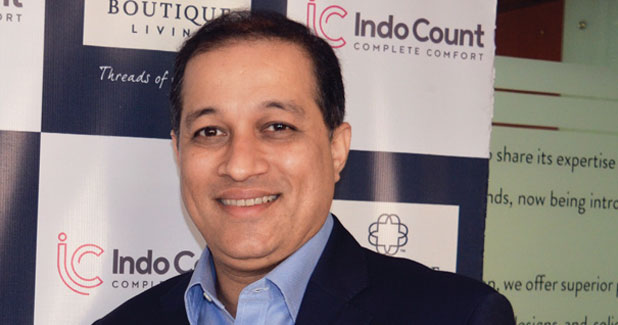 Boutique Living: Living up to its dream
Indo Count, the largest exporter of bed linen from India, has a new dream of making it big in building its own retail brand to cater to the domestic market. The first brand 'Boutique Living' was born a little over a year ago.
Indo Count, the largest exporter of bed linen from India, has a new dream of making it big in building its own retail brand to cater to the domestic market. The first brand 'Boutique Living' was born a little over a year ago. The ambition of the new concept reflects in every word and gesture of Asim Dalal, Managing Director, Indo Count Retail Ventures Pvt Ltd: "We plan to capture a significant share of the Rs 13,000 crore bed linen industry, which is growing at 8 to 10 per cent every year," asserted Dalal, while speaking to Samuel Joseph, Editor of Indian Textile Journal, during an exclusive interview.
Twenty States and 400 Multi-brand outlets (MBOs) were the targets for Boutique Living in the first year of operation. "We already have reached 410 MBOs and touched a figure of 21 States and 52 cities. In the second year, we plan to focus on large format stores, and in this we have already signed with 2 large format stores(LFS). Besides, we will be also increasing the number of MBOs from this level to about 600 plus."
Building the brand for Indo Count's bed linen in the domestic market is his vision, says Dalal, who has 23-odd years in the business of brands and retail. "We first exhibited our products at the HGH 2016 since we wanted the trade involved to know the new brand. Our entire range was showcased. In that event, we signed many deals with distributors and dealers. Within two and a half months of production, we achieved tremendous visibility of our brand and saw it acknowledged by the trade."
"The first year our focus was bed sheets, since it is our core business. Then there are things like comforters, duvets, etc that we started introducing. Ours is an aspirational brand and the focus is on quality. We have varieties of bed sheets in India starting from a very low range to higher ones. But there is a gap in availability of premium quality bed linen. Thread count is our main focus and with higher thread counts, we want to educate the consumer about the higher levels of comfort. Our thread counts start from 300 and goes up to 1000. Of course, there is a very limited market for 1000 thread counts, but 300 to 400 thread counts make high quality bed sheets," said Dalal.
Talking about the exclusive designing factor of Indo Count, said Dalal: "The difference between the Indian market and foreign market is the former is a print-driven one while westerners like white and soft, subtle colours. The differentiating factor for us is the design. Our design team is larger than our sales team".
"Boutique Living, after having been showcased in over 400 MBOs, is poised to enter the large format stores. "But our third entry point is e-commerce. We have a clear focus. Our e-commerce website is in place www.boutiquelivingindia.com. We do not intend to start everything in one stroke but go in step by step to build the brand," said Dalal.
After consolidating its business in some more states within India, Boutique Living has also its sight on the export market. "We have received some enquiries from the UAE and already started selling. Indo Count, the parent company, is already exporting bed linen to over 63 countries. We will be collaborating with that wing in marketing if there is a need in future to market the new brand to other countries," said Dalal. The company is looking at a turnover of Rs 500 crore from the domestic market over the next five years. The size of the bed linen industry is pegged at Rs 13,000 crore in India and is growing at 8-10 per cent per annum. Said Dalal: "The range we are today looking into is between Rs 2000 and Rs 4000, in catering to by the modern generation. They want comfort, good designs and are ready to pay a higher price. Treatments like anti-wrinkle, anti-microbial, anti-pilling, etc are some of the special features. Even we have ranges with health benefits which are infused with oils like aloe vera for a healthy living. We have even temperature-controlled bed sheets, which automatically regulates when the temperature changes. We are using the patented Outlast process for this."
Dalal is crystal-clear that before having its own store a brand should have the complete range of products. "The right time for such a venture may be two years from now when we have totally established the brand Boutique Living in the market. The in-store branding is going on smoothly and we aim to take the brand awareness to higher levels in course of time. This is a business where we cannot take steps in a hurry. Timing is very important for high quality bed linen market to take off with youngsters buying houses and desiring to live a better, comfortable life. They are ready to spend more for better sleep."
Boutique Living's vision is beyond just catering toindividual customers. The company has started test-marketing Boutique Living products in institutions like hotels. Dalal sees a huge market opening up in this direction with new hotels coming up even in Tier-II and Tier-III cities.
Indo Count has made a big name in the international market by supplying quality bed linen. Now it is being made available to the Indian customers, with the same quality and comfort factors. The company manufactures its bed linen at their fully integrated plant at Kolhapur and has a capacity of 90 million metres per annum, which it plans to increase to120 million metres per annum by 2018. It has a capacity to manufacture 22 million sheet sets per annum.
Bed linen market is a crowded one. There are even cheaper imports from China. Boutique Living is unfazed by all the existing conditions. Said Dalal: "People today have a choice which was not there, may be a decade ago. We are patient. We will build our brand step by step and with consumer awareness growing in this market, we want to make our brand heard and recalled all over the country for its quality features and designs."