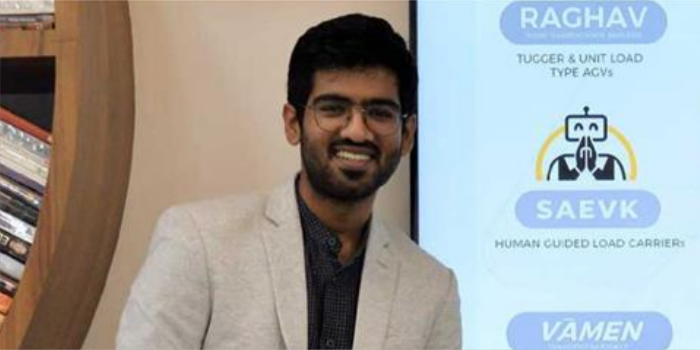 Auto guided vehicles are witnessing demand in textile industry
In this interview, Rohit Dashrathi, Founder of Rucha Yantra LLP, explains how textile companies can improve productivity by automating the flow of material with auto guided vehicles (AGVs).
Efficient material handling is important for textile companies to gain an edge in the highly competitive marketplace. In this interview, Rohit Dashrathi, Founder of Rucha Yantra LLP, explains how textile companies can improve productivity by automating the flow of material with auto guided vehicles (AGVs).
How is Rucha Yantra LLP helping textile companies to improve their material handling efficiency?
An operator in a textile industry spends 80% of his time transporting material from one point to another or performing any other similar non-value adding activity. Thus, the scope of improving efficiency in the textile industry is huge. Rucha Yantra LLP wishes to make a difference here. Our auto guided vehicles (AGVs) are aimed at automating the flow of material between different workstations, thus, reducing the requirement for workers as well as freeing up their time for adding real value.
What kind of challenges textile companies face while handling materials?
Textile industry involves independent process such as spinning, weaving, knitting, stitching, etc. At each stage of the cycle, the operators are exposed to various material handling challenges. One obvious challenge is the weight and bulkiness of the material, for example, bales. When handling rolls of cloth, operators need to bend, stoop, and lift the rolls in awkward postures leading to physical pain. Additionally, most of the tasks are highly repetitive, thus, adding no real value to the product but taking up a lot of the time.
How is the demand for auto guided vehicles (AGVs) from the textile industry?
AGVs, undoubtedly, are experiencing a rising curve in the textile industry. Given the rise in competition and increased focus on speed, variety, and value, companies are beginning to look toward technology to boost productivity. A report by Technavio predicted a CAGR of 22% for the global robotics market in textile industry during 2017-2021. Leading the rise was APAC market consisting of China, Japan, and India with 64% share in the growth in 2016. China, however, remains the undisputed leader in AGV adoption in the textile industry.
Is modernisation of warehouses (due to rise in e-commerce) generating more demand for your products?
E-commerce has brought in a wave of changes to almost every industry including the textiles industry. Two major factors at play are the requirements of on-time delivery of products to customers and quality of the product. With e-commerce, a customer places the order for a product of his choice from the comfort of his/her home and expects the delivery as soon as possible. Thus, factories and warehouses must be geared up to meet the deadlines. Systems in warehouses must be so efficient as to avoid any delays. Secondly, since products go directly in the hands of the customer – without reaching a wholesaler or retailer – they expect the garment to be of high quality without any damage. Thus, material handling and storage in warehouses has become critical. With such factors at play, warehouses need to employ systems and technologies that improve productivity and also ensure quality.
What are the emerging trends in material handling?
Competition in the textiles industry has never been greater – not only in terms of price, but also flexibility, turnaround time, quality etc. Given the onslaught of e-commerce, delivering products on time and ensuring the highest quality have gained paramount importance. Moreover, like in other industries, the issue of worker safety has gained a lot of traction and thus, companies are bound to ensure worker safety through the use of systems and technology. Material handling, due to these developments, is changing drastically. Automation is leading to a decrease in the number of workers required, freeing up their time to perform other value-adding activities, and reducing their exposure to risk.
Is demand for modern material handling equipment gaining traction in the textiles industry?
Definitely. As already said above, due to a variety of reasons, the textile industries are shifting towards modern technology including the material handling equipment and it will continue to grow as the demand for textile sector in itself is unending.