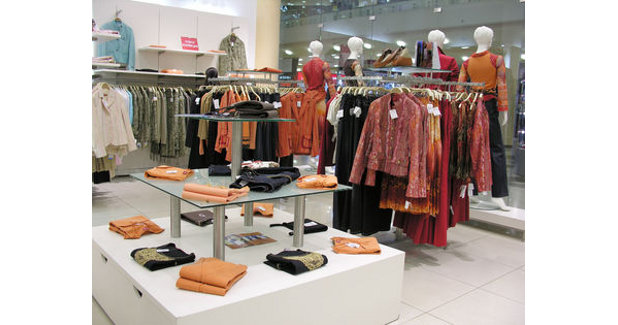 Apparel Index dips on GST impact
Q2 is the first quarter post-GST. And much like other sectors, apparel brands and retailers too were busy putting GST processes in place and sales suffered a big blow. July was the first month when the industry emerged after clearing pre-GST inventories.
Q2 is the first quarter post-GST. And much like other sectors, apparel brands and retailers too were busy putting GST processes in place and sales suffered a big blow. July was the first month when the industry emerged after clearing pre-GST inventories. Interestingly, GST augured well for organised players, as bigger brands and organised players were quick to adapt, and this is evident in the Apparel Index of various brand groups. Bigger the brand group, higher the growth in this quarter. Giant brands (turnover above Rs 300 crore) clocked in 8.72 points, followed by large brands at 6.65 and mid brands 1.25 points; small brands, which are generally managed by owners single-handedly, recorded the lowest index growth of just 0.29 points.
Big brands stay positive despite GST
CMAl's overall apparel Index in Q2 was 1.87 points. The figure is almost 6.5 times higher than the index value for small brands (turnovers of Rs 10 to 25 crore), which is at 0.29 points. The index for mid brands (turnovers of Rs 25-100 crore) is 1.25 points, and the overall index is 1.5 times higher than this figure. However, at 6.65 points, large brands' growth is almost 3.5 times higher than the overall index. But as always, it's the giant brands that have led growth in Q2, much like earlier quarters with a significant 8.72 points. giant brands have consistently been doing well every quarter. Notably, the index value for giants brands is 4.66 times higher than the overall index.
Giant Brands managed a fabulous 8.72 points growth and increased sales turnover to 5.8 points. Comparatively, large brands sales turnover grew 4.4 points and mid brands sales turnover grew a meager 0.8. Small brands, the laggards, recorded a negative Sales Turnover which was -0.8 points, this quarter. Overall, the Index Value, this quarter, saw most dynamism from Sales Turnover, other attributes like Sell Through, Inventory Holding and fresh Investments reflected a much lesser change.
Q2 Apparel Index clearly indicates, once more, that giant brands have outdone large, mid and small brands. Small and Mid Brands could manage little growth in sales turnover, perhaps because the GST implementation process stalled or reduced deliveries during these months. Giant and Large Brands being more organised and better connected with organised retail through MBOs, EBOs and Large Format Stores managed their business and sales turnover well. Moreover, they increased sales turnovers significantly at 5.8 and 4.4 points respectively.
Rising inventory holdings a bane
The index clearly reflects a strong correlation between sales turnover and inventory holding, which impacts investments. This quarter, the biggest effect was from GST, as brands across the board looked at ways to reduce its impact. As Sunil Kumar, Proprietor, Blueman explains, "The reason why our inventory holding increased is due to GST. The market slowed down and stocks had to be held. The other reason is, now there are plenty of players in the same segment and common items are available, so demand is low."
Agrees Nirmal, Owner, Detail Clothing, "The reason for a dip in our turnover is the market is slow since GST was incorporated. The parties whom we take orders from are disturbed. People doing job work stopped working, Customers reduced demand or material and stocks were stopped. Retail sales decreased."
This quarter nearly, 43 per cent brands reported an increase in Sales Turnover. It must, however, be noted, that since GST came into force from July 1, EOSS continued in the month of July in spite of major EOSS in the month of June (pre-GST), boosting sales turnover. Hence, the figures seem more inflated than actual sales growth. And as Usha Periasamy, Director – Operations & Brand, Classic Polo opines, "Yes, there is an incremental jump over last year in sales turnover and sell through for our brand. The primary reason is the design component clubbed with market expansion. It's a blessing in disguise for all value for money brands post the erratic commercial/ economic policy changes, which have also added a certain throttle to the business, while overall market sentiments are a not so favourable for premium and luxury brands in India."
Inventory duration increased by 54 per cent across all brand groups. Samir Patel, Owner, Deal Jeans explains, "The reason for an increase in our inventory holding is not because of the market slowdown. It is more because we have increased the variety of items therefore, there are more products and inventory holding has gone up."
A comparison between Small and Big Brands indicate, the gap between Big and Small brands is the widest ever in this quarter, indicating Small Brands need to buck up and work to put their processes in place under the current GST regime. "Our Investments have increased as we have a huge stock of new arrivals. We wanted to make the market aware of our inventory strength. Hence, to create brand awareness, we have spent more on advertisements to capture the market," avers Hemant Jaiswal, Business Head, Bodycare Creation.
Average outlook for next quarter
While there may still be a sense of optimism about overall business especially among bigger brands, nearly 48 per cent brands have said their outlook for next quarter is average. Another 36 per cent feel the outlook is 'Good'. And only 9 per cent foresee an 'excellent' outlook. At the same time, 7 per cent also feel it will be 'Below Average'. It may be noted that generally, Q3 of the financial year, is seen as the best quarter as most festivals and weddings fall during this period, brands expect an average to a good season, coupled with almost dry supply chain and shelves in quest of fresh goods, post first quarter of GST. Consumers too, are expected to return to stores, GST and new processes would be settled in especially by October-November and this augurs well for business.
CMAl's Apparel Index aims to set a benchmark for the entire domestic apparel industry and help brands in taking informed business decisions. For investors, industry players, stakeholders and policymakers the index is a useful tool offering concrete and credible information, and is an excellent source for assessing the performance of the industry. The Index is analysed by assessing the performance on four parameters: sales turnover, sell through (percentage of fresh stocks sold), number of days of inventory holding and investments (signifying future confidence) in brand development and brand building.