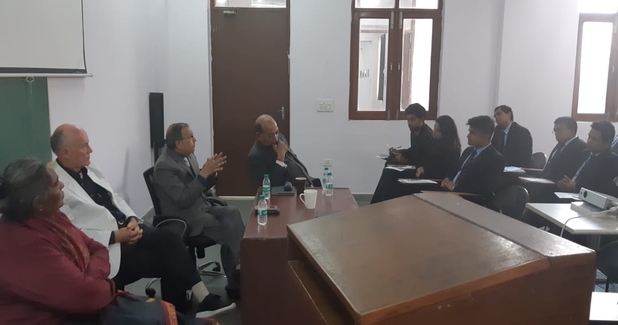 AI techs can boost global GDP by $15.7 trillion
Artificial intelligence technologies could increase global GDP by $15.7 trillion, a full 14 per cent, by 2030.
Artificial intelligence technologies could increase global GDP by $15.7 trillion, a full 14 per cent, by 2030."That includes advances of $7 trillion in China, $3.7 trillion in North America, $1.8 trillion in Northern Europe, $1.2 trillion for Africa and Oceania, $0.9 trillion in the rest of Asia outside of China, $0.7 trillion in Southern Europe, and $0.5 trillion in Latin America. China is making rapid strides because it has set a national goal of investing $150 billion in Artificial Intelligence and becoming the global leader in this area by 2030 said Caj L Soderlund in a seminar on Artificial Intelligence and the Society, organised by Indian Institute of Finance, Greater Noida on 18 February 2019 at institute's campus. Dr Caj L Soderlund, Former adviser to the Ministry of Foreign Affairs on Nordic Affairs of Finland.
Other speakers in the seminar were Dr Prabhat Kumar, Advocate and Consultant (Corporate Affairs), Delhi, and former commissioner of Central Excise and Customs and also author of a book on Artificial Intelligence, Prof Asoke K. Laha, President and CEO, Interra Information Technologies, Inc, San Jose, CA, USA. Prof Manju Agarwal, Professor of Economics and Dean (Academics, MDP & Training), Indian Institute of Finance chaired the Seminar. A book titled "Artificial Intelligence (AI): Reshaping Life and Business" by Dr Prabhat Kumar (IRS) was also released on the occasion. The 125th issue of Finance India – Quarterly Journal of Finance, Vol XXXII No. 4, December, 2018 was presented to the speakers by Prof J D Agarwal, Chairman, Indian Institute of Finance after the seminar. The seminar was attended by a large audience of students, researchers, company executives and academicians.
Dr Caj L Soderlund, said Artificial Intelligence is a technology that is transforming every walk of life. It is a wide-ranging tool that enables people to rethink how we integrate information, analyse data, and use the resulting insights to improve decision-making. It is already changing the world and raising important questions for society, the economy, and governance. Artificial Intelligence applications are used in finance, national security, health care, criminal justice, transportation, and smart cities, and address issues such as data access problems, algorithmic bias, Artificial Intelligence ethics and transparency, and legal liability for Artificial Intelligence decisions. Robotics and artificial intelligence are increasingly entering our daily lives: from domestic assistants that help us to programme the appliances or adjust the heating, to drones that help farmers in the control of pests said Dr Soderlund.