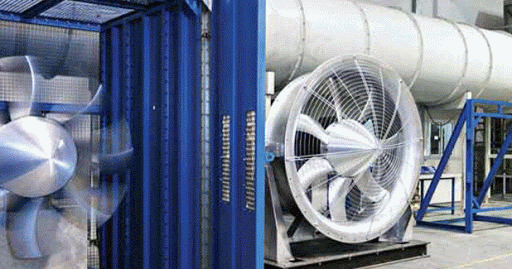 A link to quality textile mills
Air engineering has been playing an increasingly important role in producing products of international quality. Reliable compressed air is crucial in advanced textile manufacturing processes today.
Air engineering has been playing an increasingly important role in producing products of international quality. Reliable compressed air is crucial in advanced textile manufacturing processes today.
Competent and efficient air engineering is of crucial importance for production quality and performance in textile mills. New technologies and ever more advanced and faster machines place higher and higher demands in the industry. It will increase mills uptime and productivity, across many applications, which include air-jet weaving, spinning including ring, open and air jet spinning, man-made fibre (MMF) production including POY & FDY, texturising, winding and dyeing nonwoven textiles, pneumatic transport for PET chips and wastewater treatment.
An efficient air control system is all the more important for quality and performance in production. Luwa offers competent and extensive know-how – for air handling, air direction, air cleaning, air disposal as well as heat recovery. The capability to open up new market segments, the dynamic innovative force, constant integration of the latest technologies and findings into the manufacturing of products and system solutions, together with its international presence make Luwa an attractive market partner.
For instance, Siyaram Silk Mills claims to be saving a whopping 56,000 kWh every year, thanks to the establishment of an effective compressed air system. Today's high production machines are very sensitive to supporting systems like filtration, waste collection, temperature control, humidity control, etc. Depending on the process, if one of these parameters is not managed properly, it can have a huge impact on production quality and efficiency.
Apart from compressed air, air conditioning via simple to complex machines is vital for the textile industry. Yarn and fabric production processes are sensitive to dust, rH levels, fluffs and room temperature variations. The air engineering comes to the rescue and more and more sophisticated equipment are flooding the market because the ultimate quality, production efficiency and energy saving are all dependent on how effectively the air engineering has been throughout the production circle.
Luwa places great importance on a careful approach to the environment. The company pays attention to the greatest possible protection of natural resources in the manufacture of its products and systems. The use of non-renewable raw materials is kept to a minimum, energy consumption and emissions are reduced as far as possible. Latest developments assisting to this task are the B610 Air Fan and LoomLite for weaving.
Founded in 1935, Luwa has developed into the world-renowned company for industrial air conditioning it is today – from the pioneer for air and filtering systems in the textile industry. Luwa offers tailor-made, convincing systems that live up to the challenges of the textile industry. In this way, Luwa optimises the manufacturing environment and creates cost-efficiency, sustainability, and complies with European quality standards.
A.T.E., with its strong sales network, customer relationship and industry knowledge, has been a perfect partner for Luwa over a decade. In 2009, A.T.E., a leader in textile engineering, joined hands with Luwa, a global leader in industrial air engineering, to provide humidification solutions to the spinning and weaving sectors in India. A.T.E. and Luwa are backed by eight decades of experience in their respective fields, and Luwa has also been a solution provider to the Indian textile industry for over 25 years.
Prefabricated air handling units in India have become very popular, which Luwa had introduced more than 20 years ago. Luwa is well known for its maintenance friendly rotary air filter with the suction nozzles mounted outside the filter drum; and for high-speed air washers made of non-corrosive material, with reliable high efficiency direct driven axial flow fans.
With offices in France, India, Singapore and China, AESA is a worldwide leader in air-engineering for all textile production processes of natural fibres, man-made fibres and filaments in their different stages: spinning, knitting, weaving, hosiery, different types of nonwovens and fibre productions, as well as dyeing and finishing.
AESA supplies air conditioning, ventilation and waste collection systems. In order to reach a lighter footprint with general production benefits and cost savings resulting from a better energy and environmental efficiency, customers are using AESA know-how and experience of many years in design and implementation of air handling systems. With the regional offices and sales agents being present in most major countries, AESA provides a network of service centres close to customers.
Luwa TexPac centralised air handling system is a solution that is compact, economically efficient and ready for connection. The Luwa TexPac Plant System in modular design is preferred solution for use in the textile and other comparable industries to provide air handling, i.e. pre-filtration, fine filtration and air conditioning. The Luwa TexPac is textile air engineering's response to the rapid development in textile machinery design towards high productivity, automation, minimum down times, good cost-effectiveness ratios and the ability to convert production facilities quickly to suit changing market conditions.
Established systems like AESA-Flexicontrol in spinning and weaving factories, allowing fully automatic adjustment of consumption to the actual needs, as well as the Weave Direct systems offer substantial reductions in power cost combined with more accurate room and process conditions. The user-friendly and accurate Digivent control and monitoring system is communicating in interactive screen functions and is allowing a wide usage of recorded data for analysis, statistics and housekeeping.
Jaydeep Dasgupta, Managing Director, Regent Machine & Servicing, says, "The textile industry has seen much modernisation in recent years with massive investment in high-speed machinery. The return on investment is increased productivity, but to fully realise this, machinery must be operated in line with the manufacturer's recommendations. This is particularly true for ambient humidity levels, as faster processing speeds mean increased tension on fibres, slivers and yarns. Conventional air towers, traditionally used in the textile industry for cooling and humidification, are often not efficient enough to maintain the consistent air humidity needed across a modern factory environment. This results in fibre and yarn breakages, machine downtime, a lower quality product and reduced yield."
He added, "A modern textile factory must operate precision controlled humidification systems, fully capable of optimising the productivity of high-speed textile machinery. The latest humidifier technology also consumes much less energy and water than out-of-date air towers, which given the recent steep rise in energy costs, further improves a textile mill's profitability."
The JetSpray humidification system from Condair is able to maintain the ideal humidity level consistently across any size textile factory, with very low energy consumption and maintenance requirements. A series of nozzles mounted in the roof space combine compressed air and water to generate very fine aerosols that rapidly evaporate, raising the humidity to the required level.
Adds Dasgupta, "The JetSpray system can be used to top-up humidification output from existing air towers or employed independently. A self-cleaning design ensures the nozzles do not become blocked and the use of compressed air guarantees drip-free operation with rapid moisture absorption into the air."
Speaking on the offerings for the textile industry, Ujjwal Kumar, Director, Lotus Airtech, had this to say: "Lotus Airtech is into designing energy saving systems. If you compare with other players, we can give the same product with less power. We provide maintained-friendly equipment. At the same time, we offer portable systems too. Earlier in civil engineering projects, our systems, once installed, cannot be disintegrated. Now, we have come up with an idea of pre-fabricated structures. Secondly, we also provide energy-saving systems like fans, pumps, etc., which consumes less energy. It is an automatic system, wherein dust will be collected automatically."
With a fittingly termed theme of Reach Out And Rise (ROAR), Atlas Copco unveiled five new air compressors in the Indian market. Laying emphasis on the importance of customers and also tracing the company's growth story in India, Conrad Latham, General Manager, Compressor Technique, Atlas Copco India, said: "Atlas Copco believes that the growth of our customers is our oxygen. True to the commitment to 'Make in India', we are introducing arange of new products built at our state-of-the-art Chakan factory at Pune. The new range of air compressors in piston and screw technologies are a result of Atlas Copco's continued commitment to work with manufacturing companies to reduce their energy bills in line with the governments focus on energy efficiency."
Providing competitive edge to small and medium industries in India, providing an edge to small and medium scale business units, this new range includes piston air compressors, screw air compressors, and on site nitrogen generator series to cater to the changing demands of customers from different sectors across India. The key industry segments which will benefit from these compressed air solutions are food and beverages, cement, textile, foundry and forging, general engineering, metal, auto and ancillaries, paper and many more.
Amongst the five products, GA 75-110 VSD+ is a variable speed drive oil-injected screw air compressor which is an ideal choice for fluctuating demands of customer applications and can save up to 50 per cent of energy costs. GA 75-110 VSD+ has integrated Elektronikon® – most intelligent microprocessor for advanced monitoring, control and connectivity, thus providing customers peace of mind by remaining connected with the machine at all times It has a magnetically fixed pre-filter that enables the application for handling high dust. G 15-22 and GA 15-22, are fixed speed oil-injected screw air compressors with the revolutionary new screw element. These products are intended to reduce energy consumption and offer higher uptime and reliability. The cast iron piston series, ATC, ranging from 3 hP to 10 hP is coupled with IP55 motor that is known for reliability and can function in operating temperatures up to 46 degree Celsius. The product has a low foot print and low noise.
In nitrogen generator segment, Atlas Copco's new NGMs 1-3 membrane technology units offer efficient, compact and simple low-cost on-site solution for low-flow N2 requirements with benefits of minimal maintenance and operational costs. These generators come with a wall mounting option as well.
Atlas Copco also offers a wide range of market-leading compressed air, including oil-free screw air compressors, screw blowers, scroll air compressors, tooth air compressors, turbo air compressors, water-injected screw air compressors, reciprocating air compressors, and much more.
Recently, ELGi Compressors USA, Inc., a subsidiary of ELGi Equipments, announced its acquisition of Michigan Air Solutions, one of the largest independent air compressor distributors in Michigan. This acquisition is an important step that ELGI has taken to expand its presence in the US and strengthen its position as a leading player in the global compressed air industry.
Michigan Air Solutions was established in 2009, and has served the markets in Michigan's Lower Peninsula with compressed air expertise, a wide range of products, and responsive after-sales support. Its product portfolio encompasses all compressed air needs from compressors, dryers, filtration, piping, vacuum pumps, blowers, and more.
"At ELGi, we focus on being the customer's preference. World class products with the lowest life cycle cost (LCC), best-in-class uptime, robust warranty programs and cost leadership achieved through technology and innovation are just some of the factors contributing to our growth and success in the USA, in a short span of five years. Michigan Air Solutions complements ELGi's global growth strategy, and brings significant market reach and scale, that will add further value to our product offerings and go-to-market plans across the region, said Dr Jairam Varadaraj, Managing Director, ELGi Equipments.
Humidification is rapidly gaining importance in textile industries. And when you consider that high speed machines generate heat, the need for humidification is all the more important. "That's where we come in," says V Rajasekar, Director of Coimbatore Air Control Systems, which has vast experience in humidification systems for various applications and specialised in textile humidification. "Over the years, we have established our reputation as the leading solution provider in the field of humidification."
Coimbatore Air Control Systems take up projects on
a turnkey basis from preliminary design through final engineering and fabrication to on-site installation of humidification plant for spinning and weaving. The company is a humidification specialist for spinning, weaving and knitting, and ventilation specialist for textile and leather processing plants, hotels, hospitals, cement and steel plants, among others.
He adds, "In the manufacturing process of textile yarns and fabrics, the importance of atmosphere control especially in respect to temperature and humidity can never be overlooked. In fact, moisture regain – the ratio of the moisture to bone-dry weight of the material expressed as a percentage – directly impacts properties like dimensions, weight, tensile strength, elastic recovery, electrical resistance, etc."
The company is not only to the design and development of humidification systems but to giving customers complete solutions through highly evolved service and support. Says V Rajasekar, "Our customer base speaks for itself, leading textile mills both in India and abroad trusts us to deliver on the promise."
Coimbatore Air Control Systems can offer good technical support and services after installation. The customer support department works round the clock to solve any queries that may arise after installation. The company gives you a guarantee for a period of 12 months after installation. The experienced designers of humidification plant can provide services in preliminary design, fabrication, on-site installation, testing and commissioning, etc.
Another Coimbatore-based company Systel Engineering Controls offers a wide range of products to customers in Europe and Asia to improve the productivity of their plants. Some of the products that the company provides to its customers include but are not limited to: intelligent compressor master controllers; measurement products for flow, energy, power, dew point and air quality, date loggers and compressed air analysing software, leak detectors and leakage management software, software for remote monitoring of compressed air flow, quality and energy consumption; and complete range of advanced electro-pneumatics.
The company offers WAFS 101 series thermal mass flow meter. WAFS 101 series thermal mass flow meter is WiseAir 4.0's latest technology specially-designed for air and N2 specifications. It has more compact design, which means smaller enclosure and thinner insertion tube probe. Due to its small diameter insertion probe and shorter high-sensitive sensor, it can be used on pipes from DN25-DN500, or even larger pipe. In some higher pre-sure applications, it can be installed/removed without stopping the fluid, as the pipe is thinner, field engineers will be able to insert the meter to pipe very easily. Also, to full-fill the energy conservation need in compressed air and N2 applications, WAFS-101 will be most cost effective model in the market.
WAFS-101 series thermal mass flow meter measures the gas mass flow based on thermal diffusion theory. It has two RTDs as its sensors; one of which sense the velocity of the gas flow (RH) and the other one will detect the temperature shift of the gas flow. When the two RTD are in the gas flow, the RH will be treated while the RMG will sense the temperature changing. This application is specially designed for air and N2 applications, such as compressed air, venting air, aeration, process protection N2, combustion air, etc.
Systel Engineering Controls specialises in improving your compressed air system's energy efficiency by offering: complete system design consultancy for new installations, professional assessment and re-engineering solutions of existing facilities, performance-based maintenance contracts, and leak surveys and repairs.