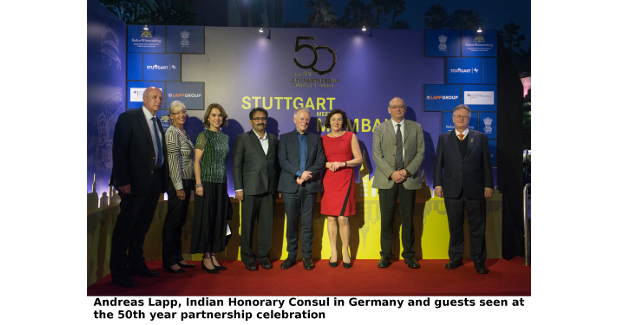 50 years of twinning between Stuttgart and Mumbai
Cultural exchange is particularly important to Andreas Lapp, a successful businessman and Honorary Consul of the Republic of India for Baden-Württemberg and Rhineland-Palatinate.
Cultural exchange is particularly important to Andreas Lapp, a successful businessman and Honorary Consul of the Republic of India for Baden-Württemberg and Rhineland-Palatinate. This will be the 14th time that he invited around 2,000 guests from business, politics, film and media, tourism, education and gastronomy to the Stuttgart Meets Mumbai wine festival on the grounds of the Taj Lands End hotel in Mumbai on February 2-3, 2018. This year's event was set to be very special, as it also celebrated 50 years of Mumbai and Stuttgart being twinned.
"We may be more than 6,500 km apart as the crow flies, but the two cities have grown closer and closer in our hearts over the years. The festival is an important component that helps to permanently strengthen decades of close ties between the two cities, to build up important contacts and to continue ramping up international collaboration," said Andreas Lapp.
To mark the 50th anniversary of the twinning, Stuttgart's mayor Fritz Kuhn and delegates from the local council will travel to Mumbai. Dr Frank Mentrup, mayor of Karlsruhe, and Petra Olschowski, State Secretary at the Baden-Württemberg Ministry of Science, Research and the Arts, will also be in attendance.
Mayor Fritz Kuhn said, "We are celebrating our partnership with Mumbai this year – and for good reason, it is a win-win situation for both cultures. Creating an exchange with international partners is more important than ever before. This is what Stuttgart as an international city is all about." A wide array of events was held in Mumbai to commemorate the anniversary. To kick it all off, the Stuttgart Chamber Orchestra held a concert in the huge NCPA concert hall on 1 February. The 17 musicians – who were accompanied by 10 musicians from the Symphony Orchestra of India for some compositions – played Haydn's Cello Concerto No. 1 in C major and Peter Tchaikovsky's Serenade for Strings in C major, Op. 48.
On the two days following this, Honorary Consul Andreas Lapp hosted the Stuttgart Meets Mumbai wine festival featuring the best of Swabian and Indian fare and an entertaining German-Indian stage show with acrobatics, dance and music. This year, the guests were served Bratwurst, apple strudel, Schupfnudel dumplings and Sauerkraut paired with wine from Baden-Württemberg and India. As part of a live cookery demonstration, Roman Schäfer, Head Pâtissier at Speisemeisterei, will cook Maultaschen ravioli and bake a Black Forest gateau for the top names in Indian gastronomy. He was joined on stage by Baden-Württemberg's Weinkönigin (wine queen) Theresa Olkus. The guest appearance by Stuttgart-based musical theatre performer Kevin Tarte, entertained the audience by singing classics of music history.
Many workshops are to be held during the day, including a business day organised by the Stuttgart Region Economic Development Corporation with the aim of inspiring Indian companies to move to Stuttgart. There will be a panel discussion with eminent personalities from across industries on 'Cable & Connection Solationfor Industry 4.0 in India'. This discussion will be attended by potential and existing customer Lapp India. Stuttgart Marketing will showcase Baden-Württemberg as a travel destination and Lapp India will put on a workshop for Indian engineers on trends and requirements in connection technology. The Filmbüro Baden-Württemberg will promote the Indian Film Festival Stuttgart 2018, and a joint workshop on globalisation and sustainability will be held by the University of Stuttgart and St. Xavier's College in Mumbai.