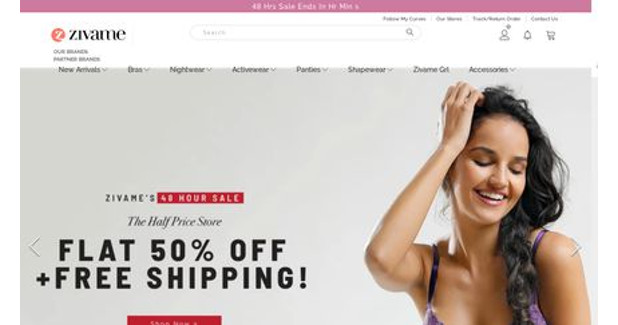 Zivame clocks 60% growth in revenues
Zivame, India's leading intimate wear brand, recently announced its financial performance of Actoserba Active Wholesale for FY 2019.
Zivame, India's leading intimate wear brand, recently announced its financial performance of Actoserba Active Wholesale for FY 2019. The company had a phenomenal year and here's a quick look at some FY18-19 figures of the company:
• The company net revenue grew by 60 per cent in FY19 to Rs 138 crore
• Marketing expenses have decreased by 18 per cent in FY 19 vis-a-vis FY 18
• Total expenses of the company have increased by only 1 per cent vis-a-vis FY18 while net revenue grew by 60 per cent over FY19
• The company reduced losses from operations by 44 per cent YoY (losses from operations were at 18 crore in FY19 vis-a-vis Rs 32 crore in FY18)
Speaking on the performance, Amisha Jain, CEO of Zivame, said, "Last one year has been phenomenal as we have strengthened our position across categories and deepened our presence in the markets. With tech, data and innovation at the heart of everything we do, we are set up for exponential growth over the next few years."
Zivame brand continues to grow exponentially and we are poised to hit 75 per cent+ growth for the next few years.
• Currently Zivame brand has hit a Rs 340 crore annual run rate for FY 20
• Zivame is the largest B2C brand in not just the lingerie category but also in shapewear along with a significant presence in activewear and sleepwear
• Zivame now sells 14 products per minute every day
• The app contribution for Zivame brand gross sales has increased from 50 per cent in FY18 to 65 per cent in FY19
Growth pillars
• Continuous product innovation: At Zivame, innovation is at the heart of everything we do. We are continuously engaging with our consumers to understand her changing lifestyle and intimate needs. Taking a cue from her evolving needs we have developed several products to deliver on our promise of quality, comfort and fit. Each woman is different, and we are looking to deliver products that she can choose from to solve for her intimate wear needs to cater to her various outfits, occasions and moods. Some examples of our innovations are:
o Saree shapewear: It is a perfect replacement for a petticoat and it helps women achieve a sleek and clean look while wearing a saree
o TrueCurv Collection: Is a special crafted range of bras, aimed at curvier women for D+ cups, going up to 44F. These are functional bras providing additional lift, support and seamless coverage
o Wonder Wire bra: Dedicated to all women who do not prefer wires in their bras. The Wonder-Wire bra provides a more comfortable and wearer friendly alternative, with its metal-free flexible wire
o Shaper bra: Is another innovation that not only gives full support but also creates a smooth look and ensures no bulges around her chest and back areas.
o The Miracle bra: Is a 24×7 bra, which seamlessly transitions from a day to a comfortable night bra; a super light product
• Great consumer experience: Our mission is to be the "destination for every woman's intimate wear needs" and we want to provide her with an experience that will encourage her to "Explore, Discover and Shop". A digital native brand we leverage technology to deliver a seamless shopping experience to her. Some of our proprietary tools like our FITCODE enable her to find the right fit for her body profile and give personalized recommendations suitable for her, for all her moods, occasions and needs. Beyond that our Z-way of shopping provides unique features like one-step check-out, one-click repeat and convenient payment and delivery options to enhance the consumer shopping experience.
• Omni-channel presence: Zivame believes in serving the consumer through her channel of choice and be present where she wants to shop. Our Omni channel strategy ensures consistent brand experience across channels right from Fitcode in the online portal to personalised fit sessions in the retail stores to recommend the right fit and style to consumers. We also ensure uniform prices, styles and sizes across channels and offer easy payment and delivery options.
• Re-launch of brand identity: This year Zivame unveiled a new brand identity with the tagline 'Love Yourself Inside Out'. This new identity aligns with our vision of creating an exciting, modern and inclusive environment for women to discover and shop for their intimate wear needs.
Future outlook
• The company's mission is to become the No. 1 intimate wear destination of women in India
• Continue to lead with innovations across categories
• The company will continue with its aggressive retail expansion and take store count to 100+ stores in the next 20 to 24 months. We will also deepen our presence in T1 towns and focus in key Tier 2 and Tier 3 markets
• Lead with data and tech to enhance our consumer experience and improve efficiencies in supply chain and operations