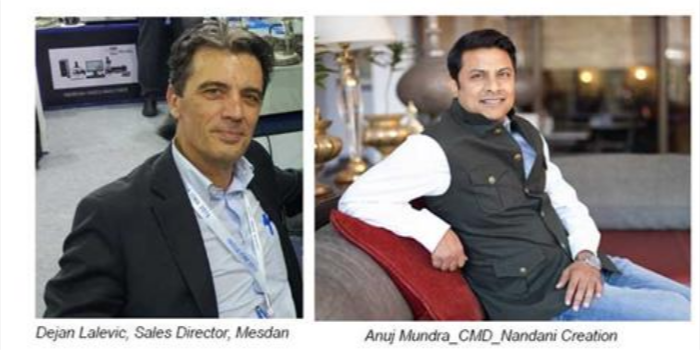 Why quality matters
Growing customer awareness and stringent regulations are forcing companies to give top priority to quality. Companies who are able to incorporate data and technology into their quality management will have a competitive edge, says Rakesh Rao.
Safety and hygiene requirements for apparels and clothing are of the highest standards as textile materials are in constant touch with the human body. Hence, the need for high quality is paramount for textile companies. "The global revolution on safety, quality and sustainability since decades are the key factors for the companies/brands for the survival in the business. The regulations are growing stronger day by day. In this modern digitalised world, the consumer awareness on recalls, mechanical safety, chemical safety and sustainability contents are accessible in clicks. Hence, all big brands are investing a lot to ensure the right quality products are placed in their stores and manufactured in a socially complied factory," observes Suvodeep Mukherjee, Senior General Manager Sales at TÃœV SÃœD South Asia.
He adds, "The changes in regulations are very well researched through different regulatory bodies. Any changes in regulations enhance the chemical and mechanical safety in the textile products. The changes in regulations demands higher quality in products which needs to be achieved through process standardisation in each step, enhancing quality control and assurance, procuring right quality raw materials and periodical checks."
Quality in supply chain
Big apparel brands often have many small & medium scale companies in their supply chain. Hence, textile companies have to maintain a vigil throughout the value chain. "The textile production cycle starts with the delivery of raw materials. If the materials are incorrect or sub-standard then it is impossible to produce a high-quality final product. The biggest challenge in the textile industry is the incoming materials. These are checked for the required properties so that unsuitable materials can be rejected, or appropriate adjustments made before production begins," says Anitha Jeyaraj, Deputy Director – Softlines, Connectivity & Products, SGS India Pvt Ltd.
To overcome quality challenges, SGS strongly suggests a testing plan from raw material testing, which is very important to ensure a safe product, to fabric stage testing, to identify potential defects before the finished garment is produced. In addition, to meeting regulatory requirements, testing of finished textile products is key to ensuring product quality.
One of the biggest challenges experts see for brands operating with many different suppliers is maintaining consistency. "A large supply network naturally makes it more difficult to enforce quality standards, both in production and quality control. Each factory may work to a slightly different rule book, and each product inspector may look for different things. Standardization of processes is essential to maintaining high quality products," says a spokesperson of QIMA – which supports the quality goals of companies involved in the textile industry through onsite product inspections and laboratory testing.
Another hurdle is visibility. Many apparel brands have a view of their Tier 1 suppliers, but little knowledge of what goes on beyond in their mills and farms for raw materials. "Often brands are unaware of who these Tier 2 and Tier 3 suppliers even are. It's therefore more difficult to manage the quality of components being produced at these stages. Knowing, mapping and working more closely with suppliers at all levels of the supply chain will ultimately lead to better quality products," adds QIMA spokesperson.
Quality testing, checking and maintenance is not restricted to export-bound products. Even traditional wear manufacturers in India are focusing on quality. "India is a country known for its traditions & tradition means ethnic wear. The truth is that ethnic wear brings out the real beauty of an Indian woman and makes her look all the way more graceful. So, the most important thing is fabric quality. Stitching and top most sizing plays a crucial role in judging the quality of an ethnic wear," says Anuj Mundra, Chairman & Managing Director, Nandani Creation Ltd (Jaipurkurti.com).
He adds, "We have multiple quality check points at every stage of production which are completely managed by professionals. We follow all national compliances approved for any garment industry. Fabrics used in the ethnic wear are very delicate, it's not like suiting & shirting fabrics, so traditional ways are best to maintain the quality. We are having regular quality checking by professional degree holders at every step of production."
Tracking quality
Acceptable Quality Level (AQL) is a widely used sampling method used to define a production order sample to find whether or not the entire product order has met quality specifications. Based on the sampling data, a brand can make an informed decision to accept or reject the production lot. "No production run can be entirely defect-free. But the AQL enables brands to set a level at which they will tolerate some defects while ensuring the overall shipment meets desired quality standards," says the QIMA spokesperson.
For quality inspection and testing purposes, various kinds of equipment and technology are used. Anuj Mundra comments, "We have fabric GSM checking machine and rubbing fastness machine/spotting machine. It is ethnic wear, so mostly the quality of the fabric is checked manually by traditional ways. We also use CAD machines & software for better measurement of garments."
From raw materials to finished products, brands and retailers in the textile industry are facing pressure to improve environmental performance. "SGS has developed several verification programs to support the industry. For example, our vegan verification and non-GMO (genetically modified organisms) programs. We screen for GMO to ensure non-GMO cotton is used for producing organic textile products. In addition, laboratory testing is used to check for the presence of chemical residues in finished products. Detection of chemical substances over acceptable limits means that an 'organic' claim cannot be made," she adds.
Before any product reaches the marketplace, it is necessary to test the materials to check that the properties have been improved or have not been degraded by faster, more intensive, production methods. "Our knowledge and expertise will help manufacturers reach new heights on issues such as climate change, pollution, product safety, and quality. In the end, it's only trusted because it's tested," opines Anitha Jeyaraj.
Traceability is one of the foremost necessities to achieve sustainability which illustrates the whole life cycle of a product from the raw material to the consumer, to disposal and recycle. According to Suvodeep Mukherjee of TUV SUD, traceability is a very important aspect to ensure the quality in any industry. "This is very important for quality checks and for analysis of root cause of any defects. Hence, all quality conscious brands ensure the complete supply chain traceability for their products. Also, this becomes very important when this is claimed as organic textiles, recycled polyester etc," he adds.
Modern machines and Artificial Intelligence (AI) based technologies are also helping companies to adhere to regulatory standards, improve quality and productivity. "SVP Global's manufacturing facilities are the most modern, state-of-the-art, AI-based technology. The AI-based machines need minimum human intervention. Apart from saving on manpower, it also ensures best quality and uniformity. The interruptions are minimised and productivity is increased by running the machines to its highest capacity. The power usage is optimised which results in cost efficiency. All the processes are run at its maximum capacity and best efficiency. The introduction of modern machines has enabled us to switch over to high margin best quality compact cotton yarn from the traditional yarn. The company's yarn output (40 CCW weaving) per spindle is at around 153 gms-154 gms, which is the highest in the industry," says Maj Gen OP Gulia, SM, VSM (retd) CEO of SVP Global Ventures Ltd.
According to Anitha Jeyaraj, the latest equipment has features connecting various production segments for centralised and on-time production control. She elaborates "An innovation that has emerged in the industry is automation and introduction of artificial intelligence in textile production. Remote monitoring of the production through networking and robotics, which includes quality analysis and collection of data, is growing. Accurate, digitalised equipment is required to monitor quality across the textile value chain. Automation and digitalisation can enable companies to a large extent and help them to manufacture high-quality textile products."
Digitalization: A powerful tool for quality
Today companies can leverage on the power of data and technology to enhance quality management and supply chain visibility. "Use automation to increase efficiency and extend testing to as much as possible number of samples, adapt new parameters and testing methods which may detect quickly undesirable possible failures, extend contamination testing and material classification to reduce waste as part of circular economy management, data centralisation, connectivity, etc. But quality in textiles cannot be measured or achieved only with the application of new technologies, real quality is driven by textile knowledge and experience and inspired by innovative ideas and creativity. Their combination is definitively a win-win concept," says Dejan Lalevic, Sales Director, Mesdan S.p.A. – one of the biggest producers of testing equipment for the laboratory analysis of textiles
Textile industry has been relatively slow to digitise with many processes still carried out manually. Supply chains generate tonnes of valuable data and there's a lot of power in that to transform business decision making. Hence, companies who are able to incorporate data and technology into their quality management will be a step ahead.