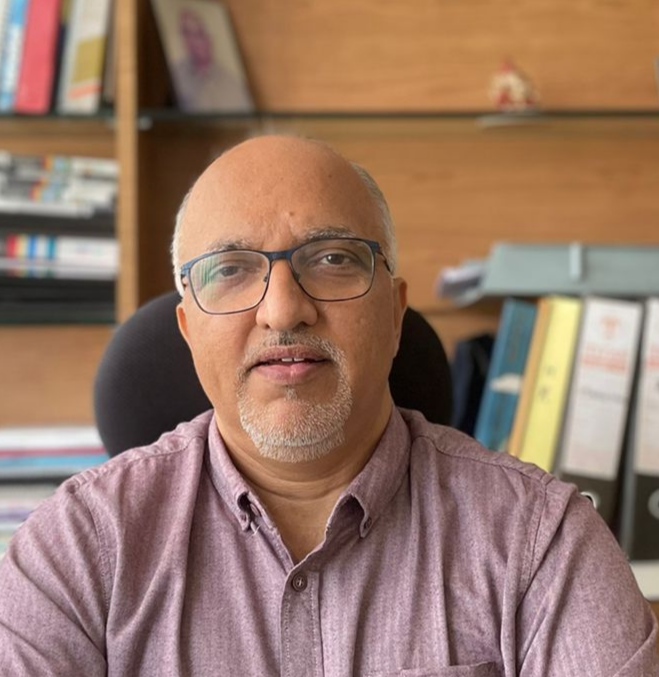 We would like to make a strong impact in smart textile area
Colorband Dyestuff Pvt Ltd, which specialises in dyes for natural and synthetic fibres, caters to the critical needs of the emerging technical textile segment in India. Ketan Sarvaiya is the Promoter Director of this colourant manufacturing organisation. Creating a multistate production facility and sophisticated sustainable technology, Sarvaiya has developed a strong network of channel partners to serve the customer spread across the globe. In this interview with Prof Ashok Athalye, Ketan Sarvaiya highlights on Colorband's backward integration plan and emerging trends like Industry 4.0, smart textile, etc
How did you manage the organisation performance during the Covid pandemic?
We had this confidence that collectively we will tide over this crisis and I had a strong belief in my team's capability. On the operations front, we kept a closer watch on the liquidity position through meticulous, planning and forecasting of cash inflows and outflows. We built a weekly forecast mechanism so that we could adjust our plant operations, inventory and procurement in tandem with the demand. Despite the challenges, we made sure that we remained focused on executing all the internal projects as part of our growth/expansion plans by prioritising capital outlay. Any crisis brings new learnings and we have tried to incorporate them as part of our systems and processes as we progress towards meeting newer milestones.
How did you tackle the challenges faced during the recent turmoil in the availability of raw material & price fluctuations?
Challenges pertaining to raw material availability and price volatility have become a common phenomenon in today's globalised era and the fluid geopolitical situation. Having a robust raw material planning process is vital to remaining competitive and to assure sustainable margins. We do advance raw material planning on a quarterly basis and follow best practices of inventory management and visibility.
Colourants are considered as major pollutants, what steps have you taken to improve sustainability aspects?
At Colorband, we are conscious of our Environmental, Societal and Governance responsibilities. We are currently running 3 plants in operations and we are as good as zero discharge in all of them. Our effluent treatment plant (ETP) does all the necessary treatments as per the laid government guidelines and ensures that the further discharge of treated effluent is routed strictly only to the government run CETP unit. Continuing from the sustainability point of view, we take all necessary care to send all the plastic waste to recycle plants.
What are the major concerns of your customer & how are you meeting their needs?
Textile industry from a global perspective is changing rapidly and moving towards a customer-centric approach and trying to align to newer customer spending patterns and sustainability and digitalization needs. Likewise, the expectations of our clients from us are always high in terms of needing a lot more information with respect to matching developments in the dyeing cycle, meeting their fastness criteria and others. We have well equipped Technical Service department staffed with highly experienced technicians dedicated solely to providing post-sales services to the ever-growing needs and demands of our clients and addressing all their queries within the stipulated turnaround time.
How are you coping with the frequently changing demands due to fast fashion in textiles?
The fashion apparel industry has significantly evolved, particularly in the last two decades and fast fashion is one of the important new developments. Drawing on our foundation of innovative approach, our team keeps themselves current and updated on the various changes, trends and happenings in the fashion industry and correspondingly our lab starts proactively working on the new trends/ fibres, processes on a continuous basis with a strong focus on solution outcomes.
What is your experience and contribution towards government initiative in terms of Make in India and Aatmanirbhar Bharat?
Aatmanirbhar Bharat envisaged to make our country and its citizen independent and self-reliant is a great step forward. In one way if you look at it, Colorband is also a product of the India growth story. The initiatives are being taken like bold reforms. At Colorband, our expansion plans through backward integration to produce our own crucial dye intermediates is being done to reduce our dependency on imported raw materials and be self-reliant keeping the spirit of Aatmanirbhar Bharat in mind.
Please brief us about your recent product launches & the concept behind it.
We devise our strategy & plans according to the key drivers of growth and keeping in mind the inherent challenges, trends and market dynamics. Our product portfolio has been continuously streamlined and optimized in line with the customer requirements and expectations. Some of the products launched in the recent past include new VAT dye for workwear segment, CBENE high wash fastness disperse dye to cater to the high demand for active and sportswear, full range of textile auxiliaries that augments our dyes range and helps our customer to access a wider array of product categories/full range under one roof.
What is your segmental SWOT analysis & the risk mitigation plan?
Colorband has built a strong pan India team presence covering all the major textile hubs to cater to the big domestic market. We have a full range of product portfolios under one roof and our export footprints have expanded to meet the avenues for huge global opportunities. Our manufacturing plants are versatile and designed to produce both disperse and reactive dyes and this facilitates us to plan our production cycle in tandem with the demand and supply forecast and thus mitigate any market risk. China as the largest producer of dyestuff still remains a threat. However, with a thrust on innovation and R&D practices, we are confident and optimistic of a bright future ahead for the Indian industry.
The industry has entered the Textile 4.0 era. What is your action plan?
Very true. Textile Industry 4.0 represents a leap forward from traditional automation to a more flexible system to adapt to new demands and push to new levels of optimization and productivity. Efficient use of data has become necessary for the progress and functioning of any industry. We have plans for bringing appropriate technology interventions in the form of automation/robotics/active sensors to bring quality consistency and accurate yields. We plan to take advantage of nanotechnology in the areas of production, ETP standardisation to begin with. We are looking at how AI can help us build more accurate demand forecasts and production planning based on past Data. We are also looking at how digital operation technologies can be accelerated for efficient logistics, online tracking, zero inventory etc.
What are your growth plans for the next 3 years?
We are focused on completing our two major expansion projects at Saykha, Bharuch within the next 3 years. This would make us a fully backward integrated company with a production capacity of 2500 MT per month in totality. Smart textile products hold large growth potential and we would like to make a strong impact in smart textile area. Human capital will be key to success and our people framework will remain focused on improving our team's capability across all functions and providing each one of them with an enriching platform where they can learn and grow along with the company.
About the author:
Prof Ashok Athalye is associated with the Department of Fibres & Textile Processing Technology, Institute of Chemical Technology (ICT), Mumbai. He has work experience of over 26 years in technical service for the application of dyes and chemicals in textile processing. Prof Ashok Athalye is also a Member of Editorial Advisory Board of The Indian Textile Journal.