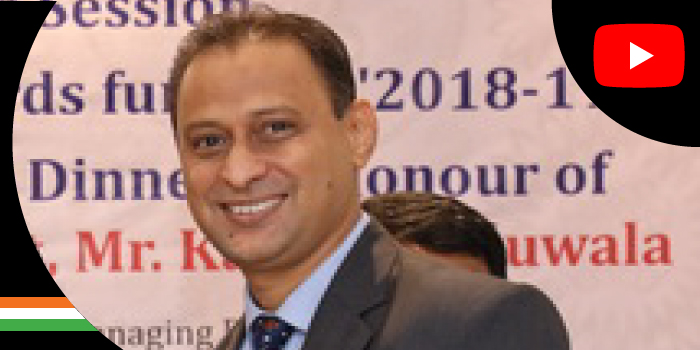 We offer high precision products: L Rathi
Laxmikant Rathi, President - Sales & Marketing, Ideal Sheet Metal Stampings & Pressings, speaks on the major products for the textile industry, and its distinguishing features. Excerpts…
Give us a brief introduction about the company. What are your major products for the industry? What are the distinguishing characteristics and features of your major products?
We are present in the market for more than six decades. At present, we are operating from Ahmedabad and more or less serving the entire global market. In spinning machinery components, we offer spinning tubes, cones and bobbin holders, which are our flagship products.
As an organisation, we are focused on the product, which usually requires precision and uniqueness in designing. We are not really into commodity products. These are high precision engineering products, which requires high level of tolerances.
How is your company meeting the challenges of the markets demands today?
I think it's too early to talk about today's market situation because the demons unfortunately are not known. Unlike India, many other markets are still working. We are able to manage well with the demand from other countries.
We focus a lot on developing products, and not only depend on one particular product. We have been focusing a lot on our exports. I'm happy that last year out of the total spending, almost 50 per cent was exports, which actually helps us to balance out the equation.
Which are your stronger exports markets? What are the scope, prospects and problems?
We cater to most of the countries. But our stronger markets are Bangladesh, Pakistan, Vietnam, Uzbekistan and Indonesia. These are the main markets when talking about the volume. Apart from these, we also cater to Mexico and other African countries.
All our products are actually made to order. We are into engineering products which requires a different type of customisation and precision.
We are fortunate that we could start our operations. We really have a lot of orders for exports and government was kind enough to consider our application. There are many limiting factors also. For example, the transport is not available for the people. It is not easy for people to come and work in the factory. The restrictions are much more now, but we are trying to fulfill all the government requirements.
Employees are taking care of social distancing and are trying to load up our factory with maybe about 30 to 40 per cent of the capacity.
Do you think government intervention is needed to stem cheap imports?
I will not blame the government for this reason. Whatever the situation is, we need to be competitive enough. We need to have that quality or technology to manufacture the product and we should not worry too much about the competition. Even we export our product, so how can I say other countries not to export. The important thing is to have better quality than the competition and give timely deliveries, good after sales service support at an affordable price. I need to be competitive in all aspects.
Automation is equally important but I still feel that we are not evaluating the need for automation. We are doing optimum automation.