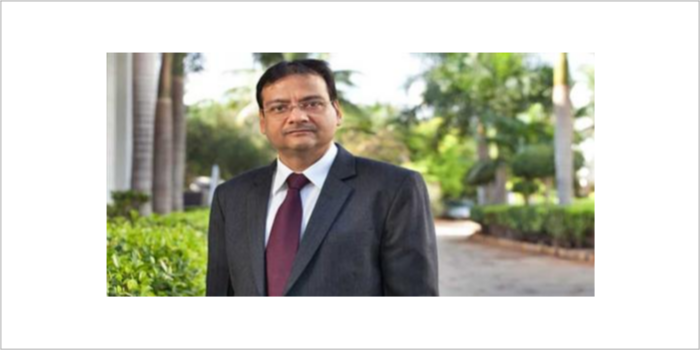 We have revamped our brand architecture
Vinod Kumar Gupta, Managing Director, Dollar Industries, speaks on the reasons behind opting for brand restructuring.
Dollar Industries, which was founded in the year 1972 and listed both in NSE & BSE, ranks among the top hosiery and garment manufacturing brands of India, covering the entire range of knitted garments, to basic wear to outerwear. The company has a substantial pan-India presence and has even established its market abroad, in countries like UAE, Oman, Jordan, Qatar, Kuwait, Bahrain, Yemen, Iraq, Nepal, and Sudan in the past few years. Recently, the company has announced its new brand identity with a fresh vision of 'Wear The Change'. With the re-branding exercise, the brand is not only set to create a youth-friendly image but also creating a synchronised and improved brand architecture and user-friendly interface in the market to establish stronger brand recall. The reinvigorated brand identity will also assist in creating a synchronised brand portfolio amongst its end consumers and stakeholders.
Vinod Kumar Gupta, Managing Director, Dollar Industries, speaks on the reasons behind opting for brand restructuring.
Even during these difficult times, tell us the reasons behind opting for brand restructuring and consolidated brand architecture.
The decision to implement the rebranding exercise was taken way before the lockdown. We already had plans to launch the new logo by end of March, 2020 targeting our peak season. But with the global spread of coronavirus and subsequent lockdown, we decided to keep the launch on hold.
With easing of lockdown from June, 2020 we immediately planned to unveil our new brand identity. We thus initiated our first-ever digital launch in the presence of our brand ambassador, superstar Akshay Kumar, with whom we share a decade long association.
'Evolution' and 'Innovation' are the key factors that have contributed substantially for our growth. Adopting the 'New Normal' we opted for a digital launch instead of the conventional methodology and delaying the process any further.
Tell us more about your new brand identity with a fresh vision of 'Wear The Change'.
Our primary goal to revamp our brand architecture was to simplify our product portfolio for our consumers. The brand consisted of plethora of products that were confusing for our end buyers. Therefore, it has now been categorised into five broad categories that simplifies recognition of the products and also eases the process of buying – Dollar Man, Dollar Woman, Dollar Junior, Dollar Always and Dollar Thermals.
With regard to our new logo, the 'Knitted and Overlapping D' symbolises our product line and the knitting industry. Our focus was to launch a logo which would not only be simpler but easier to use in all our communications. Additionally, the logo not only induces a feeling of inspiration and novelty, but also signifies warmth, comfort and positivity.
Our new vision, 'Wear The Change' majorly talks about the brand evolving and transforming with changing times and trends. Moreover, Dollar wanted to change the perspective of being only a menswear brand and highlight the fact that it caters to women and kids as well with a varied product portfolio.
What research went through behind this decision of single brand architecture? What are the benefits of single brand architecture?
To launch a whole new brand identity and architecture, we had to follow a rigorous process as well as research intensively. We undertook retail visits, spoke to our stakeholders, did a competitive review, attended brand custodian workshops, and carried out an elaborate consumer research as well.
Post an extensive research process, we comprehended that following 'consolidation' and a single brand architecture will not only provide us consistency but will also ensure that all the offerings in the product portfolio are in synergy with the brand. It also assists the retailers as well as consumers to choose appropriately. It helps to guide future innovations and guides the categorisation of the future product launches. Hence, creating a distinct brand recall value amongst our target audience.
Dollar has its own e-commerce website unlike other players in the business. How has been business so far from e-commerce portals?
Owing to the spread of the Covid-19 pandemic, a number of brands and businesses have analysed and reviewed different ways to sail through this crisis. As a brand, even we had unveiled our new corporate brand identity via an e-press conference for the very first time during the nationwide lockdown.
The e-commerce platform was a strategic decision to keep up with digitisation and also reach out to our consumers across the country. With the prevailing lockdown and restrictions imposed by the Government, consumers are skeptical about visiting offline stores or going to crowded places to shop. Therefore, e-commerce has been a 'sustenance' element for our brand.
As the nationwide lockdown was lifted and non-essential products were being delivered via e-commerce platforms, we witnessed a 4x growth in our online sales. Though e-commerce contributes to only 3 per cent of our sales percentage, we cannot ignore its growing popularity. We shall continue to focus on online sales alongside offline sales.
What was the impact of COVID-19 on your business? Has the production begun completely?

During the initial lockdown phase, most of our migrant workers were stranded at our manufacturing units. In order to keep our manpower safe, we arranged for lodging and boarding services at our premises and even provided them with food and basic necessities.
Since innerwear falls under the basic necessity category after essential goods, we witnessed a surge in demand of our products. Yes, we are operating with almost 99 per cent manpower with utmost precautions and the productions are aligned with the demand for our products.
Since logistics is one of the issues currently. How are you managing this part?
A dent in the production and transport facility was witnessed initially when the sudden lockdown was imposed and everything came to a standstill. However, things normalised gradually. Currently, our supply chain management is as smooth as possible with sudden or periodic lockdowns in many regions.
Most of the textile and garment manufacturers are staring at a loss due to the global pandemic. Being one of the leading players in the business, what do you think the garment manufacturers should do to tackle this situation?
Textiles represent almost 30 per cent of the total exports in India and provide direct employment to over 45 million people. The impact of the Covid-19 pandemic has been hard-hitting and impacted the sector immensely. The initial three months lockdown has resulted in hefty losses and therefore, various players are eyeing the upcoming festive and winter season as an opportunity to revive. We are hoping that things normalise for the segment gradually in the next two to three months.
How is your company meeting the challenges of the demands of the market today? If any up-gradation/expansion has happened, please give details.
Our products are a part of the 'basic necessity' category and are often referred to as the second skin. We usually have periodic peak seasons where sales are usually high. Though we lost the last quarter due to the lockdown, we are trying our level best and optimistically working to meet the current demands. We did face a demand-supply gap when the lockdown was eased due to restrain in transport facilities but we have now managed to overcome it.
As a part of our expansion plans, we are in process to launch new range of products in the market as well.
Modernisation and automation are increasing across industries. What is the significance of this for Dollar Industries?
'Digital India' is the PM's vision for our country and modernisation and automation across industries are imperative to achieve the vision. It fuels our economy and opens the windows to endless possibilities.
Over the years, Dollar Industries has always adopted new innovations and has evolved with changing time. We have always put modernisation to practice at across all levels – manufacturing processes, human resource management, supply change management, consumer outreach, communication strategy, etc. We firmly believe that these two factors not only save time but also increase productivity and efficiency.
How do you envisage your company's future in the next five years? Any plans for further expansion?
We have recently revamped our brand architecture and have revealed our new logo and vision. In the next few years, we aim to emerge as India's leading and most loved inner wear brand and also expand our outerwear products range by providing fashionable yet affordable outerwear to our consumers. By 2024, we aim to achieve the milestone of being a Rs 2,000 crore company.
Have you recalibrated your growth plan due to COVID-19?
The COVID-19 pandemic has been a never seen before situation and has impacted the economy globally. It has made it imperative for organisations across sectors to re-evaluate their strategies and rethink about their way forward. Though we have witnessed a dent in the operations and the revenue growth in the last few months, we are highly positive that we can sail through these tough time