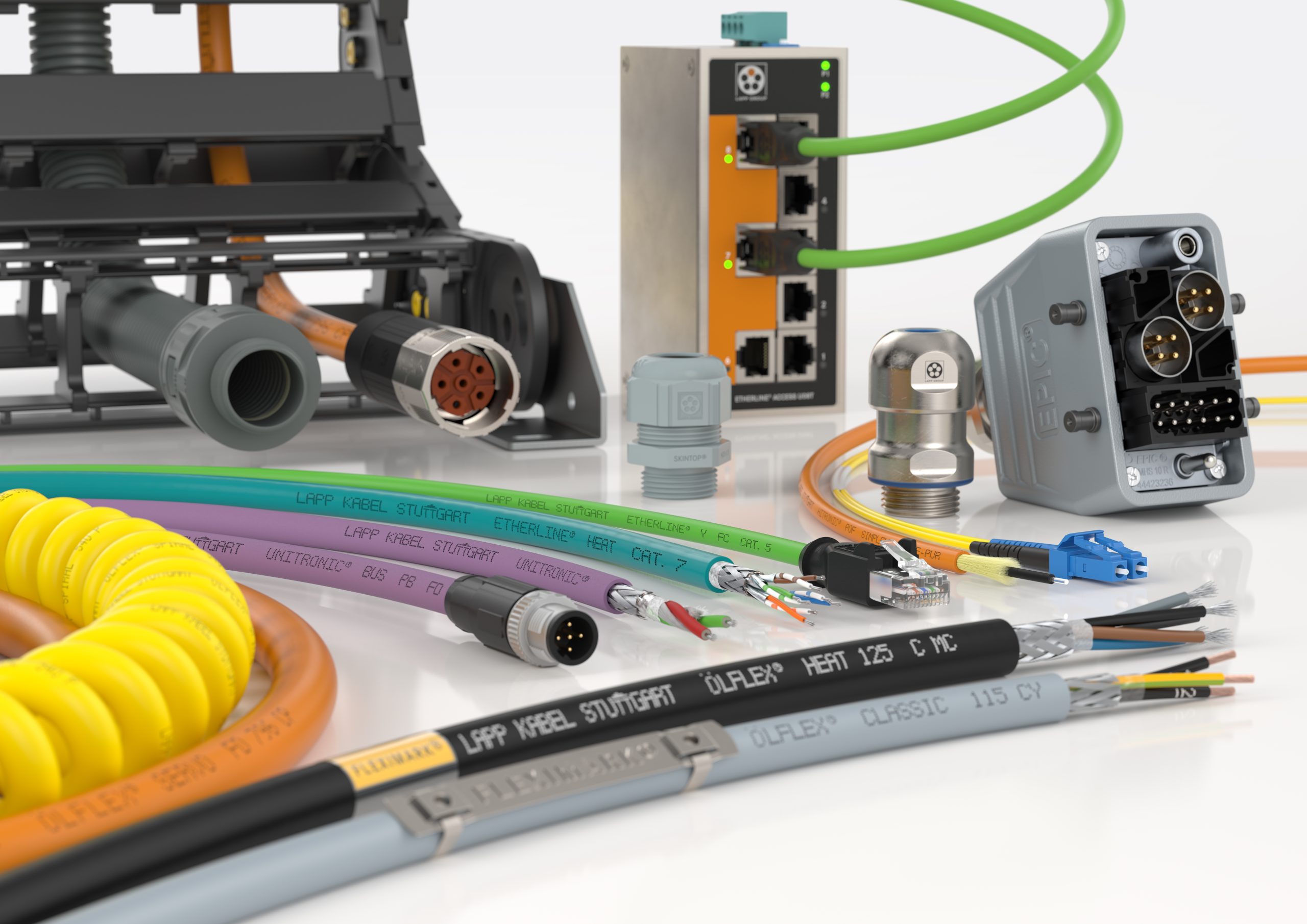 We are not just manufacturer, but a one-stop solution provider
APP is known to be the pioneer in power and control cables manufacturing in India. The brand ÖLFLEX is synonymous with power and control cables. LAPP is also a market leader in cable and connection solutions for end-to-end industrial products across a range of industries such as F&B, oil and gas, automation, textiles and machine tools. They also manufacture data communication cables, cables for special applications like robotics, servo cables, industrial connectors, glands, conduits and accessories, etc. LAPP is a single source provider for industrial communication solutions, offering end to end solutions for seamless network connectivity. In this interview with Divya Shetty, Gary Bateman, Managing Director of LAPP India, discusses the company's most recent offering, as well as its long-term objectives, and the evolution of cable and connection technology over time.
Since 1996, LAPP has been serving the Indian industry. How has the company evolved over these years?
We started our operations in 1998 with a state-of-the-art manufacturing plant in Jigani, Bengaluru, followed by another in Pilukhedi, Bhopal, in 2012. We were the first multi-national cable manufacturer to establish operations in India. The second manufacturing plant was set up primarily to produce best-in-class electrical wires for the building segment. Our production was further expanded in 2014 by doubling the production area in Bengaluru and adding a new multi-core line in Bhopal with a total investment of almost INR 432 million. Currently, we are the third-largest manufacturing facility of LAPP. The Bengaluru and Bhopal plants contribute 36 per cent and 38 per cent to LAPP India's revenue, respectively. In 2012, the Bhopal plant catered only to single-core cable manufacturing. We expanded to multi-core cable manufacturing in 2015 and solar cable manufacturing in 2018. Currently, we design, manufacture and supply data cables for fieldbus to ethernet technology, cables for special applications like robotics, servo cables, industrial connectors, glands, conduits and accessories, etc. in more than 152 countries globally.
LAPP India comes with a history of 60 years of manufacturing excellence and a diverse product portfolio that symbolises reliability and durability. We always keep innovation at the forefront and work towards bringing in new products based on cutting edge technology.
What changes are you witnessing in the cable and connection technology space in the recent years (globally & in India)?
With the digital boom enabling scalable, faster, reliable, and interoperable communication protocols across industries, there has been a boost in the demand for cables and wires. 5G and the resultant advancements in communication are major growth drivers for this industry. Even with the widespread implementation of 5G, cables will remain an essential pillar of the infrastructure as data will continue to flow through conventional channels in combination with fibre-optic cables. New possibilities in industrial communication requires a higher data exchange and an increased number of high-capacity servers and storage devices. This calls for data centre expansion which would increase the demand for power and optical fibre cables.
Simultaneously, advancements in robotics and automation calls for agile, minimal cables that must be compact and lightweight, with high data transfer capacity. Monitoring systems and control processes are increasingly becoming cloud-based. Wire and cable technology must adapt to these new systems that require scalability, adaptability, extensibility, and manageability while providing real-time performance with minimal scope for error.
Providers of customised ready-to-use assemblies and end-to-end integrated solutions will be the go-to choice for customers. With the increasing number of players in the market, providers will need to create a differentiation in terms of quality, reliability and services provided. Customers will demand greater value from wire & cable providers to meet their changing needs with customised solutions.
What steps are you taking for your transition journey from a product manufacturer to an end-to-end solution provider?
The transition from a cable manufacturer to a one-stop solution provider will be built on the pillars of our growth plan to emerge as an Rs 1,700 crore company in the next five years. This is a pivotal point in our LAPP journey and will involve some critical decisions as part of this process.
For the India market, we also want to look at increasing our presence in emerging segments such as electric vehicles. We are looking to add more segments to our customer base while ÖLFLEX CONNECT will remain a major business priority as LAPP continues its journey as a one-stop solutions provider for all cable systems requirements
What kinds of solutions/products do you offer to the textiles industry in India?
The transition of the textile industry from performing all activities by hand to using high-technology textile machinery has opened up numerous avenues for LAPP to provide the right cabling and connectivity products. As per our research, such machinery requires products that are slim, lightweight, highly flexible, resistant to chemicals used in the various processes, high performance even in extreme temperature and harsh conditions, and flame retardant.
LAPP offers products that fulfil the technological and expansion needs of the textile industry in
India. We offer smart cabling solutions that fulfil the above-mentioned criteria. Our objective is to ensure that devices are interconnected with minimal loss. Our in-house production team gives us an edge since it allows us to ensure that the highest quality is maintained, and regular quality checks are conducted to ensure that we meet the standards and application requirements of the textile industry. Our responsibility toward clients is to help companies develop new products and intelligent solutions. Our extensive experience of 5 decades helps us fulfil this responsibility towards our clients.
How do you see the growth of the Indian textile industry? How do you intend to further tap the potential of this industry?
Based on our research, the textile industry in India is set to grow exponentially over the next few years. Our forecast predicts that the industry will reach $190 billion by 2025-2026. At LAPP, we understand that the requirements of the textile industry will continue to grow and change as innovation seems to be at the forefront of this industry. Therefore, LAPP has started multiple
initiatives in order to approach more customers in the textile industry and offer them smart, intelligent solutions.
We are currently focused on new customer development via textile exhibitions and textile
magazines. Our team is also working on offering channel support to textile industry customers byassisting them in forecasting and scheduling orders.
As the textile industry continues to grow, so will its requirements in terms of machinery, cabling, and other solutions. Apart from offering long-term, sustainable, and smart cabling solutions, we are now offering value-added services to customers, which include equipment manufacturing, automation, and transportation. We offer these value-added services for spinning, knitting, weaving, processing, and garments and clothing companies in the textile industry.
Sustainability seems to be a driving force for sectors – from transportation to manufacturing to textiles. How is LAPP India supporting industries to achieve their green goals?
At LAPP, we realise the responsibility we hold as individuals and as an organisation to protect the environment. Taking into consideration the current situation, transitioning to environment-friendly options is no longer just a choice, it is now a necessity. We support the United Nations in implementing Agenda 2030 by working according to the 17 UN Sustainable Development Goals (SDGs), that built the framework for sustainable economic, ecological, and social management. We follow pioneering guidelines at European level, such as the EU Green Deal, material-related regulations such as REACH / RoHS, and support the objectives of the Paris Climate Agreement. Our cable and accessories programme includes halogen-free products which are safer options for people and the environment in case of fire incidents. They also offer protection from toxic reactions and benefits for recycling. All our products and packaging are asbestos and CFC-free.
In the recent past, LAPP has also been expanding its product portfolio for solar and wind energy with products that have the highest possible durability, robustness, and flexibility. LAPP has an exclusive range of products ranging from cables, connectors, and special accessories for the PV solar segment. We offer solutions for photovoltaic projects to simple rooftop installations and energy storage. We are working towards local manufacturing/sourcing of solar products for India to provide our customers greater value. Our recent partnership with CAHORS, a French multi-national company specialised in energy distribution, complemented our wide portfolio of solar cables with an exhaustive product range from CAHORS that includes plug-in connectors, branch connectors, panel connectors, module junction boxes, enclosures, combiner boxes, and crimping / cutting tools.
Automation and Industry 4.0 are other key focus areas for the end-user industries today. How is LAPP helping industries in this transition?
Data communication cables form the backbone of industrial automation. Adoption of Industry 4.0 concepts have led to intensified networking and connectivity. This has highly impacted the automation industry and related connection technology, demanding connections to be more compact, robust, and standardised.
The LAPP's comprehensive product portfolio for industrial automation is built on the 3R principles of "Reliability, Robustness and Ruggedness", with all-round capabilities optimised for harsh industrial environments. The products and solutions are tailored to meet the demands of robustness, flexibility and agility to handle mission-critical tasks on the factory floor demanded by Industry 4.0. Our comprehensive solutions help customers capture the benefits of industrial-grade products.
Our range of products include:
UNITRONIC Data communication systems- High quality data network cables and fieldbus components for all applications in industrial machinery and plant engineering from transmission of simple control signals to field bus signals in complex network structures.
ETHERLINE Data communication systems for Ethernet technology- Systems made up of durable and robust cables and connection components for passive and active network technology, providing an effective solution for almost any application, particularly in industrial environments.
HITRONIC Optical transmission systems- Fault free and bug proof systems that help transmit large data volumes at almost light speed unimpacted by electromagnetic radiation.
EPIC Data Industrial connectors: Modular, fast, and robust connector systems that are designed for plug and play functionality, compatible with market standards, and can be custom configured to meet application requirements.
This includes two ranges:
Rectangular Connectors- A system of housings, inserts and contacts that offers robust, secure, and easy to assemble solutions.
Circular connectors- Power and signal circular connectors designed to be used on servo motors and in servo harnessing.
How is LAPP India focusing more on Make In India initiatives to cater to local customer needs?
Unlike many other multinational companies in the industry, LAPP has local manufacturing facilities that specifically cater to Indian customer requirements and demands. We are not just a wire & cable manufacturer, but a one-stop solution provider for all our customers' needs. To provide maximum value to customers, we provide them with access to both locally manufactured products as well as a global product portfolio that can be accessed from any country that the customer is based out of.
We want to maximise our focus on the local manufacturing of products as well as local sourcing of raw materials. We believe that the policy of Make in India will help deliver delightful customer experiences. We aim to triple our service points in the next four-five years as well as set up more warehousing facilities to ensure a strong presence across the country and be closer to our customers.
What are your growth plans for LAPP India?
LAPP India is the second largest market of LAPP, and we have already established a strong presence in textiles, machine tools, automotive, railway, infrastructure and mining sectors in India. In terms of growth opportunities, we expect food and beverage, infrastructure, electric vehicles, oil and gas, and industrial communication to be major commercial drivers for the wire and cable industry in India. We are looking to add more segments to our customer base while ÖLFLEX CONNECT will remain a major business priority as LAPP continues its journey as a one-stop solutions provider for all cable systems requirements.
We are heavily investing in the Indian market, especially through R&D to understand industry challenges and work towards a wider segment presence. We will target our efforts towards addressing customer demands through products that are made in India- to provide locally made products of global quality standards. We have always believed that it is important to be closer to our customers to understand their requirements and offer quick turnaround of solutions to support their business. Hence, we will focus on developing our state-of-the-art manufacturing capabilities with the newest cutting-edge technologies and triple the number service points in India in the next few years. We will also be available online 24×7 through our wide and well-established channel partner network as well as directly from LAPP. We estimate our custom cable assembly solutions business to contribute 10% of the overall turnover of LAPP India within 5 years.