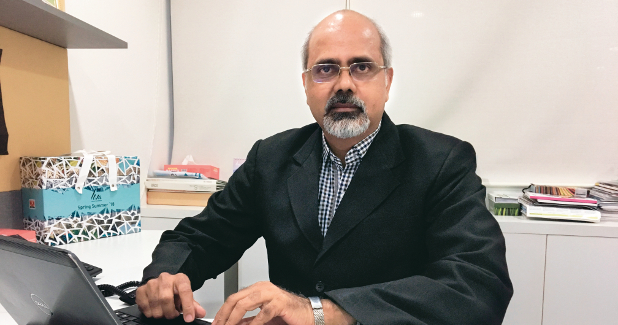 VSF growing at 27% in last 2 years: M Samuel
Aditya Birla Group's fibre division, Birla Cellulose has always been at the forefront of revolution in viscose staple fibres and achieved global reputation since many years ago.
Aditya Birla Group's fibre division, Birla Cellulose has always been at the forefront of revolution in viscose staple fibres and achieved global reputation since many years ago. It charted a new course in fashion by entering the retail segment with its 'Liva' brand, a very few years back.
Birla Cellulose currently caters to a host of both domestic and international textile brands such as Target and Marks & Spencer, besides its own brands like Van Heusen, Allen Solly and Louis Philippe. The company has sub-brands called Birla Modal, Birla Viscose, Birla Spunshades and Birla Excel, among others. It also has its fully integrated manufacturing facilities extending from plantation to pulp to fibre in countries such as Canada, Laos, Sweden and fibre plants in China, Indonesia and Thailand.
Manohar Samuel, President (Marketing), Birla Cellulose, the Pulp and Fibre Business, of the $3-billion company, is confident that the growing popularity and adaptability of viscose is creating new opportunities year after year. LIVA was created in-house, and the fibre is a champion of sustainability and has created history with its fluidity and softness and also versatility.
Manohar Samuel spoke with the Editor of Indian Textile Journal, Samuel Joseph, on the various issues of the company's vision and the scope of VSF.
In the viscose staple fibre (VSF) segment, are there new capacities coming up in the global market? In this regard, how is Aditya Birla Group placed. What is your opinion on VSF's demand and supply?
Globally, capacities are coming up. Capacities are coming up in very big greenfield projects as well as the current projects. There are huge projects coming up. If you take the example of a country like Indonesia, their capacity is going to double in the next 6-12 months.
When a capacity comes, we see it as an added responsibility. Being the market leader, we see how we can grow the category itself. VSF is the category where we are the largest in the world. Our growth is focused on the brand called LIVA. Getting the consumer engagement on and improving the pull for our value chain and thereby on us. This is all in India.
In the global market, we are working on programmes with the value chain, not much with the consumer. We have newer structures and newer melanges. We are helping to grow the market share. These are the main focus areas.
Innovation is key in any industry. Lenzing is well known for the VSF too. What is the Birla Group's investment in innovations. After LIVA, what else is happening?
I will put innovation in two baskets:
First is the process innovation. This includes marketing innovations, supply innovations, etc. In this, LIVA is one of our innovations. In process innovations, we have some newer products coming up in line with what the customer wants.
Second is the innovation in products. In this, we further have three baskets. Other than VSF, there are three platforms of fibres. These platforms are growing within the added offering. Next comes the consumer insight. For eg, a customer wants white fabric and if they would like to have it washed 50 times without the colour getting faded. For this, we have recently launched an innovation called 'LIVA Snow', which is optically white fibre. Customers are looking at something which will make them look fresh. For this, we are planning to enter into antimicrobials. Those are exotic and functional based fibres. That's the product innovation.
Then there are research innovations. With changes in raw material, changes in process. Those are wider innovations that we are working on currently.
If we talk about investments, we have a pulp plant in Sweden. A plant in Canada. pulp to fibre is in two places: Birla Research and Aditya Birla Science and Technology Centre, and at Taloja, we have a fibre development centre. We are investing in each and every sector. Marketing plays an important role in getting the pipeline right.
Exports are falling below targets in India. In VSF, what is Birla's experience. Any wishlist for the Government on how to boost the VSF side?
Though the government exports have not gone up, VSF exports have definitely gone up. We had around $17 billion exports in the last three years. In that, VSF has been growing at around 27 per cent in the last two years. Even in the last year, the figures are almost similar. In short, we are growing in VSF segment.
Customers globally want to have innovations. We have seasonal collections coming out and we are working towards innovations. We have more chance of getting adopted in their chances. This innovation, we are doing along with WGSN.
We got a feedback that they would like to have quality products, irrespective of whichever the standard they adopt. For this, we have come up with LIVA set of standards in India as well as the global markets. That standard addresses issues like spilling, shrinkage, etc. I won't say that these issues have completely gone, but there has been a tremendous improvement in the last two years.
The third most important factor that is helping us grow is the sustainability factor. We have been showing the sustainable options we have. We have tied up with a consultancy called Total Sustainable Solutions, which is a unit of DyStar. They are working with the entire value chain.
These things have helped us to make what we are now in the market. These are also done by LAPF. They are doing very well. We market to brands globally. They too market to brands globally.
Today, spun-dyed yarn is a big thing. Is it happening in viscose?
Of course, VSF is huge in spun-dyed. You have been seeing poly viscose fibres for quite sometime. There are newer knitting options which have come up in the last four years or so. We have spun-dyed viscose based carpets and home textiles.
Spun-dyed is a big focus area for us. We are making a few more initiatives and programmes to get it across to the consumer. Spun dyed is an area of opportunity and an area of rapid improvement.
The man-made fibre (MMF) industry is unhappy with the GST. Why?
One of the major challenges in MMF is that we wanted a fibre neutral arrangement, which did not happen. Earlier the tax was nil but now it is around 5 per cent. Fibre neutrality is not there which is a concern. Hopefully, the GST Council will have a look at it.
There is chocking of credit. Fibre or yarn has 18 per cent GST whereas fabric has 5 per cent GST. Credit is not fully available for the unorganised sector. In every sector, there is a credit choke. It adds up to the cost. GST, which was supposed to seamlessly flow and add value, has got a bit of a choke at the fabric stage itself.
An area like Surat, which is growing heavily in LIVA family, is under a lot of stress because their operating model has a lot of traders handling these. They all need to come under the GST channel. It is a challenge to get the entire process renewed. It will happen, but will take sometime.
Imports are becoming cheaper because earlier there was some good amount of duty on imports, but now it has come down to about 7-8 per cent depending on the type of fabric. You cannot open up the entire market for imports due to GST, which was supposed to make us stronger internally as well as externally.