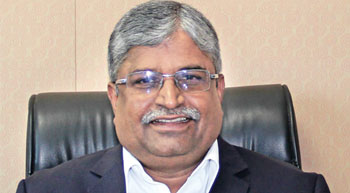 Voltas is present in each part of value chain in textile
Voltas is India's largest air-conditioning company, and one of the world's premier engineering solutions providers and project specialists. Founded in 1954, Voltas Limited offers engineering solutions for a wide spectrum of industries in areas such as heating, ventilation and air conditioning, refrigeration, electro-mechanical projects, textile machinery, mining and construction equipment, water management and treatment, cold chain solutions, building management systems, and indoor air quality.
Voltas is India's largest air-conditioning company, and one of the world's premier engineering solutions providers and project specialists. Founded in 1954, Voltas Limited offers engineering solutions for a wide spectrum of industries in areas such as heating, ventilation and air conditioning, refrigeration, electro-mechanical projects, textile machinery, mining and construction equipment, water management and treatment, cold chain solutions, building management systems, and indoor air quality.
Voltas is present in each part of the value chain in the textile industry right from spinning till garmenting, and we are market leaders in each of the segment except garmenting where we have made an entry in the recent past. C Kamatchisundaram, Vice President – Textile Machinery Division, Voltas Limited, speaks with ITJ's Senior Sub Editor Karthik Muthuveeran on USPs of the technologies Voltas has been offering the Indian textile industry.
What is the present share of textile technologies among Voltas' various verticals in the industry? Has it grown and how much?
Voltas is present in each part of the value chain in the textile industry right from spinning till garmenting, and we are market leaders in each of the segment except garmenting where we have made an entry in the recent past. We are offering latest technology machines from globally reputed manufacturers like Lakshmi Machine Works, Terrot, Brueckner, Thies, Reggiani, etc., in each part of the value chain. Reflecting the investment pattern in India, in the last decade, the share in our earnings is led by spinning, followed by fabric forming and processing and finishing.
Despite the cyclical nature of the industry, every part of the value chain has grown over the years at varying degree. In line with the initiatives by the Government of India, the fabric forming and processing and finishing segment would witness an accelerated growth while spinning would sustain the growth of the past.
Who are the Principals under Voltas serving the textile industry? And what are the segments they are in?
Machinery & allied machinery – Spinning

Principals

Products handled by Voltas.

Lakshmi Machine Works
Blowroom carding: LC300A V4, LC361 / LC363, LC636(new)
Breaker drawframe: LD2
Combing: Lap former LH15, Comber LK64Z & LK69
Finisher drawframe: LDAZ
Speed frame: LF1400A, LF4200A / LF4200AX
Ring frame: LR60/A, LR9/AXL, LRJ9/AXL, Suction compact retrofit SIMS (Spindle Individual Monitoring system)
with RISM (Roving Individual Stop Motion) Winder LW 72
Elgi Electric & Industries
Over head travelling cleaner system (OHTC)
Yarn conditioning system (YCS / YCP)
Bobbin transport system (BTS)
Argus – Metal & spark for material and WCS
Bale plucker fire protection system (WS15)
Elgi Equipments
Screw compressor
Airmaaster Tecnolozies India
H- Plant Waste collection system for blowroom, cards, combers and ring frames Automatic bale press
Lakshmi Caipo Industries
Slub, injection slub and core yarn attachments
Quattro Engineering India
Auto doffer retrofit
Veejay Lakshmi Engineering Works
TFO & assembly winder

Accessories – Spinning

Principals

Products handled by Voltas

Lakshmi Machine Works
Parts Performance enhancement kits (PEKs) Rings Spindles Cots & aprons
Lakshmi Card Clothing
Cylinder wire Doffer wire Flat tops Stationary flats Card room accessories
Lakshmi Ring Travellers (Cbe)
Ring travellers Tools: Quickfix, extract, fluff remover, stroboscope
Klüber Lubrication India
Speciality lubricants for spinning machinery Maintenance spray
Lakshmi Electrical Drives
Motors
Adwaith Lakshmi Industries
Bobbin holders
List of principals & products – Post Spinning

Principal

Product Line

Processing

Thies GmbH & Co. KG
Yarn and fabric dyeing machines
Fadis Textile Machinery
Winding/rewinding machines for yarn dyeing
Lakshmi Card Clothing
RF dryer
Reggiani Macchine
Digital and rotary printing machines
AskMe Intergroup Co
Oval screen printing machines
Kidd + Zigrino
Loop steamer, print shop equipment and engravers

Finishing

Brueckner Textile Technologies
Stenter, relax dryer, CDR, Sanforiser
WUMAG TEXROLL GmbH
Vertical drying range
Pleva GmbH
Weft straightener, size pick-up controls
Xiamen Rapid Precion Machinery
Lab dosing system
Lianyungang Runian Industrial
Raising, brushing, shearing machines

NWTT

Dilo Machines GmbH
Needle punching solutions
Hansa Industrie – Mixer GmbH
Foam mixer

Weaving

Shandong Rifa Textile Machinery
Rapier, airjet, terry and waterjet looms

Knitting

Terrot GmbH
Circular knitting machines
Jiangsu Jinlong Technology
Flat knitting machines
Kuris Spezialmaschinen
Spreading and cutting machines
MARTEX S.R.L
Fabric scanner
Elgi Equipments
Compressors
Kluber Lubrication India
Knitting oil
Dongsin Precision
Knitting needles
What are the USPs of the technologies Voltas has been offering the Indian textile industry?
The major USP of Voltas is the products with latest technology, fastest ROI and manufactured by globally renowned manufacturers. The USP also includes services and support through the life cycle of the products by a capable set up of technologist and service engineers, placed at different parts of the country and close to the textile clusters, which enable us to respond to the service needs very quickly. In addition and in accordance with the values of the Tata Group to which Voltas belongs, the customers are assured on the trust worthiness and the value creation.
Apart from representing Principals, what are the other activities of Voltas for the benefit of Indian textile industry?
Voltas is the largest employer of textile engineers in the country to provide end-to-end services to the textile industry across the value chain. Depending on the type of customers, we support them right from selection of land, planning the project, preparation of project reports, selection of machinery, installation and commissioning, technical and technological support to maximise the productivity, improve the quality and conserve power. In addition, we offer parts, components, accessories and allied machinery to meet the operational needs of the customers and to make the operation very efficient. For e.g., we have been offering ring travellers from Lakshmi Ring Travellers, card clothing from Lakshmi Card Clothing, lubricants from Klueber, twisting solutions from Veejay, overhead traveller cleaner from ELGI Electric, to name a few.
Further, in partnership with Simem, Italy, we also provide water treatment solution to the textile industry to handle effluent discharge from the processing and finishing machinery. Besides, we seamlessly provide inputs to our principals on the changing and emerging needs of Indian textile industry to enable them to design and deliver the new products. We also scan the global textile market continuously on the emerging technology to bring it to India through new representation and partnerships.
India's spinning segment has grown to be No. 1. What are the various solutions for the spinning industry? How do you look at the market for this segment in India?
Despite the various challenges faced by the Indian spinning industry, it would only grow from strength to strength and would continue to be No.1 in the globe, keeping the others at a distance behind. The investors in the spinning industry are highly enterprising, irrespective of their size and they have been constantly looking for efficient and effective ways of improvement in the top line and to reduce the cost of manufacturing.
Our principals LMW has played a major role in making the Indian spinning industry highly competitive by supplying technology products at best competitive price and by supporting the customers through supply of parts and components on time and at a low cost.
Our principals Lakshmi Ring Travellers and Lakshmi Card Clothing are focussed on meeting the needs of the customers on consumables and replaceable like ring travellers and card clothing, which have high performance capabilities.
Our technologists and service engineers meet the service needs of our customers to make the supplied products deliver the highest production with quality and consume lowest power. The increasing investment trend towards processing and finishing marks India's climb up the value chain in textiles.
How do look at these sectors? What are your offerings for processing and dyeing segments?
India has a huge potential to significantly enhance the export of garments and apparels in the global market. This can be achieved only if the country invests more and more on high technology and high quality processing and finishing machinery. Even in the domestic market, the organised retail is growing at a healthy rate with the aspirations of the people in the middle and upper class towards branded apparels and garments. This would only further enhance the need for processing and finishing machinery to deliver the high quality products. Hence, the growth potential for investment in quality processing and finishing machinery is quite high. Sensing the needs very early, Voltas has partnered with the market leaders in processing and finishing machinery from various countries.
The dyeing machinery offered by us from Thies, Germany produces the best quality fabric with least liquor ratio. We have already created a huge installed base with satisfied customers for Thies products.
Printing has gained significant momentum in the last couple of years. The market for digital printing as well as rotary printing has experienced an uptick in India. We have partnered with efi Reggiani, the global leader in manufacturing digital as well as rotary printing. The brand of Reggiani has grown from strength to strength and we have more than 70 digital printing machines for both normal fabric and wider width fabric with 8/16 and 32 heads working in various parts of the country albeit dominantly in west. We have also very recently supplied our rotary printing machine to leading manufacturer in Karnataka and for knitted fabric in Tirupur. We are well placed to encash the market uptick in the printing arena.
In finishing, Brueckner, Germany is the undisputed market leader, not only in India but across the globe. Our Principals Brueckner are highly focussed on continuously improving the finishing technology to be the market leader for ever. We offer the continuous dyeing range – Stenter, Relax Dryer and a host of products for the finishing of various types of fabrics.
One of the major differentiator is the local service set up, which we have created through capable engineers trained in our principals' works. We also have inventory of the key parts in our stock centre to meet the urgent needs of our customers and to ensure that the uptime of these machines is always 100 per cent.
In weaving, India still has a lot of second-hand and obsolete machinery. What is your vision of textile industry by 2020?
Indian textile industry is poised to reach a size of $150 billion by 2020, driven by domestic market and by enhancing the market share in the global market much from the current level of 4 per cent. However, this would be possible only if our country invests on the latest technology weaving machinery, which the industry is well aware of. In the last three years, the import of Weaving machinery has grown significantly ; however, dominated by low cost Rapier machines from Asian countries. Nevertheless, the last couple of years have witnessed a shift with investment on high speed airjet and rapier technology machines. As you would be aware, the major installed base of weaving machines in our country is in the weaving clusters like Ichalkaranji, Bhiwandi, Malegoan, Somanur, Salem, etc., as more than 90 per cent of Woven fabrics are still produced by decentralised sectors.
Learning the insights from our customers that the high cost European machines would be unaffordable for the customers in these clusters, we have partnered with Shandong Rifa, who is the largest manufacturer of airjet and rapier machines in the world. Our principals Shandong Rifa manufactures more than 5,000 machines per year with major supplies going to the domestic market. The weaving machine manufactured by Shandong Rifa enables the customers to produce almost to the level of European machines but with much less cost on investment. Voltas has partnered with Shandong RIfa before 11 years and has already created an installed base of more than 1,000 machines in the country at various clusters, which the customers are also quite happy not only about the performance of the machines but also because Voltas service team is able to meet their service needs on time. We expect that the investments on high production weaving machine would accelerate further and we are well placed to contribute to the growth story.
The technical textile industry in India is expected to grow at a rate of 20 per cent annually to touch $30 billion over the next five years. What solutions do you offer in this segment?
Despite the huge potential, the investment in technical textile sector has not gained much momentum in the past. There have been sporadic investments to manufacture on artificial leather, hygiene textiles, medical textiles and geo textiles, etc. However, India may need to accelerate the investments quickly to encash the opportunities as otherwise it would be taken by other competing countries.
Our principal Dilo from Germany is the world leader to supply the entire product for needle-punched textiles and they are the preferred supplier for needle punch solutions. We have supplied many projects for needle punching solutions in the past and the major investments happen in the western and northern part of the country. In addition, the coating and finishing machines from Brueckner are the widely accepted machines for finishing the technical textiles. Further, we have also partnered with Reliant of UK for composites, Hansa of Germany for mixers and we are in a position to meet the end to end needs of our customers for technical textiles.
Apart from the domestic market, tell us something about projects, if any, in textile industry undertaken abroad?
Well, we are a focussed organisation and we have not explored the market in other countries so far. We opine that our hands would be full meeting the needs of the Indian Textile Industry and hence, we do not have any immediate plans to go overseas.
What are your suggestions to give a boost to this revolutionary concept of Make in India? What are Voltas contributions?
As you would be aware, the entire needs of the spinning industry are met by 'Made In India' products led by our principals Lakshmi Machine Works, Lakshmi Ring Travellers, Lakshmi Card Clothing, Veejay Lakshmi and others. However, the situation in the other parts for the industry is different, as the needs are mainly met by imports.
With the growth potential in the Indian market, it is only a question of time for the global manufacturer to come to India and set up a manufacturing plant. From Voltas, we would continue our efforts with our principals to explore the possibility of manufacturing in India and we are sure, we would succeed once the market size reaches a critical level and Make in India becomes an economical proposition.
Voltas is known for its strength in after-sales? How is the establishment placed in this aspect?
Aftersales is the key differentiator and a strong domain for Voltas, as we strictly believe that the relationship with our customers should be reinforced on a continuous basis and does not end after supply of products. We have a host of initiatives for sustaining and improving our relationship with our customers by meeting their after sales needs. To name a few, we list the following:
We are the largest supplier of ring travellers, card clothing, lubricants, motors, bobbin holders, e-bike for our spinning customers through our partnership with Lakshmi Ring Travellers, Lakshmi Card Clothing, KLIND, LEDL, ALIL, respectively
In post spinning segment, we supply lubricants from KLIND, knitting needles from Dongsin, scanners from Martex, to name a few.
In addition to basic services, we also provide technological services through our highly capable technologists who have exposure in the entire spinning process. Our technologists are capable of and have delivered services to enhance productivity, improve quality, enhance realisation, conserve power, etc. We have also many testimonials from our customers appreciating us for the range of services provided by our service team.

What are your company's plans for the future – expansion and diversification, if any, particularly with reference to the textile industry?

Voltas is already representing in the entire value chain and our plans are to grow along with market and by enhancing the market share in each product line. We would also like to enhance our product base in the after sales segment by filling the gaps in our product range and offering special services like energy audit, machinery assessment, yarn realisation, enhancing the quality and productivity etc. Finally, we are also looking for the right partners in our product offerings viz., flat knitting machine, warping and sizing machines etc.

We have made an entry into garmenting, however, since garmenting is not a capital dominant sector, our presence would be selective and to offer the engineering solutions wherever needed in the garmenting sector.