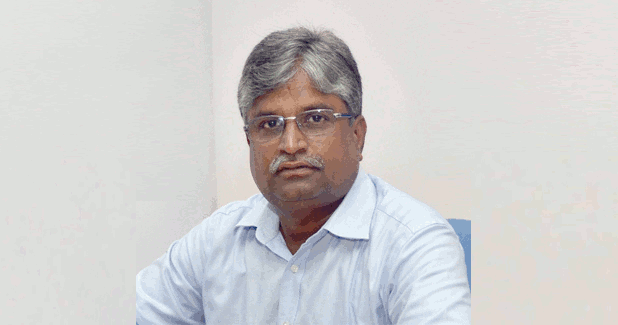 Voltas gears up with 11 principals strength in value chain links
At ITMA, Voltas Limited will be present will all it major principals. The company is a single solution source to the customer and its comprehensive product suite that includes capital equipment, machinery, accessories, allied machinery and services for both spinning and post spinning.
At ITMA, Voltas Limited will be present will all it major principals. The company is a single solution source to the customer and its comprehensive product suite that includes capital equipment, machinery, accessories, allied machinery and services for both spinning and post spinning. C Kamachisundaram, Vice President, Textile Machinery Division, Voltas Limited, shares the company's plans for upcoming ITMA, a range of machinery/technologies offered by Voltas for the Indian spinning industry.
As one of the leading players in the textile machinery industry, what are Voltas' plans for the upcoming ITMA Barcelona?
Voltas is fully geared to participate enthusiastically at ITMA 2019 with a large contingent, as almost all our major principals are participating in this fair.
The major Principals of Voltas who would be participating are the following:
For Spinning Machinery and Accessories
Lakshmi Machine Works
Lakshmi Card Clothing
Lakshmi Ring Travellers (CBE)
Lakshmi Electrical Drives
Klueber Lubrication
For Post Spinning – Fabric Forming Machinery and Accessories
Terrot GmbH
Shima Seiki Mfg. Ltd.
For Post Spinning – Processing & Finishing Machinery
Brueckner Textile Technologies
Thies GmbH & Co. KG
Benninger AG
EFI Reggiani SPA/li>
Each of our Principals is unveiling new and innovative products in this Show. We are very confident that the products displayed at the stalls of our principals would evoke keen interest and enable us to delight each customer as these products would not only address their current needs but also their futuristic needs through the innovations.
One of the recent tie-ups for Voltas is with Shima Seiki, Japan. What are the offerings and scope of this tie-up for the Indian market?
Shima Seiki develops and manufactures computerised flat knitting machines, design system, automatic fabric cutting machines, glove, and sock knitting machines and provides complete system solutions. Shima machines and ranges are an important link in the textile value chain. As a market leader, Shima is continuously expanding its comprehensive process know-how, the high-quality innovative and reliable product range, and its excellent customer-focused service in the local markets.
Voltas, with its well established and nationwide network, intends to promote all the above products with an objective of not only increasing the market share significantly but also the market size by enhancing the application of this technology. Our plans include creating a pull effect from brands and large format stores since flat knitting technology is highly versatile and can produce customised and fashion-oriented garments. We also intend to promote this technology in other industries like shoe manufacturing, automotive sector, etc. through relevant applications.
Flat knitting technology is relatively new for the Indian textile industry. These machines were used to make winter sweaters/collars in the past. Shima Seiki has taken flat knitting to the next level. The flat knitting machines made by Shima Seiki are identified more as machinery for creating high fashion garments. Shima Seiki offers various models in the flat knitting itself, which enables the customers to make panels with endless possibilities of design. In addition, Shima Seiki is the first to offer the whole garment making machinery for the industry. As you know, the garment is made by cutting and stitching, and it calls for a lot of labour. This machine eliminates the usage of these processes. In the whole-garment machine, the garment is made directly from the yarn from an endless number of designs and colors. Even the design of the buyer can be adopted in the machine very easily and quickly.
The key benefits of Whole Garment machines are:
The revolutionary whole garment knitwear is produced in one entire piece, three-dimensionally, directly on the knitting machine. Consequently, it requires no expensive, time-consuming post-production labor
The advantages of this whole garment technology include:
a further reduction in materials as there is no wastage due to cutting
ofaster time to market by eliminating the need for sewing any components
These factors increase cost-effectiveness
There is quite a range of machinery/technologies offered by Voltas for the Indian spinning industry. Can you give us some of the leading ones and their various technologies on offer?
Voltas offers the entire range of products needed for the spinning industry. Our key Principals in the spinning industry is Lakshmi Machine Works (LMW), who is a leader in spinning machinery industry. Our principals LMW is the leading player in facilitating investments in spinning. Our market share is close to 60 percent, which means around 60 percent of the investment in this industry takes place through equipment manufactured by our Principals LMW. So, LMW plays a major role in all the upcoming projects in spinning. In fact, there are many projects in the country where 100 percent of the equipment used is from LMW. Even in the upcoming projects, there are a lot of companies using 100 percent of equipment from our Principals LMW.
Our principals LMW is one of the only three manufacturers in the globe who offers the entire range of spinning machinery from blowroom to cone winding. LMW offers cutting edge technology products and solutions, which cater to the needs of the different segment in the industry irrespective of the size. The Indian spinning industry has become a leader in the global yarn market by capturing more than 30 per cent of the market share in the global yarn trade mainly because of the quality equipment manufactured by our Principals LMW. We are proud to say that our principals LMW support the customers by supplying parts and components throughout the life cycle of the machinery.
We also offer the accessories and the replaceable needed for the spinning industry on a regular basis. While the Ring Travellers are offered from Lakshmi Ring Travellers (LRT), the Card Clothing needed for the Carding machines is supplied by Lakshmi Card Clothing (LCC). Both LRT and LCC are market leaders in their respective field, serving the customers for more than 5 decades.
We also offer specialty lubricants from Klueber, which not only enhances the lubricant cycles but also improves the performance of the machinery. In addition, we offer Allied machinery from the following principals.
ELGI Electric for overhead travelling cleaner, bobbin transportation system and yarn conditioning system
ELGi Equipments for air compressors
Veejay Lakshmi for two-for-one twisters
LEDL for electric motors
Airmaaster for humidification plants and waste collection system
Our principals LMW, Lakshmi Ring travelers, LCC, Lakshmi Electrical Drives and Klueber are participating in the ITMA displaying and demonstrating innovative and technology products and solutions. Instead of talking about it now, we would rather prefer that our customers experience the same in the fair directly enabling us to delight the customers.
Knitting is another area, where Voltas has a strong representation. Share with us some of the latest technologies available for the Indian industry.
We represent Terrot for circular knitting and Shima Seiki for computerised flat knitting machine. Both are market leaders in their respective segments. Terrot has the capability to offer the entire range of circular knitting machines –single jersey, double jersey and machines meant for technical applications. The USPs are productivity, quality, user-friendliness and the longevity of the machines. If you take the customer's voice, the customer would always rate Terrot right at the top. You can find Terrot machines as old as 30-35 years still working in the industry without any problem.
Dyeing and related areas, Indian industry is still a laggard. What is the latest in these areas?
Thies is the global leader in soft flow dyeing machines. We partnered with them in 2008 and enabled Thies to become the market leader in the Indian textile industry. The Knitted garment manufacturers in the Knitting clusters like Tirupur, Ludhiana, Kolkata, etc., who want to produce high-quality fabrics meant for the export market or for the upper end of the domestic industry always prefer Thies as their first choice. The consistent quality of the fabrics produced from Thies machine does not vary irrespective of whether it is a new machine or a 10-year-old machine.
Brueckner is the undisputed leader in finishing – not only in terms of deliverable but also in terms of reliability, running cost, versatility, etc. We have supplied Brueckner machines in the knitted segment, woven segment and also in the technical textile segment. Normally, the width of fabric used for classical textiles is either 1.8 m or 3.2 m in width, but the Stenter needed for technical textiles is as wide as 6 m. Brueckner is the only company which can produce stenter with a width of 6 m.
We have a lot of installations of Brueckner machines in Tiruppur, Kolkata, and Ludhiana, which are the clusters for knitted fabrics. We have also made huge in-roads in the woven segment. Almost every major player in the woven segment has the equipment from Brueckner.
Brueckner is also known beyond stenters. We offer a product called "Power Colortherm", which enables the customers to do continuous dyeing of the cotton fabric as well as polyester cotton fabrics. The product portfolio of Brueckner is quite rich. Wherever we have supplied Brueckner machines, we have always received repeat orders.
Benninger, which is into continuous processing, has been the first choice of customers for decades for pretreatment, mercerizing and dyeing. Each and every leading player in the woven segment is doing continuous processing mainly with Benninger; as these machines are known for absolute consistency in continuous processing and dyeing.
In processing and finishing, the value loss is a key measure. By using Thies, Brueckner and Benninger machines, the value loss will be almost negligible and conversion from lab to bulk is also done accurately. Obviously, if you speak of productivity and longevity, these machines are way above the others.
For digital, flat and rotary printing, we represent EFI Reggiani, who is the manufacturer of cutting edge technology machines in the printing field. In addition to offering a range of digital printing machines, EFI Reggiani has recently launched the single pass digital printing machine which produces almost at the same level as a Rotary printing machine.
All the above players are participating in the fair with a range of innovative products with sustainable technology focusing on enhancing productivity, quality, and conservation of resources.
Automation and Industry 4.0 are making much headway the world over. Please give some details on what is available from Voltas.
Industry 4.0 is the future. It will lead to transformational changes across the industries through automation, usage of IIoT (Industry Internet of Things) for remote monitoring and collection of Big Data on machinery, process and plant performance, analytics to enable preventive and predictive analysis for data-driven decision making as well as forecasting future performance, etc. This also includes the usage of artificial intelligence, virtual reality, etc.
Our principals, LMW, has been a front runner in offering Industry 4.0 solutions. In fact, LMW was the first to offer automation for ring frames, speed frames and automatic transport of material from the blowroom to the carding machine. Automation has become an integral part of the spinning industry today. If a spinning industry is not invested in automation, it is going to be difficult to sustain, going forward.
In monitoring and controlling the equipment through IoT, LMW offers networking of the entire plant through "SpinConnect". Every stakeholder in the spinning industry would be enabled with the right data using displays in the factory as well as his/her laptop and mobile using data capture and analytics making him/her take timely and informed decisions towards improvement. The current state of IoT enables the investors and managers to monitor various parameters like equipment performance, productivity, downtime, as well as power consumption.
Our principals in knitting, processing, and finishing also offer the features of Industry 4.0 which include accessing the machine remotely from their plant. For any issue on the machine, they can offer a solution through remote monitoring system.
Last but not the least what is technical textiles. What are the latest trends and available technologies from Voltas?
Technical Textiles are very significant for the growth of the textile industry as they are value-added textile products that are manufactured primarily for technical performance and multi-functional properties with less intent on aesthetics and design.
Our principals like Terrot, Shima Seiki, Brueckner, etc. are already offering a range of products for the technical textiles industry. While Shima Seiki offers machinery for manufacturing shoe uppers, automotive seats, etc, Terrot offers machinery for manufacturing spacer fabrics. Brueckner, as explained already are the market leaders in finishing of technical textiles.
We are also exploring new partners in this area over and above the solutions we already have from the existing Principals.
If you have observed any noticeable achievements globally, from which Indian textile industry can learn, please list them in details.
Globally, the exporting countries focus on the trade of finished and value-added products. This is one major learning which Indian textile industry should incorporate as the export of finished garments/apparels are only $17 billion on the overall export of $45 billion.
The second learning is the right balance between cotton and synthetics. While both in domestic use as well as exports, the ratio is 50:50 for most of the countries, India is cotton focused. In fact, our export of finished goods is mostly cotton.
Thirdly, scale and product mix. While countries like China, Bangladesh, Vietnam focus on the scale as well as product mix, the exports from India is more focused on knits and home textiles. Indian textile industry has to broad base the product mix and also focus on scale.
When countries in Europe exited from classical textiles, they focused on technical textiles and are in a leading position. Indian textile industry should also learn and replicate the agility and flexibility demonstrated by these countries to move forward and aim to become a leader in each segment.
What should Indian industry do to compete successfully in the next few years, especially in export? A brief SWOT analysis from your long experience.
The strengths of the Indian textile industry is as follows:
The Indian textile industry is an independent and self-reliant industry as it has abundant raw material availability and low cost but skilled manpower that helps industry to control costs and reduce the lead-time across the operation.
India is the global leader in yarn trade in international market and contributes around 30 per cent share of the global trade in cotton yarn.
Industry has large and diversified segments that provide wide variety of products.
Growing economy and potential domestic and International market.
Industry has Manufacturing Flexibility that helps to increase the productivity.
Raw material base-India has high self sufficiency for raw material particularly natural fibres. India's cotton crop is the third largest in the world. Indian textile Industry produces and handles all types of fibres.
Labour – Cheap labour and strong entrepreneurial skills have always been the backbone of the Indian apparel and textile industry.
Flexibility The small size of manufacturing which is predominant in the apparel industry allows for greater flexibility to service smaller and specialised orders.
Domestic market – Natural demand drivers including rising income levels, increasing urbanisation and growth of the purchasing population drive domestic demand.
Weaknesses:
Indian Textile Industry is highly Fragmented Industry and hence supply chain cost is a major weakness.
Industry is highly dependent on cotton and loses opportunities in synthetic industry.
Scale as well as low investments in processing and finishing
Higher Indirect Taxes, Power and Interest Rates.
Lack of Free Trade agreements with major importing countries
Opportunities:
Huge opportunities in Domestic market which is growing at a healthy rate
High potential to grow share in international market. Geopolitical developments like trade war between USA and China present huge opportunties for India.
Product development and diversification to cater to global needs
Enhancing market access through FTAs with importing countries
Opportunity in High Value Items – India has the opportunity to increase its UVR's (Unit Value Realization) through moving up the value chain by producing value added products and by producing more and more technologically superior products.
Threats:
Competition from other developing countries like Srilanka, Vietnam, Cambodia and African countries like Ethiopia
Disposal income spent more on electronic gadgets than on fashion garments by GenY
Discount culture putting huge pressure on cost in the domestic market