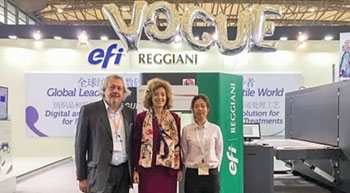 VOGUE: Master in speed and printing quality
The 9th Shanghai International Digital Printing Industry Fair (TPF 2018, www.cstpf.com) will be held from the 19th to the 21st of April, 2018, in Shanghai New International Expo Centre. TPF 2018 is organised by UBM China and SUNEXPO.
The 9th Shanghai International Digital Printing Industry Fair (TPF 2018, www.cstpf.com) will be held from the 19th to the 21st of April, 2018, in Shanghai New International Expo Centre. TPF 2018 is organised by UBM China and SUNEXPO.
As one of the most influential digital textile printing fairs in Asia, TPF is keeping a close eye on the market trend and technology development.
On November 27, 2017 Electronics For Imaging, Inc presented the EFIâ"¢ Reggiani VOGUE to the public in Shanghai, a new industrial textile printer designed for superior-quality direct-to-textile printing in fashion applications. It prints at resolutions up to 2,400 dpi with 16 printing heads and 4- to 72-picolitre drop sizes.
Whether it is for apparel and accessories, sportswear or footwear, the EFI Reggiani VOGUE can handle it," according to EFI Reggiani VP/GM Adele Genoni. "The new printer, along with the entire EFI Ecosystem of products including Optitex 2D/3D design software, Reggiani digital printers and inks, and our newest Fiery® proServer bundle, create an effective, more-efficient manufacturing model for the fashion space."
TPF interviewed EFI Reggiani Vice President / General Manager Adele Genoni and Sales & Marketing Director Michele Riva. The full interview is below:
We are a little curious about the name of your new printer, VOGUE. Why VOGUE?
Adele Genoni (AG): Because it's targeting fashion. VOGUE for us is an evocative word, which is easily associated with fashion. Digital printing is the fastest growing printing technology in the textile market. And digital is at this time about 3-4 per cent of all printed textiles consumed by the Fashion industry, reaching about 13 per cent in the Fast Fashion, according to our research.
Are the printing requirements different between top brands and fast fashion brands?
Michele Riva (MR): First of all, there is a common requirement, no matter what the quantity of the production order is. The environment is very important to all of brands, and digital printing is the solution to meet that common requirement. For high end brands, the environment is probably even more important than other factors.
AG: I agree. Having an environmentally-friendly process is important because it's a part of the vision of social responsibility, which is becoming more common. On the other hand, they do have different needs. For fast fashion, the main need is to be fast, which means typically this type of account wants to have a place in the world where it is possible to build up a collection, do sampling and spread work around to all of the brand's factories or printing partners with the same level of quality. Fast fashion brands really need to have the same level of quality everywhere around the world. It is also very important for them to control the total cost of everything, not only the cost of investment in machine.
But for high end top brands, the thing they want most is super high quality. For example, they often require a very deep black colour, which is something you achieve only with a very high end machine. In addition, in fast fashion, it's important to have the integration with purchasing online, so actually, companies in fast fashion are really looking to us as a strong provider of integrated solutions from 3D design moving to digital printing. Think about the possibility that when you look at the customer the camera on her computer: you can see the image, the shape and the size of the garment required and then you can give a suggestion on the type of dress that is more suitable to the body shape to optimise the look.
The fast fashion brands are asking us for an integrated technology to allow them to be better in online purchasing. It is very important for fast fashion brands, but less so with premium brands — consumers' experience with top brands is more about going to the brand's boutique store and not as much about buying online.
MR: It's correct but on the other side for example, even for top brands it is also important to have 3D technology to design a garment, then optimise the design. So for different solutions, they can use the same advantage 3D offers.
AG: Though we have talked a lot about fashion, we are not only in fashion, we are also working with customers in the home design and signage segments, printing for very important brands. Their requirements are very high. To them, only quality matters, and we help them get the best results.
EFI Reggiani is from Europe. What do you think of the Chinese market?
AG: Europe is far more consolidated and mature compared to Asia and China and the requests are much more sophisticated. The customers are really willing to have the best, in terms of innovation and technology, quality and performance. The green requirements came earlier than in China. But China is far more serious, stricter now.
From the technology perspective, I think in Europe only the medium-high end and high-end solutions remain, and we see higher-level requests for technology and investment. Regarding the ink, there's strong pressure on price, especially on reactive ink. There is a high demand for pigment – pigment with a short process. That means no pre-treatment or post-treatment. But as far as I know, there is not a competitive solution in the market to deliver that exactly. We are working on it but we don't have a solution ready to be launched.
As you said, Chinese market is not as mature as Europe. Are the technologies of EFI Reggiani well accepted in China?
MR: Our goal is to increase the knowledge in digital printing sharing our experience and supporting our customers. The idea is to create a different mentality which looks to digital as a big advantage. EFI Reggiani products are designed and manufactured to the highest standards and to simplify textile production across a wide range of industries.The digital experience has been built on more than 70 years of Reggiani product innovation and implementation for leading-edge textile printing technologies.
AG: What we have done in terms of technology has been done to meet customers' environmental needs. We also provide reliability, which means higher productivity and fewer stoppages. In terms of quality, we are the customers who are going to buy and we are becoming more and more demanding. So I think there is a strong trend to have a good finished garment.
Also our customers – printing factories – need to have higher quality as well. We help customers to save money. For example, our innovative recirculating system, for the ink, makes our printheads more reliable, which means our customers need to substitute the heads less frequently, resulting more cost-effective printing.
The machine is more tolerant to the temperature of the environment, so you do not need to switch on air-conditioning with higher temperatures, and that saves money on cooling costs and is better for the environment. The technology we have put into EFI Reggiani printers provides solid benefits to customers. I haven't talked yet about the Fiery, it really saves time which means saving money for designers, allowing them to make more things and to have more space in creativity. In the end, they can achieve more in their businesses.
Have you heard about imprintable?
AG: From my point of view, what consumers are looking for with imprintable garments reflects what can also be delivered by purchasing garments online with high level of customisation. This is a technology that we can offer. With our acquisition of Optitex, a company we acquired approximately one year ago. This gives the possibility to the software to make thousands of different things, all customised to the end customer.
You mentioned that re-shoring and near-shoring is a trend in textile industry. How does it happen?
AG: In the past, there was a big movement of textiles in Asia, particularly from the US. A lot of American textile companies closed down and moved to Asia. In Europe, several still remain but they are more medium-high end. With the new digital revolution of the textile market, where everything needs to be fast and the customer wants the printed garments in a few days, you need to have your factories close to the market so there's a trend of reshoring, from Asia back to the market close to the consumer. There is a push, especially in the US to develop more printing and production operations. This also is happening in Europe but less than in the US because the US closed down more garment operations than Europe. In China the environment is so important now and pressure is huge.
In this case, factories are asked to close down if they are not in line with environmental regulations. There's going to be a trend of companies closing down in China and opening in nearby countries because of regulations and because of rising labor costs in China. However, large companies will invest in environmentally friendly solutions so they will stay in China to serve the Chinese market.
MR: The trend is more in garments. More production of garments moves from China to Vietnam, Cambodia and Myanmar. Businesses, especially large ones, are seeing the opportunity, to invest complete product lines with digital printing. They are also making those investments because of the environment and labour costs.
Would you like to share some suggestions on choosing inks?
AG: It's very important that ink is compatible with the head system. We are producing our own ink on a reactive side, and this is a perfect combination. It is an optimised solution with our machine and also the compatibility with all the materials within the machine that encounter with the ink. So we strongly recommend to buy the ink tested and developed with the machine in order to have an optimised and effective solution. In this way, we can ensure the warranty for the system. Otherwise it's very difficult to provide a warranty because we don't know what is the ink and if the heads break down, it will not be included in the warranty.
What's EFI Reggiani's vision and what's your next move to influence the industry?
AG: Our vision is to continue to innovate to sell higher standard, productive, user-friendly, eco-friendly products. It's a strong vision and we are demonstrating it every day. Our next move is the single-pass, which we expect to launch worldwide at the end of 2018.
TPF is held successfully for eight years since its launch in 2009. With UBM's expertise in event organising and its strong network around the word, TPF has grown as one of the most influential international digital printing fairs along with many industrial companies and experts. TPF is aiming to develop digital printing business by providing a communication platform among equipment manufacturers, technology suppliers and end-users. TPF focuses on innovative products and advanced technologies, provides you with a variety of communication and sales channels and helps you to win a solid position in digital printing industry. For more information, please visit www.cstpf.com.